Click on image to view in full size.
Evergreen (2018)
Evergreen is an installation of PVC banners hung on the railings in an air well near the store, inserted next to other banners already advertising various shops in Bras Basah Complex. The banner designs echo familiar book spines, but refracted through abstraction and repetition. Yet they retain a recognisability, suggesting that there is a visual system of books of which we are all subconsciously aware, which makes visits to secondhand bookstores in Bras Basah Complex feel so familiar.

Click on image to view in full size
.
10 Books About Time (In No Particular Order) (2018)
Basheer Graphic Books is a 25-year-old bookstore located in Bras Basah Complex that specialises in books about architecture, design, fashion, and art. Through conversations with the owner, Mr Abdul Nasser, learning about the history of the bookstore, its present situation, and its plans for the future, the artist decided to: (1) Ask him to recommend 10 books about time; (2) Purchase the books to create an artwork; (3) Offer to reorganise the books in the bookstore together with him.

Artist: Lai Yu Tong
Click on image to view in full size.
Fort of Leaves (2018)
Intending to mimic the forts we all tried to build as children, this piece was made with yarn, hand-spun with a spindle out of the leaves of familiar calendars recognisable in many Singaporean households (produced by Maha Yu Yi bookstore), which were left to be discarded when unsold once the new year began. The act of tearing the calendar as each day passes is symbolic of time passing, and using this representation of 'time' to create the fort in brittle paper yarn makes one feel its fragility, like a passing moment in time.

SINGAPORE CALENDAR: LABOUR DAY

This four month long programme ended with a final exhibition that featured four new artworks by artists Liana and Robin.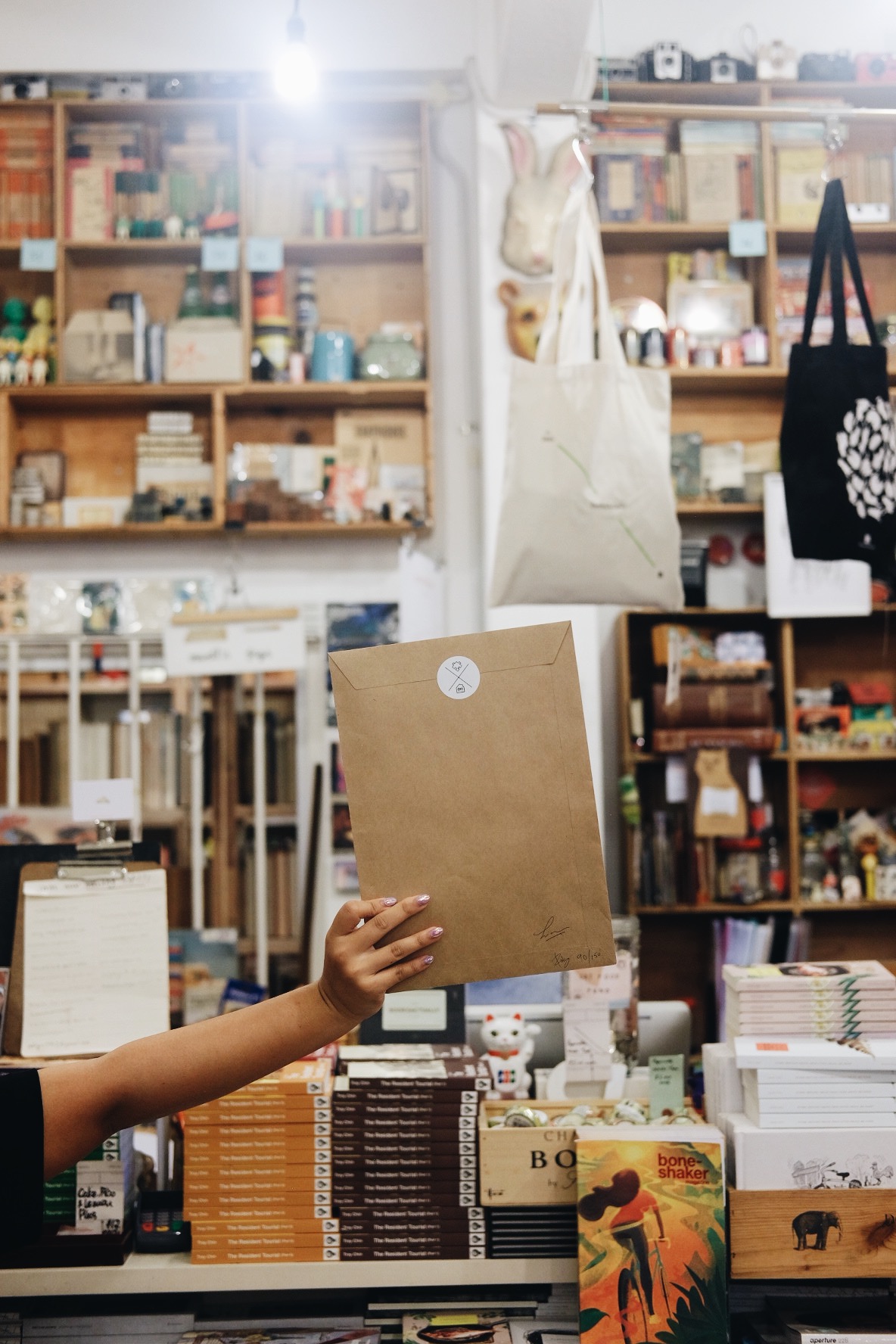 Click on image to view in full size.
Quests and Zines
Over three self-led quests to secret locations across Singapore, audiences were rewarded with zines that reflected the artists' takes our modern work lives.

Each zine unlocked ideas of labour, leisure and the "Good Life" — which were discussed further in the final exhibition.
SINGAPORE CALENDAR: HUNGRY GHOST FESTIVAL

This was a four month long programme that began with three offerings from the artist Eugene TYZ and ended with an exhibition.


Click on image to view in full size.
Offering 1
The first offering introduced audiences to Eugene and his interests. Hosted on a website, audiences could click through a series of pop-ups to slowly uncover stories, images and gifs from Eugene.
Eugene used the internet and its many tools to communicate with audiences during the programme. The second offering took the form of a google drive folder. This shared folder was the artist's 'online work desk' for the project and contained his thoughts, writings and research material. Audiences were invited leave their own comments and questions behind.

Click on image to view in full size.

Final Exhibition
Over four months and across three offerings, Eugene asked himself and others - how would you like to be remembered after you're gone? One of his own answers was a work-in-progress presented in the final exhibition - the GraveApp, a high-tech grave system. An app to create virtual tombstones. Ticket holders were invited to a private appointment with the artist, where they had an opportunity to chat with him and try the GraveApp.

His past works and other works-in-progress were also featured in a small exhibition, which was opened to the public for a weekend.

PROPOSALS FOR WATERLOO: THE VERTICAL GALLERY

During
Proposals for Waterloo
, audiences were invited to explore the unexpected and underused spaces of Waterloo Centre. Unlike a conventional gallery, these works were placed across different floors of the building, transforming it into a 'vertical gallery'.
For more information about Proposals for Waterloo, click
here
.
Click on image to view in full size.
Lost in the Midst of Time (2017)
Proposals for Waterloo begins on the 15th floor with Kayleigh Goh's painting installation. Visually inspired by the cracks and peeling paint around Waterloo Centre, she incorporated construction materials and debris as both canvas and paint. Adopting the language of aging architecture, combined with a soft palette, the artist invites us to contemplate the impermanance of the structures around us.

Click on image to view in full size.
So Far Yet So Near (2017)
On the level below, Chan Jia Yu's work explored the idea of temporality through the medium of plastic bags, which are objects that quickly transform from an essential into trash. The installation focused on the lightness and translucency of the plastic bag, and how natural elements like wind and light alter our experience of this common object.
Click on image to view in full size.
Take Shelter (2017)
Unwanted items collected from residents formed the foundation of this spatial collage of drawings and objects. Woven together with imagery inspired by Waterloo Centre as well as the artist's personal items, the resulting installation resembled an imagined temporary residence, overlapping the memories and experiences of both the artist and the residents.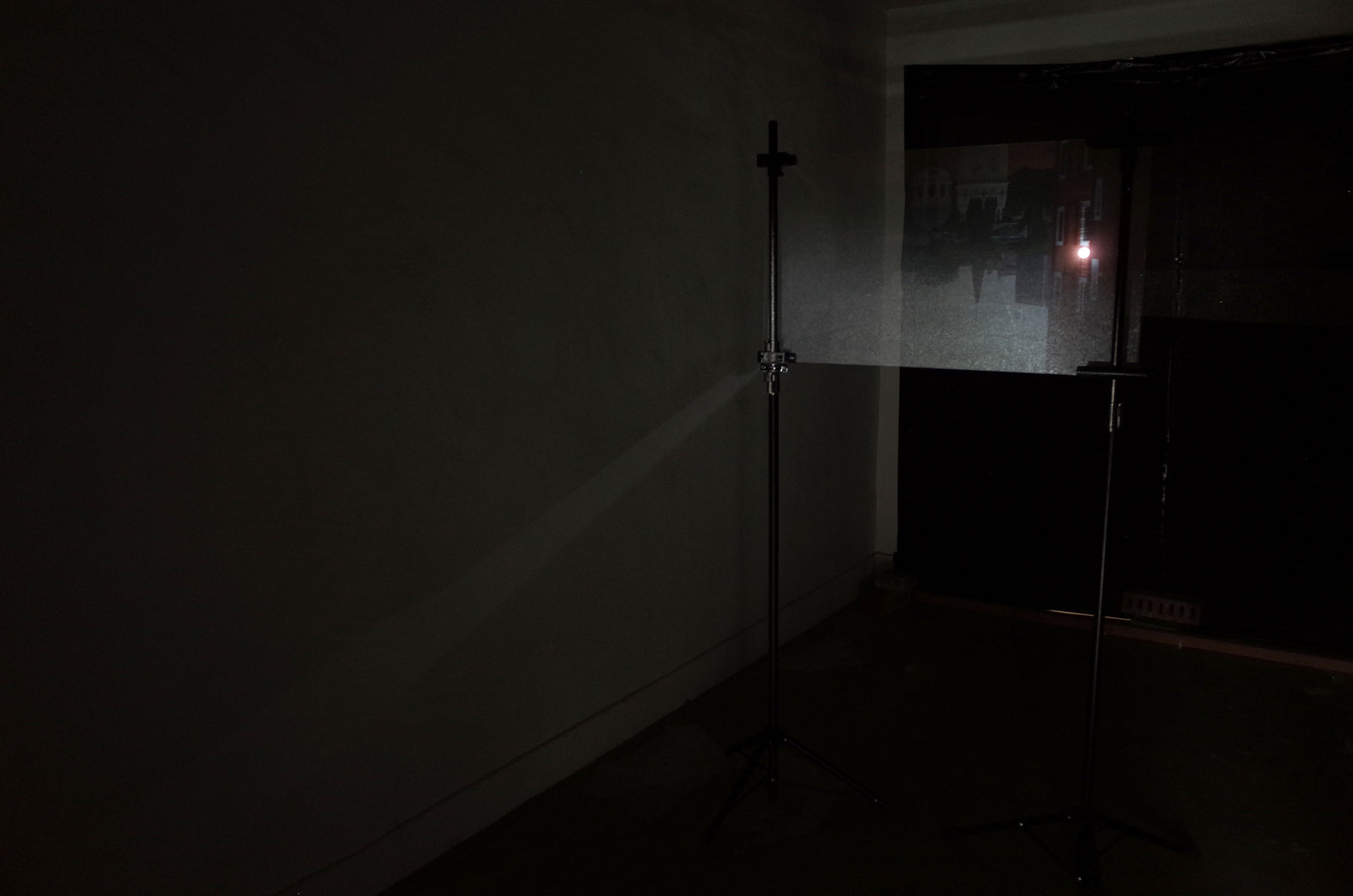 Click on image to view in full size.
The Screen to the Outside (2017)
Within a darkened area, the artist created a camera obscura that reflected the landscape surrounding Waterloo. This natural projection was then overlapped with a digital projection. By distorting audiences' vision of the exterior, the work paralleled our modern ways of seeing and understanding the world through digital screens.

---
Click on image to view in full size.
Love Shrine (2017)
Waterloo Centre is an aging building with aging residents, yet is surrounded by constant redevelopment. In response to these juxtapositions, the artist appropriated the domestic form of the bed, using the coarse material of tulle to represent how wrinkles in bed sheets record the movements of the bed's user(s). Suspended within a cell on the 12th floor, the bed took on an overwhelming shrine-like quality.

OH! Joo Chiat: The Tour Experience

Here's a virtual walk-through of the artworks.
For more information about OH! Joo Chiat, click
here
.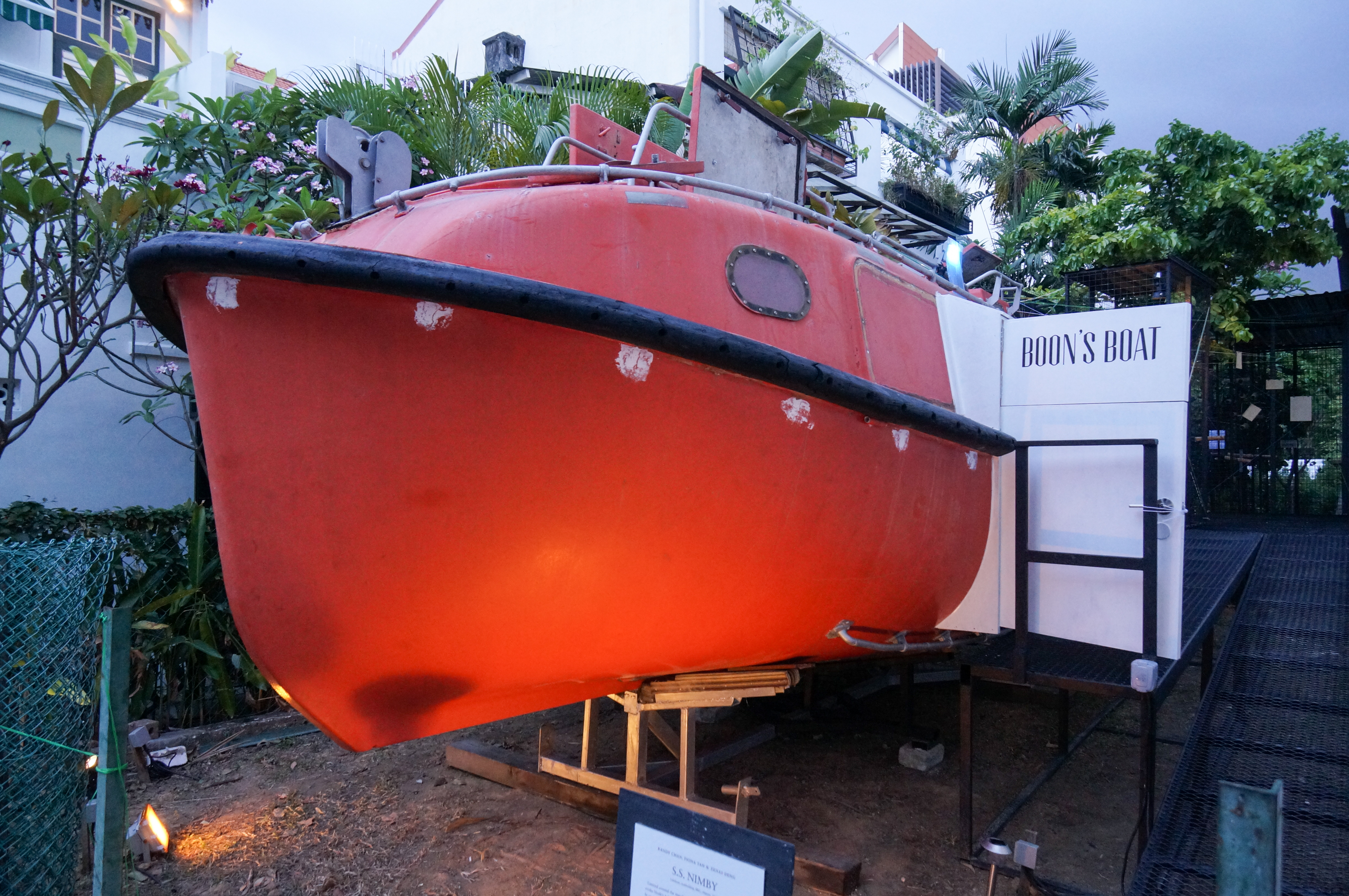 Click on image to view in full size.
Joo Chiat's tour begins in a secret garden that we've dubbed No Man's Land. Boon's boat sits here, evoking Noah's Ark and displaying a collective map of personal memories borrowed from all walks of life. Instead of thinking of Joo Chiat in terms of Peranakan architecture or Vietnamese food, we think about the people whose lives and stories inhabit it.

Artists: Randy Chan, Fiona Tan & Zenas Deng

Click on image to view in full size.
My Name is Joo Chiat (2015)
With community engagement in the form of a bicycle procession and flag making workshop, Osman reimagined Joo Chiat as a passageway that traverses different communities. Thus, the messiness of the outside was brought inside pristine & protected gated communities like Sandalwood.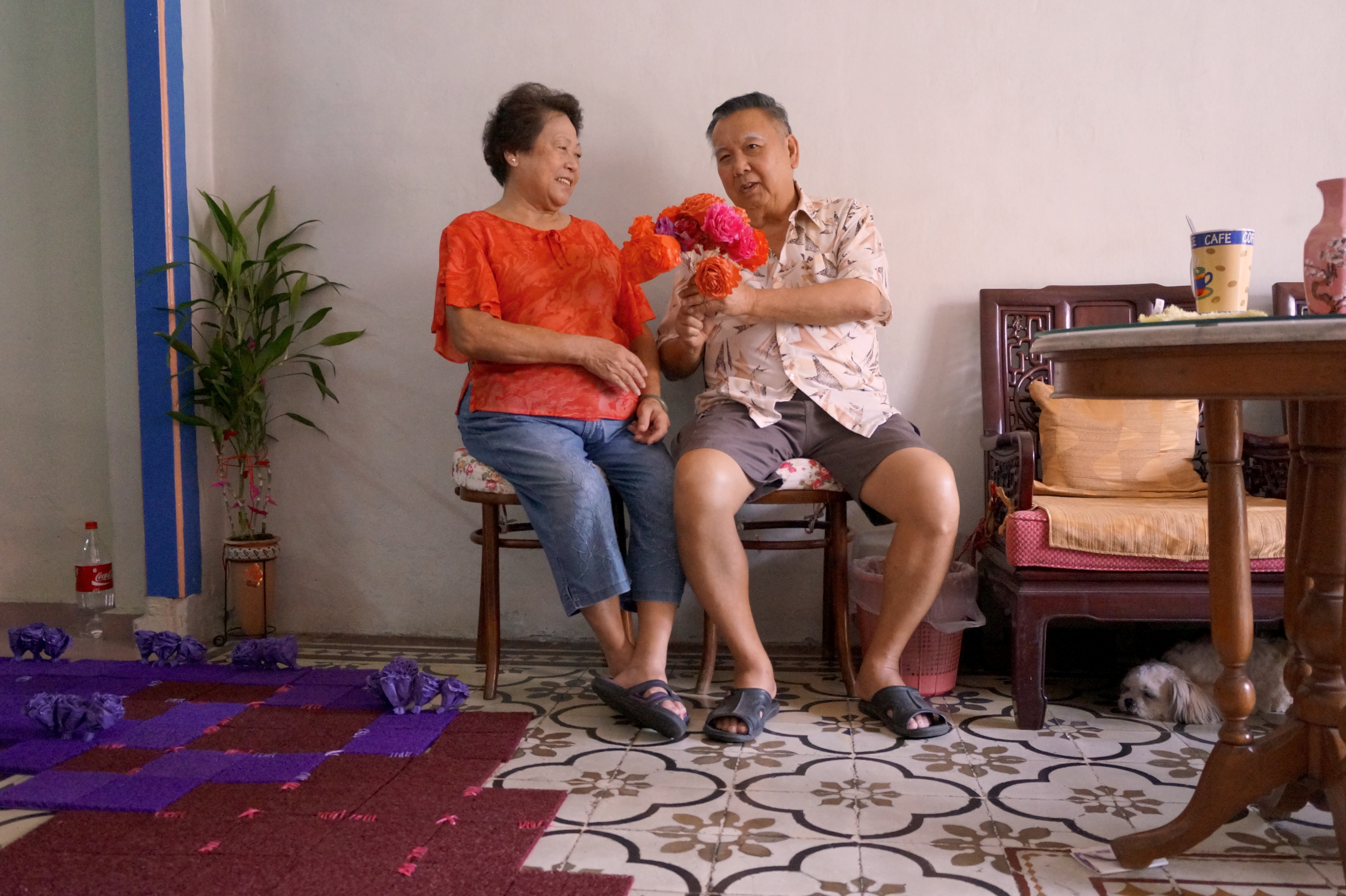 Click on image to view in full size.
Ordinary Things (2015)
Next, audiences entered Koon Seng Road, the heart of Joo Chiat and witnessed the private and sentimental life of Mr & Mrs Tan. The art meandered through the first floor of the house, responding to the theme of domesticity and the weight of memory.

Click on image to view in full size.
Fragments (2015)
Old Logs (2015)
Fragments from Ng Eng Teng's former studio represent the past. A past that reflects our cultural amnesia for the old and useless. Will this example of a ghost house become Joo Chiat someday?

Artist: CK Kum, Kum Chee Kiong

Click on image to view in full size.
Garden of Being (2015)
Joo Chiat belongs to many people and many religions, it exists in the everyday, the things we do again and again. Neo weaves a sensual narrative of rituals shaped by individuals within the larger community.

OH! Potong Pasir: The Tour Experience
Here's a virtual walk-through of the artworks.
For more information about OH! Potong Pasir, click
here
.
Click on image to view in full size.
Osman practices socially engaged art, where the creation involves community stakeholders.

He went door to door, trying to convince residents to let him paint the pattern of blue tarpaulin in their flats. The process of negotiation turned upgrading from something that is to be actively ignored and kept outside the home, into a process that was social, vulnerable and even humorous.

Click on image to view in full size.
Fractal Dunes (2016)
Potong means cut, Pasir means sand. The artist draws inspiration of Potong Pasir's history as a sand quarry and presents two kinetic, constantly moving, sandscapes. One is driven by a grid of mini-fans, the other by a water feature simulating the flow of the Kallang River.

Click on image to view in full size.
One to None Exchange (2016)
A book, a chair, a hanger… Our personal belongings are extensions of ourselves and say something about our taste, lifestyle, education and beliefs. What happens when the artist removes an everyday object from its original context into another home? Here, the artist uncovers the personal stories of homeowners.

Click on image to view in full size.
Let Sounds Go Wherever They Will Go (2016)
By surreptitiously inserting hidden cameras into domestic objects, the artist complicates power relations – the observer and observed overlap.

Click on image to view in full size.
Consigned (2016)
What does it mean to reproduce an object or place that has been destroyed?

The artist recreated Chiam See Tong's iconic table from Blk 108's Meet the People Session, which many Potong Pasir residents have real memories of. Yet, the artist also recreated Alkaff Gardens in miniature, a bite sized souvenir to be consumed in SG50's wake of nostalgia that most of us have no relationship with. How do we treat memory in Singapore? Do we commercialise it till nostalgia becomes meaningless souvenirs?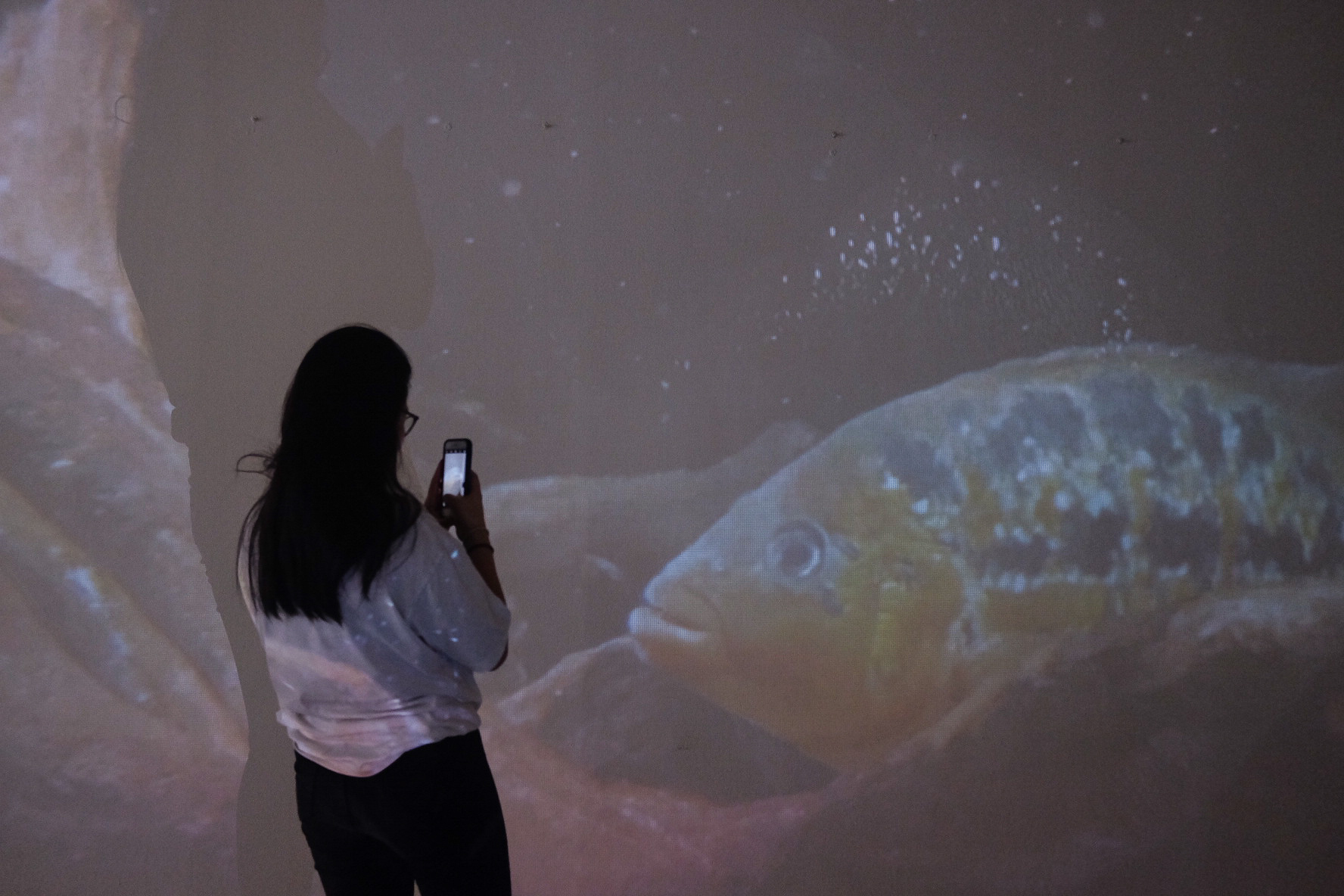 Click on image to view in full size.
Undertow (2019)
Three projections were plastered across the exhibition space, creating a lulling sensation for the viewer and challenging the agency that one has over his life.

Are we in charge of our own lives? Or are we simply going through the motions, caught up in a current that simply moves us along, day by day?

Artists:
Liana and Robin

Click on image to view in full size.
Verisimilitudes (2018)
Three projections were plastered across the exhibition space, creating a lulling sensation for the viewer and challenging the agency that one has over his life.

Are we in charge of our own lives? Or are we simply going through the motions, caught up in a current that simply moves us long, day by day?

Artists:
Liana and Robin
This artwork gives new life to old, unused artworks and objects from past shows by Liana, Robin & OH! Open House. Each object carries the weight of hours of thought, experimentation and discussion.

What makes an artwork, an artwork? Can an artist's unseen contributions be considered as meaningful work?

Step into a room bathed in blue light and listen closely to the repetitive soundscape — akin to the humdrum of one's life.

The rhythms of contemporary life can get boring. Can we truly escape the humdrum of our working lives and take a break?

The Chip Bee Tour
Art Walk 1 of 3 for
OH! Holland Village (2017)
With only one road in, and the same road out of this 1960s estate built for the British, installations reflected on the nature of an enclave.
Click on image to view in full size.
EAST OF SUEZ (2017)
In a vacant house along Jln Kelabu Asap, the artist sanded down the walls of a bedroom, revealing layers of history under coats of white paint from the past 60 years. The paint, residue and dust was collected and moulded into British Empire campaign service medals from the 1960s, referencing a time in Singapore when British troops were withdrawing from its-then colonies post-WW2.
Click on image to view in full size.
Creep in Three Movements. (2017)
Inspired by the organic development of the neighbourhood, the artist has inked, stacked, layered and bundled toilet paper, making delicate sculptures that intrude quietly into the homeowner's space. These "soft disruptions" in ignored or under-utilised areas are compared to the audience's voyeristic invasion of space.
Click on image to view in full size.
In Between Spaces. (2016)
This artwork speaks of Singapore's tightly controlled nature and growth, where lush greenery flourishes only within the narrow strips of the Rail Corridor.

Set within the same house as, and therefore in direct comparison with, Creep in Three Movements (2017) which intrudes into space and represents organic disorder. In Between Spaces (2016) on the other hand, disallows and contains movement, representing imposed order.
Click on image to view in full size.
Crackling, Pour (Red), Pour (Beige Double), Pour (White Ten),
Pour (White Pair), Pour (Green Quad), Umbilical. (2013)
Here, heavy strands of yarn burst forth from the defined borders of a 'carpet' and the lushness of the material contrasts heavily with the minimalist form. Audiences were invited to consider how this was similar to Chip Bee Garden's history as insular living spaces for British military families, yet the presence of this community affected the surrounding area of Holland Village.
Click on image to view in full size.
An Exile Revisits the City (2011)
This series of photographs feature a fictitious political exile returning to Singapore after a long absence. He contemplates the view before him – Mt Faber, Tanjong Pagar Railway Station & Kanji War Cemetery – of places of historical significance, remembering a time lost past.

As an exile, the figure in these photographs represent someone who is both within and outside, familiar and unfamiliar, and cannot cross a border either by force or by choice.
THE HDB TOUR
Art Walk 2 of 3 for
OH! Holland Village (2017)
Heartland drama unfolded through everyday objects transformed by artists, ending in one of Singapore's original suburban malls.
Click on image to view in full size.
COMMONERS (2014–ongoing)
Three surreal environments hang in the corners of a HDB flat representing alternative universes of Singapore's public housing units. The artist was inspired by looking up into the windows of flats at night and imagining wild scenarios of these unseen worlds.

As the first art encounter of this tour, the perspective of Singapore's domestic heartlands was subverted and relooked at.

Artists:
Dorcas Ng
(in collaboration with Fazli Manor)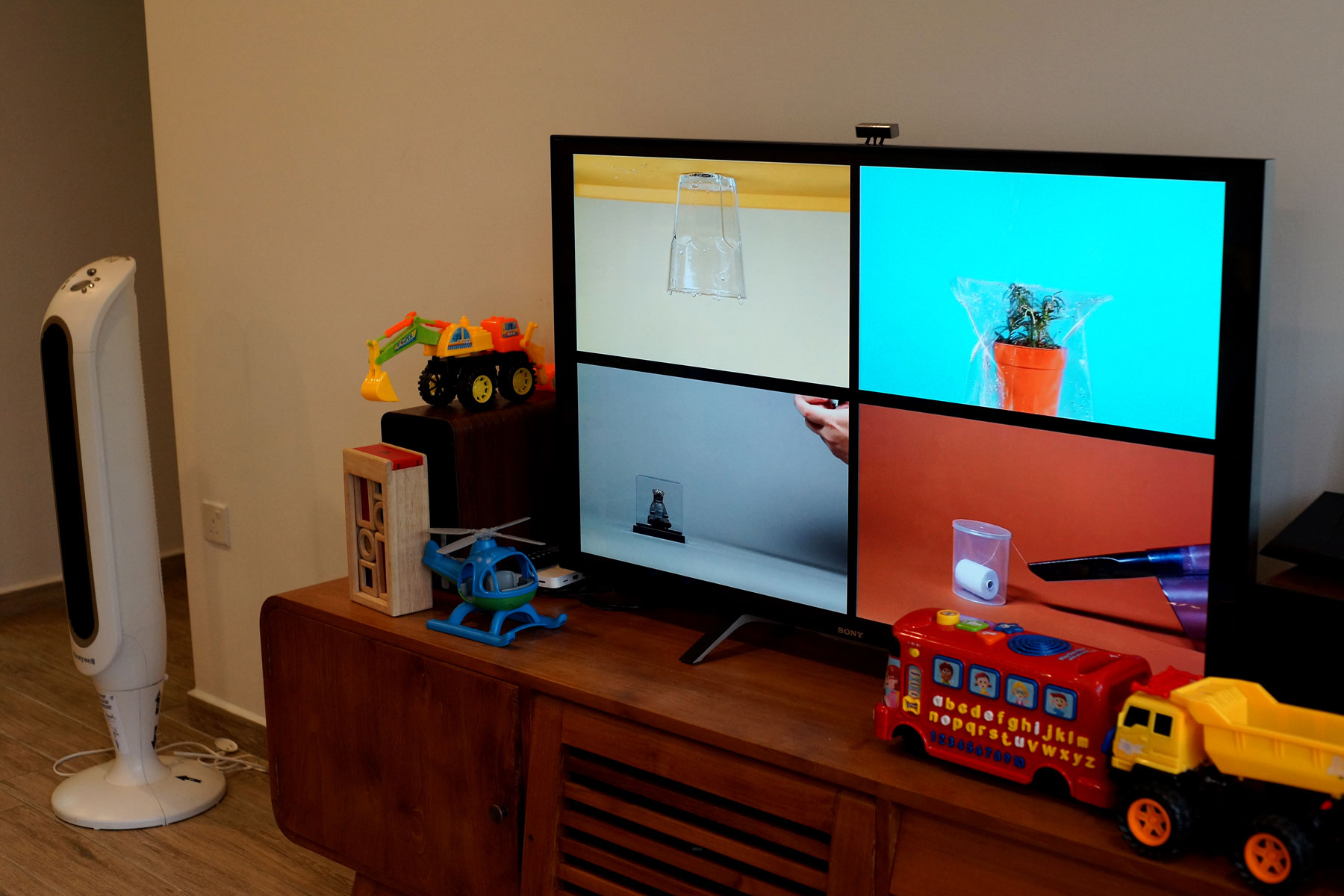 Click on image to view in full size.
To live and let live. (2016)
A series of videos featuring everyday objects in absurd conflict with each other, highlighting the nature of conflict and compromise that routinely take place in the heartlands between neighbourhoods.

In Holland Village, are we to believe that Lorong Mambong's hip cafes and late night bar vibes "cannot be mixed" with the HDB estate?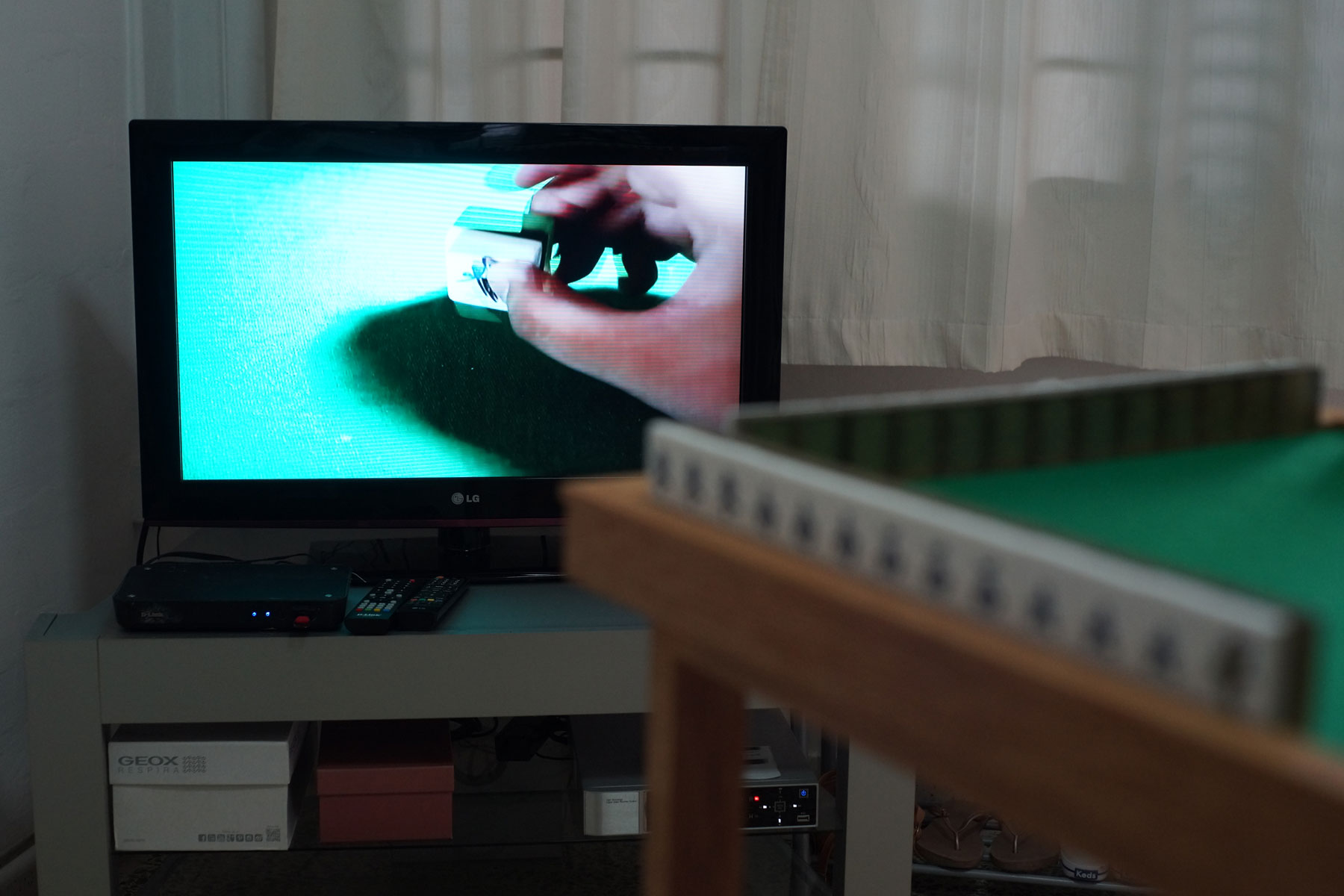 Click on image to view in full size.
Waiting on a Bird (2016)
A recognisable domestic scene in Asian culture – the mahjong table with a game seemingly in play – has been set up. However, upon closer inspection, audiences familiar with the game and its rules will realise that the artist has set up an absurd, practically impossible situation where everyone is waiting for one tile – the Bird – in order to win.

At the end of the day, nobody wins.
Click on image to view in full size.
Dear FWB (2017)
Here in a spare bedroom of a typical 4-room HDB flat, fresh flowers wilted, and were constantly replaced. Snippets from a relationship – "I am not going to tell you I miss you" – scrolled across the LED screen.

In reference to the pubs of Lorong Mambong, the artist turns the concept of the bedroom as a warm, domestic space on its head by inviting the modern, short-lived and temporary romance in.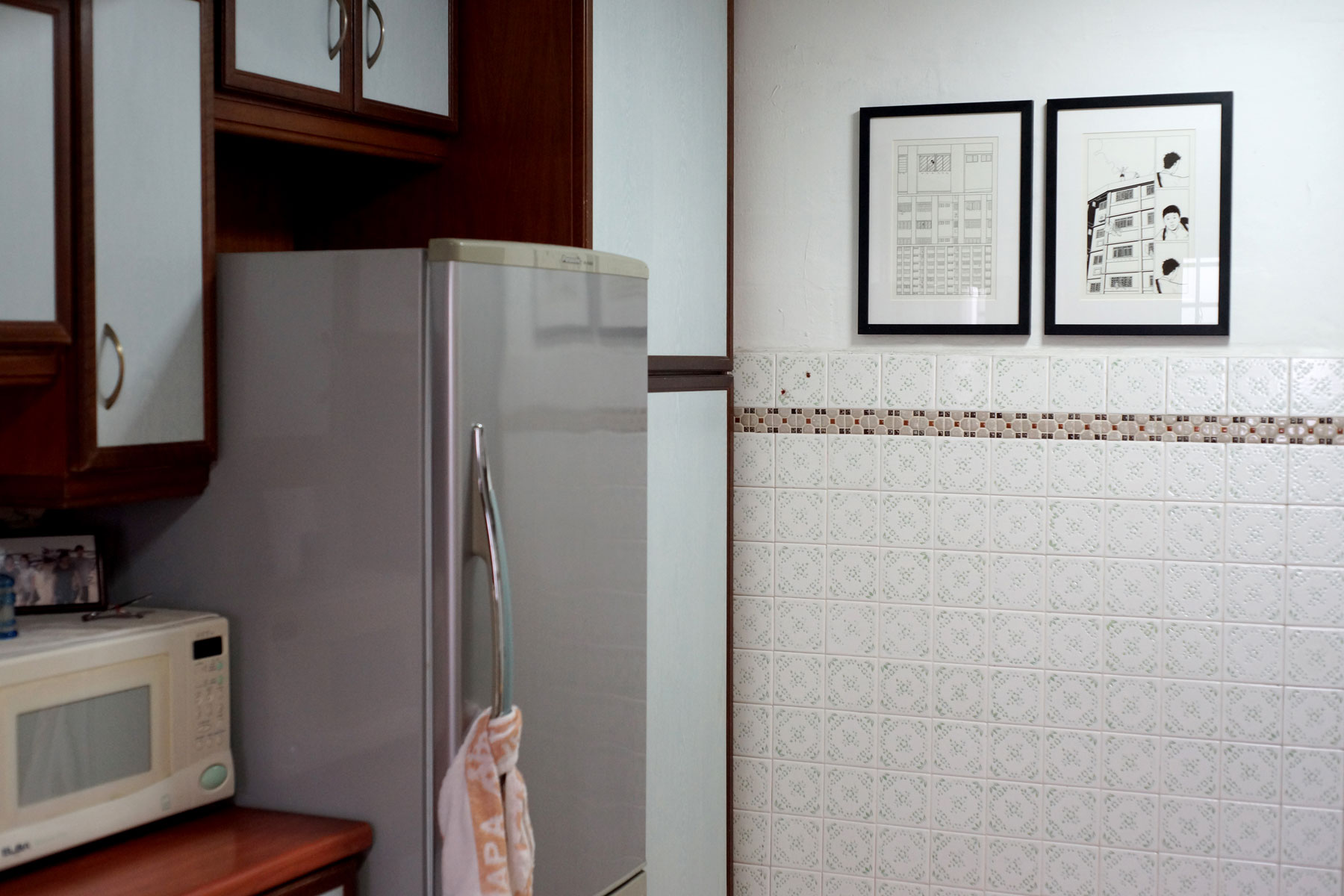 Click on image to view in full size.
Excerpts of original drawings from Gone Case (2010)
Gone case is a graphic novel, set in a 3-room flat, that sensitively explores the heartlands and highlights the humanity of everyday life.

These excerpts were chosen for their nuanced representation of the HDB estate architecture, where audiences dwelled on quiet yet relatable moments of life depicted in recognisable spaces.
The Hakka Cemtery Tour
Art Walk 3 of 3 for
OH! Holland Village (2017)
More than just our traditions, artworks revealed patterns, repetitions, order in this self-guided, meditative tour.
Click on image to view in full size.
n. 330 - twenty constructs on a plane [contaminate/debris/fluid/irregular] (2016)
Exploring the notions of form and formlessness, tactility and repetition, the artist treated stacks of circular paper with different forms of calcium carbonate – marble, eggshells, chalk. The repetition and systematic process here parallelled ordered rituals audiences might experience in everyday life.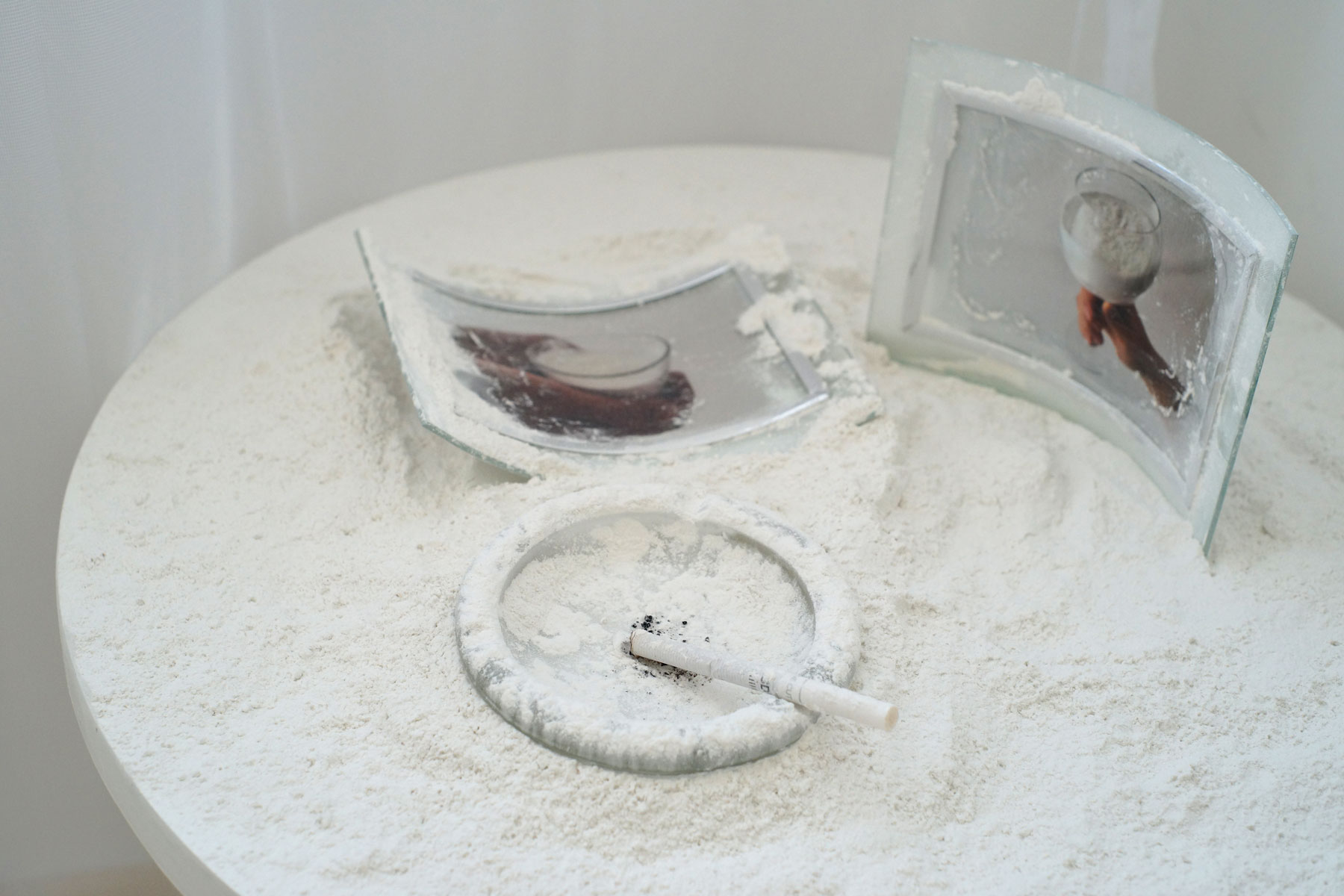 Click on image to view in full size.
you pick what i left behind (2017)
The fragrance of talcum power lingered, recalling domesticity, childhood and the body. The theme of loss and waiting, particularly waiting for someone who will never return, was highlighted. The artwork and the Hakka Cemetery, which was visible from the kitchen window, reminded audiences of their own mortality.
Click on image to view in full size.
Echo (2017)
The physical erasure of all motifs on the porcelain objects mirrored the erasure of the artist's own personal Hakka Chinese heritage. Within the larger context of Singapore, this erasure also mirrored the disappearance of important cultural sites, as heritage battles pragmatism in our urban city. How will our rituals survive?
Click on image to view in full size.
Ultima Thule: Here Be Dragons (Variation) (2017)
Inspired by migration and nomadism, this sound piece layered voices and audio samples that explored how nomads relate to their constantly changing environment.

Audiences were blindfolded as they listened to the disorientating audio and led by volunteers to the middle of the silent, serene Hakka Cemetery.
Click on image to view in full size.
Don't ask me where I came from (2017)
Stone and clay sculptures were scattered in a field within the cemetery. Loops and circular forms hinted at a sense of completion but with a large gap – much like the undefined and fragmented histoy of the Hakka people.
THE MORAL HAZARDS OF GROWING NUTMEG IN A FARAWAY LAND
This was the first of 4 tours for
OH! Emerald Hill (2018).
Immersive and sensorial, this tour told the story of colonial nutmeg mania in Singapore.
Click on image to view in full size.
Nutmeg Dream (2018)
This work took viewers back to Orchard Road in the 19th century during the height of 'nutmeg mania'. The area was filled with nutmeg plantations - every colonial settler wanted to get rich. Through found objects, sculptures, and bags of nutmeg, the artists transformed a shophouse into a spice warehouse where the past and present collided.

Artists:
Nabilah Nordin
Nick Modrzewski

Click on image to view in full size.
Your Touch Turns to Gold (2018)
This foot represented Prince Albert, husband of Queen Victoria. He was Commissioner of The Great Exhibition of 1851, which showcased the wonders of the industrial age – including products from the colonies – at the Crystal Palace in London.

When touched, the work turned to gold. This transformation reflected the exploitative relationship between Britain and its colonies - spices, raw materials and objects taken from the East became sources of great wealth for the West.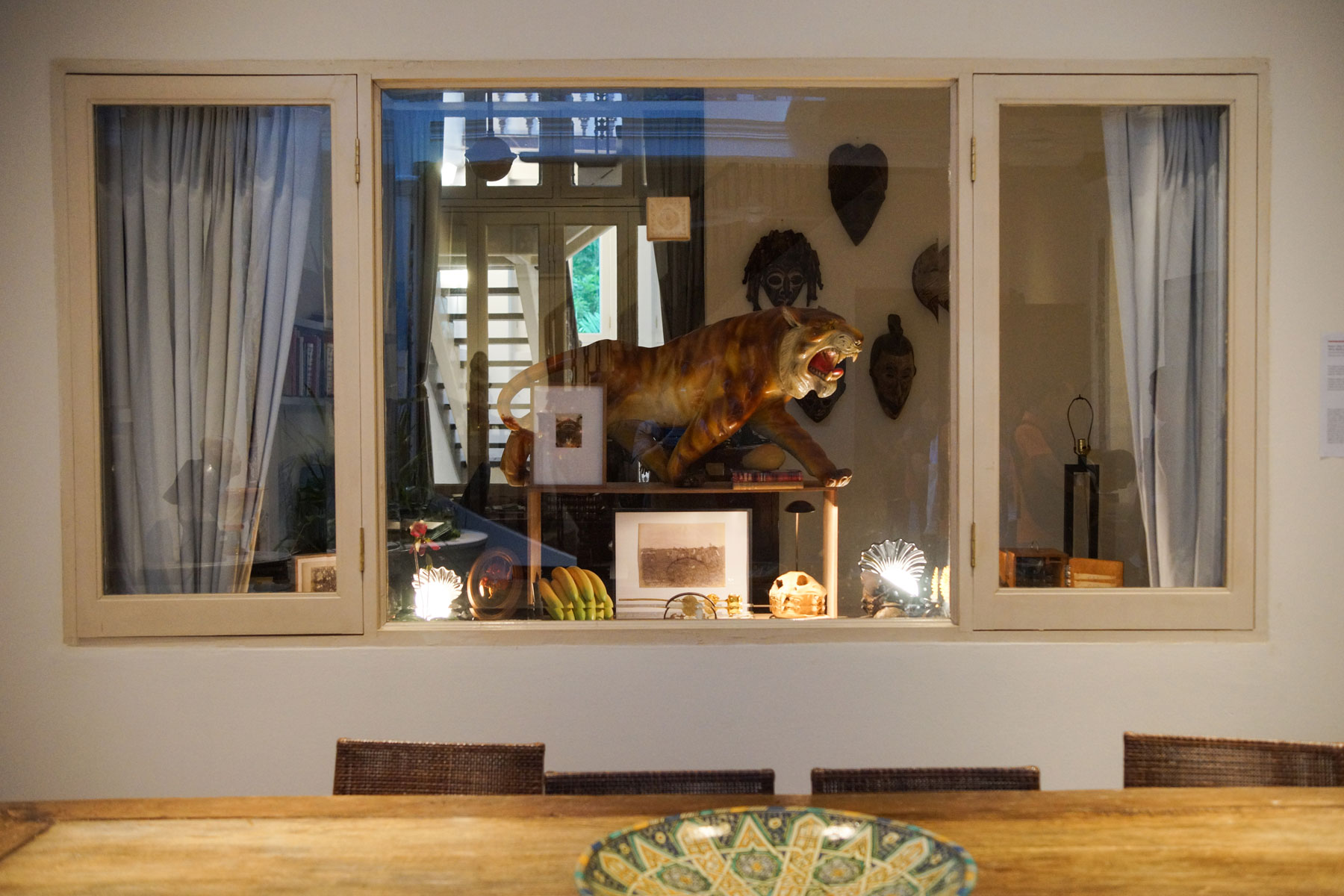 Click on image to view in full size.
White Rubber (2018)
This work presented a selection of objects related to plantation life in Singapore. Visiting rubber plantations was once a highlight of the Singapore itinerary and images of rubber tappers were novelty souvenirs. Rare artefacts presented here included a British tourist's souvenir from a rubber plantation and a coconut pearl harvested from one of many coconut pearl plantations in Singapore during the 1920s.

Artist:
Robert Zhao Renhui


Click on image to view in full size.
Arcane Root (2018)
Nutmeg Mania ended in tragedy and loss. The overproduction of nutmeg resulted in sacks of wasted nutmeg for buyers. In Singapore, a nutmeg canker wiped out all the trees by 1850. Planters discovered much later that it was not a disease but a local beetle that destroyed their plantations. These were reimagined by the artists who presented them upturned and filled with soil and flowers that decayed slowly over the course of the exhibition. Victorian children haunted darkened spaces like ghosts from the past.

Artists:
Allison M. Low
Ho Wai Kit


ALL THE KING'S PAINTERS

This was the second of 4 tours for
OH! Emerald Hill (2018).
This tour put our colonial history on a stage. Artists played with its construction and performance.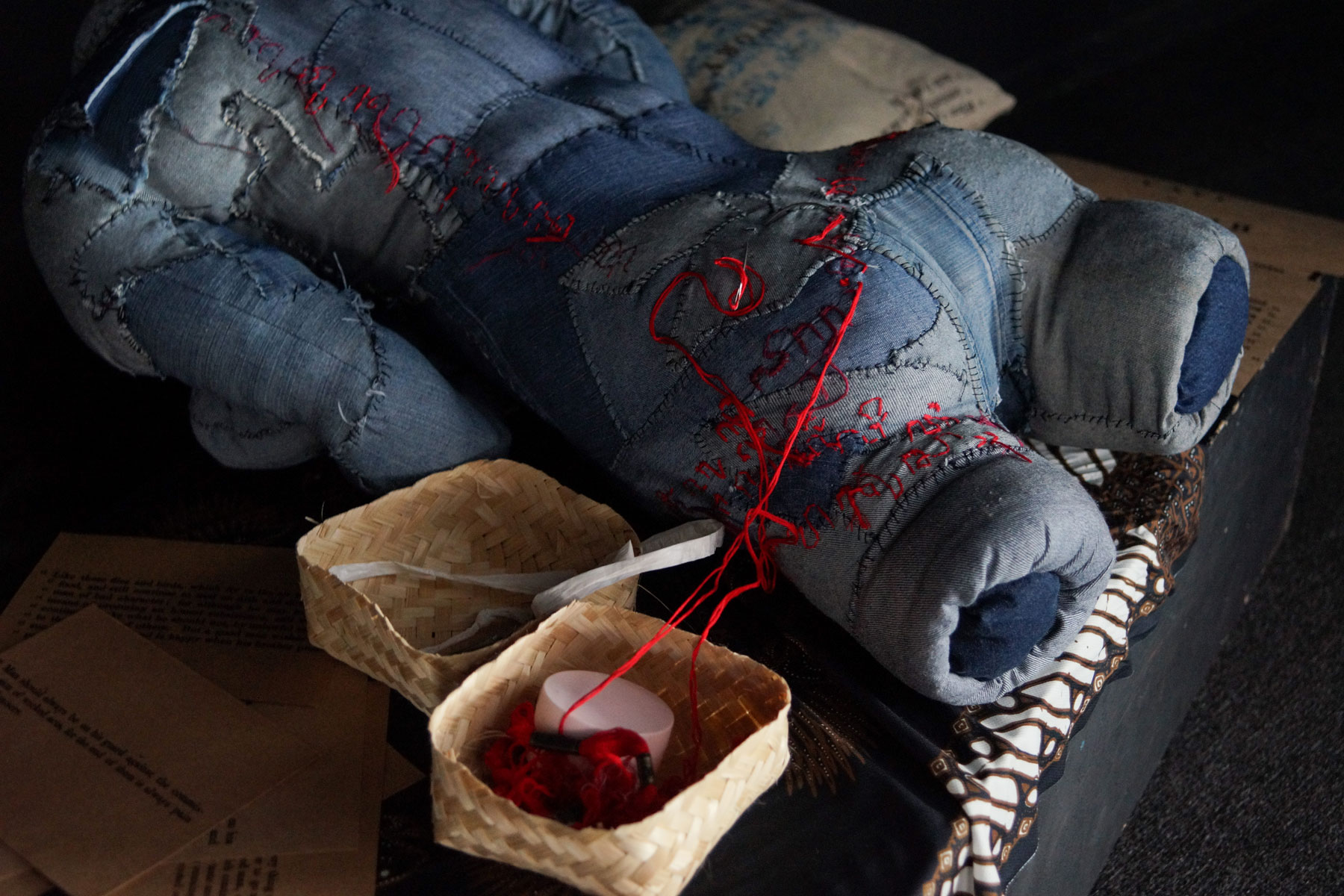 Click on image to view in full size.
Seamstresses' Raffleses (2016)
Inspired by Javanese acts of immortal vengeance, the artist created his own versions of Sir Stamford Raffles. While commonly lauded as the founder of Singapore, he is also regarded as a looter and invader in Java. The figure of Raffles is recognisable through his pose. While he typically stands proud as our founder, this stage provided a different story as Ong explored the Javanese version of Raffles. In his hands, the making of each sculpture as effigy — cutting, sewing, stuffing and hanging — enacted its form of violence.
Click on image to view in full size.
The Probability of Veracity: The Missing Daguerreotypes - Part 1 (2017)
In this series of paintings, the artist channeled the life and work of the 19th-century French photographer Jules Itier, who produced many daguerreotypes of Asia. The paintings recreate 7 of the missing daguerreotypes with reference to Itier's journal entries and other materials, which were displayed alongside the work. The collage of written, photographic and painted information prompted a consideration of the veracity of images – are these 'faithful views'?
Artist:
Gilles Massot
Click on image to view in full size.
To The Eastward (The Lines Divide) (2014)
A film that complicates the story of Singapore's founding. It introduces audiences to the figures of William Farquhar, the first British Resident of Singapore, and Tengku Long, the puppet Sultan, who were also involved in this pivotal moment. The film is based on letters to and from Raffles and references other historical documents - such as the Treaty of Singapore. The process of filmmaking is deliberately exposed throughout, reminding audiences that this narrative is staged. The work suggests that history, like film, is always constructed too.
Click on image to view in full size.
on the act of planting islands (2014)
A companion piece to the film To The Eastward (The Lines Divide). William Farquhar's natural history drawings with old colonial maps of the Malay Archipelago. The work reflects on the West's fascination with the exotic East.
Click on image to view in full size.
Open Love Letters (2018)
In Singapore, Stamford Raffles is celebrated as the gentleman-hero. However, the lesser known aspects of Raffles' stories are tied to Java, where he was an invader and a looter. What could commemorate Raffles' acts of dishonour in colonial Java?

In Open Love Letters, the artist attempts to atone for, reconcile and exorcise Raffles through a performance. For this purpose, the familiar Raffles monument was transformed into a grill on which fragrant Javanese kueh kapits were cooked. The kuehs were stamped with Javanese text published in a book by Raffles and shared with the audiences as a talisman against colonialism.
Created with the support of: Sound Artist: Jeremy Sharma / Singer: Wahyuningsih
FANTASTIC BEASTS AND MAN-EATING FLOWERS
This was the third of 4 tours for
OH! Emerald Hill (2018).
This tour took the form of a choose-your-own-adventure through the themes of botany, science and representation.
Click on image to view in full size.
Exponential Taxonomies (2014)
In this series of images, William Farquhar's natural history drawings were scanned alongside real plants. Two modes of documentation are contrasted – one scientific, the other luxuriant. The scans deliberately include dust particles and rolled-up edges, even cropping out significant parts of the plant. The work challenges our assumptions about the objectivity of scientific observations and points out the limits of representations.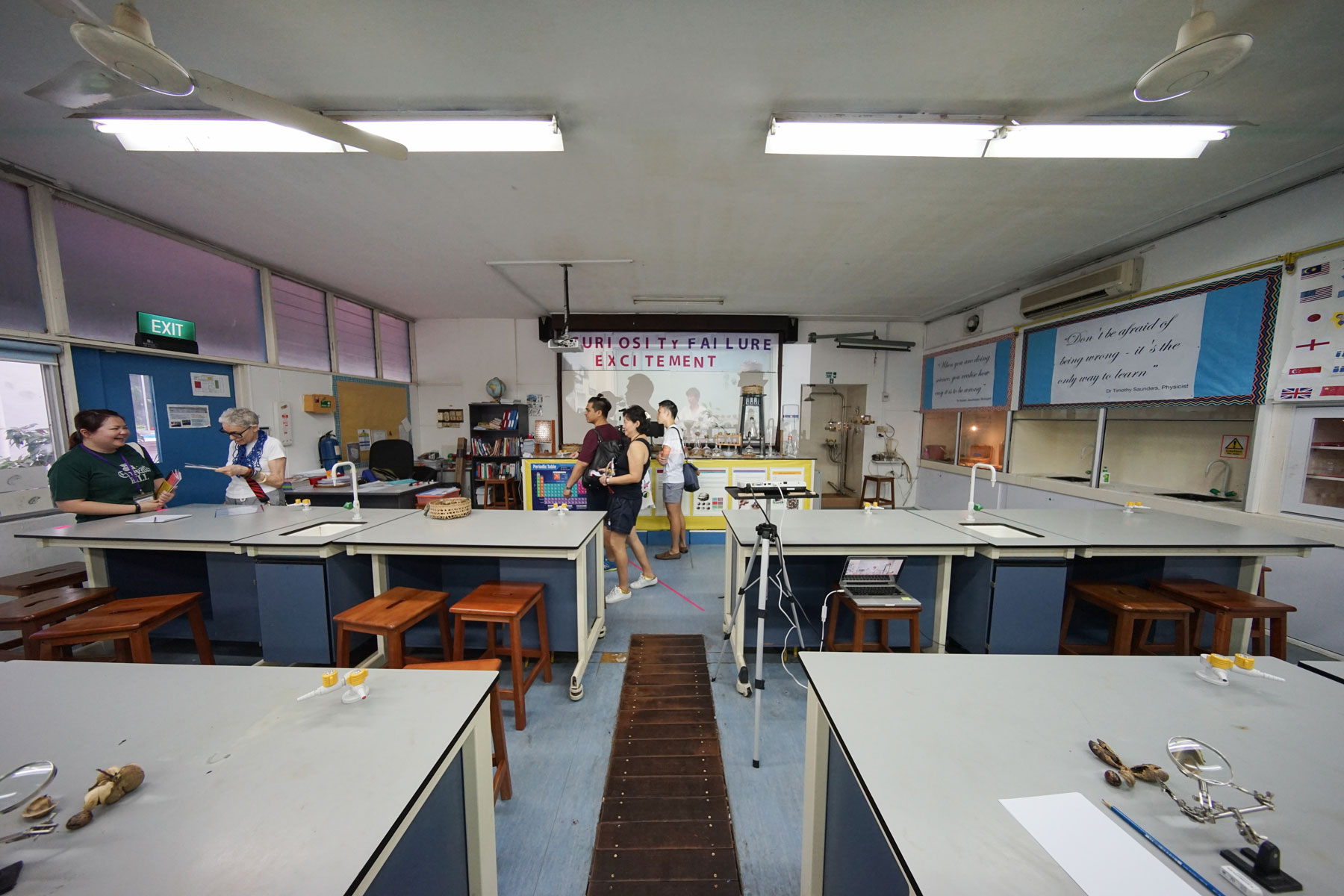 Click on image to view in full size.
How To Study A Rubber Seed (2018)
Rubber was one of Malaya's most important cash crops. Henry Ridley experimented with it in the Singapore Botanic Gardens, discovering a way to tap the tree extensively without destroying it.

In this work, the artist invited audiences to approach rubber differently. They could experiment with it across different stations in the installation. The work encouraged curiosity, without agenda for exploitation or profit.

Created with the support of: Cinematography: Russell Morton / Hevea consultant: Gregory Lesturge / Biophysics consultant: Dr Tim Saunder / Scientific consultant: Dr Suresh Jesuthasa / Hevealogists: SK and Pre-school students of Blue House international School
Click on image to view in full size.
Garden State Palimpsest (2017)
An installation based on the artist's interviews with residents of kampungs that no longer exist in Singapore. Each object is an attempt at recreating the environments that marked the interviewees' lives, serving as documentation of a lost landscape that now seems mythical in heavily urbanised Singapore. The images are abstract and hazy, and the stones fragmented – they are only an approximation of a space that once existed, refracted through memories.

Click on image to view in full size.
ENDEMIC 'END66 Pantlingia Manrii' (2015)
The orchid in this work is endemic to Mount Kinabalu, it can only exist in that particular environment. Yet, the work can be brought to any place in the world. A part of it twitches, revealing its artificiality. The artist defied nature by creating a copy of the orchid with industrial materials. The endemic orchid can now exist anywhere. It does not belong to nature, but to the industrial age of machines and mass reproduction.
Artist:
Chris Chong Chan Fui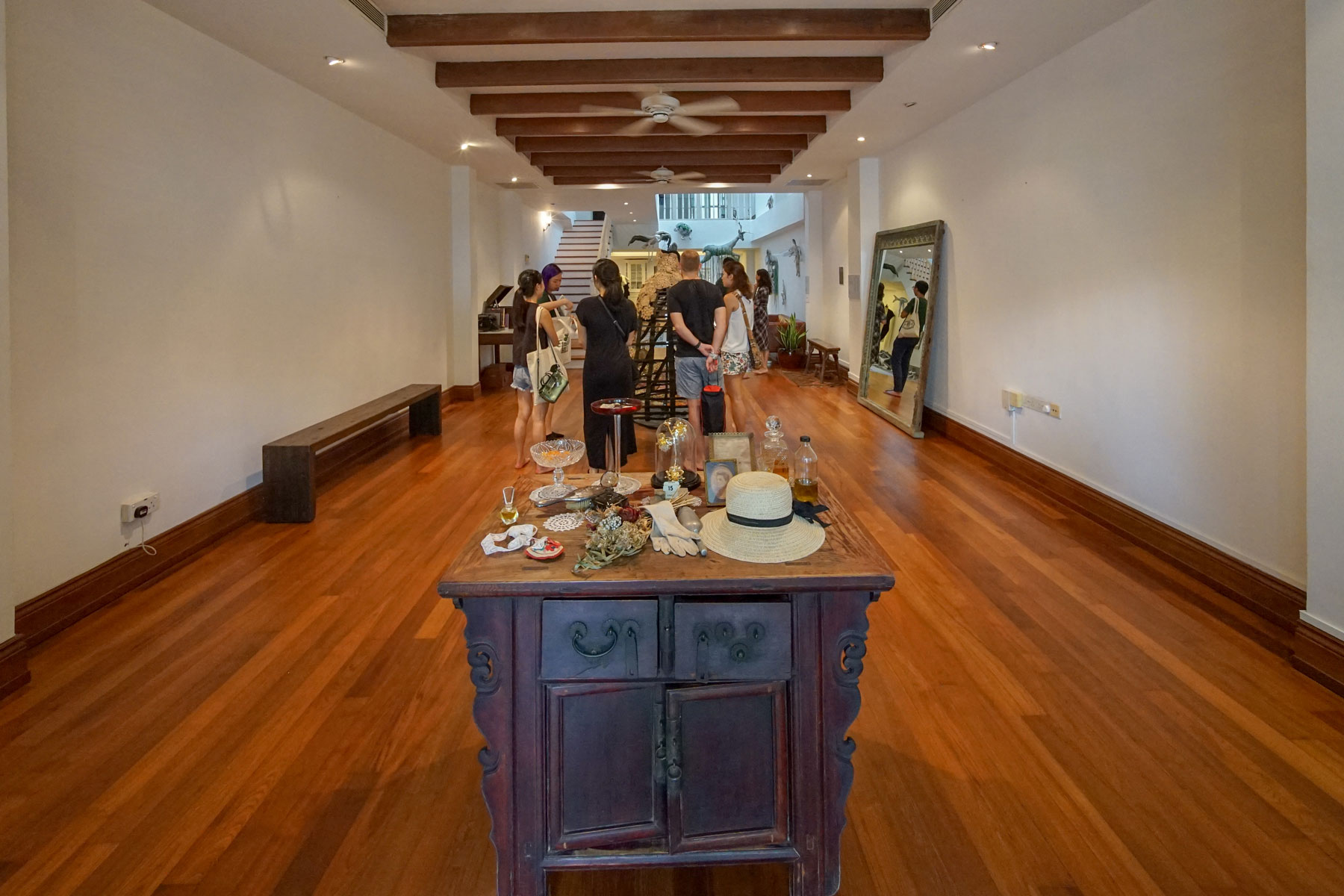 Click on image to view in full size.
Daughter of the Soil (2018)
"Let her own works praise her." These words, inscribed into Agnes Joaquim's tombstone, inspired the artist to create this work. Here, each object celebrates the story of the woman who created Singapore's national flower - the Vanda Miss Joaquim. Guests were welcomed with a perfume oil that recreated the scent of Agnes's garden in Tanjong Pagar. They were greated by a sculpture of a 19th-century crinolinecovered with lace dipped in soil from Joaquim's garden. Each part of the installation also speaks to the domestic and progression labour performed by many women that often goes unnoticed.
Created with the support of: Crinoline: CoreCrewFx, Paul Pistore, Rob Jenkin, Juneau Lim, Tania May Leong, Nawel Hammoumraoui, Jeroen Ow / Sound Installation: The Gunnery / Poem Recordings: Agatha Lee, Ani Umedyan, Aurora Hamons, Britta Oustrip, Coco Anna Oustrup Laureijs, Damini Roy, Debasmita Dasgupta, Elaine Friedlanger, Fiona Silva, Hazel Locke, Helle Max Mullen, Ho Tran Da Thao, Jolie Ow, Kali Ma Shub, Lily Dogarel, Linda Locke, Louise Padley Simpson, Madina Khamitova, Mamakan, Meena Peters, Pauline Chen, Saniya Yerlan, Sarah Ichioka, Sofia Xandra Oustrop Laureijs, Stephanie_Zarigian, Tahnya Butterfield-Gill, Zara Yelunin / Perfume Development: Heather Ho, Pauline Chen / Research and Materials: Britta Oustrup, Anna Bervander, Linda Locke, Nadia Wright / Soil Support: Kalthom Abd Latiff, Tay Ah Ba
BUY EMPIRE EVERY DAY EVERYWHERE
This was the finale exhibition for
OH! Emerald Hill (2018)
that took place in Orchard Plaza. Citizens were invited to fulfil their civic duty by consuming.
Click on image to view in full size.
The Mad Dog Singers (2018)
A Barbershop Quartet performed an over-the-top, campy rendition of "Mad Dogs and Englishmen" for audiences. Together, they walked down Orchard Road, to a mall of days gone by – Orchard Plaza.

---
Click on image to view in full size.
Salvation Made Simple (2018)
"We are The School, for we are many, like fishes in this vast spiritual sea". The School is a spiritual organisation that believes in the authority of The Goddess's teachings for their life and practice. They are committed to assisting anyone who seeks to graduate into enlightenment under the guidance of She Who Is Blessed.


Audiences could get blessed at this special pop-up store. They experienced the Goddess's unconditional love through merchandise dispensed in the vending machines. Salvation is simple.


Created with the support of: Art Director: Miki Charwin / Spatial Designer: inthewild / Sound Designer: FERRY / Illustration of The Goddess: whitehorsegrey, May Chua Embroidery / Artist: Karen Leong / T-shirt & Badg e Artwork: Deon (@deonasaurus) / Social Media Executive: Christian Maranion / Behind-The-Scenes Photographer: Christopher Sim / Behind-The-Scenes Videographer: Daniel Chan Xian Wen / Assisted by: Ernest Zacharevic, Henzy David, Joel Chua, Sheena Liam, Stephanie Moh / "#BlessedWater" Advertisement Director & DP: Lenne Chai / Stylist: Josiah Chua / Hair & Makeup: Alex T / Model: Huda Shamin / Assisted by: Daniel Chan Xian Wen "Oyster World: The Dog & The Goddess" / Trailer Director: Adin Kindermann / DP: Lenne Chai / VO Artist: Mitchell Poon / Starring: Mitchell Poon, Dave Rogers, Alex T / "Soul Spinning Amulet" Advertisement Director: Jasper Tan / Vadbibes / Talent: Travion "Watching The Goddess" / Documentary Director & DP: Lenne Chai / Extras: Adin Kindermann, Bao En, Calvin Phua, Charlie Triano, Hailey Rodee, Henzy David, Joie Tan, Miki Charwin, Sylvia Paing, Teddy Phuong, Tiffany Pan


---
Click on image to view in full size.
Gold Gold Real Estate Agency (2018)
The Gold Gold Real Estate Agency invited audiences to look for their dream homes in Emerald Hill. A conservation neighbourhood, each home in Emerald Hill has its own distinct architectural features, some of which were represented in the paintings displayed at the agency. Each painting of the facades of Emerald Hill shophouses is a tidy, easily consumable representation of our culture and heritage. They were contrasted with a series of paintings placed by the door, which depicted anonymous interior spaces that are contemporary in their colour palette and composition – there is no heritage to be found there.


---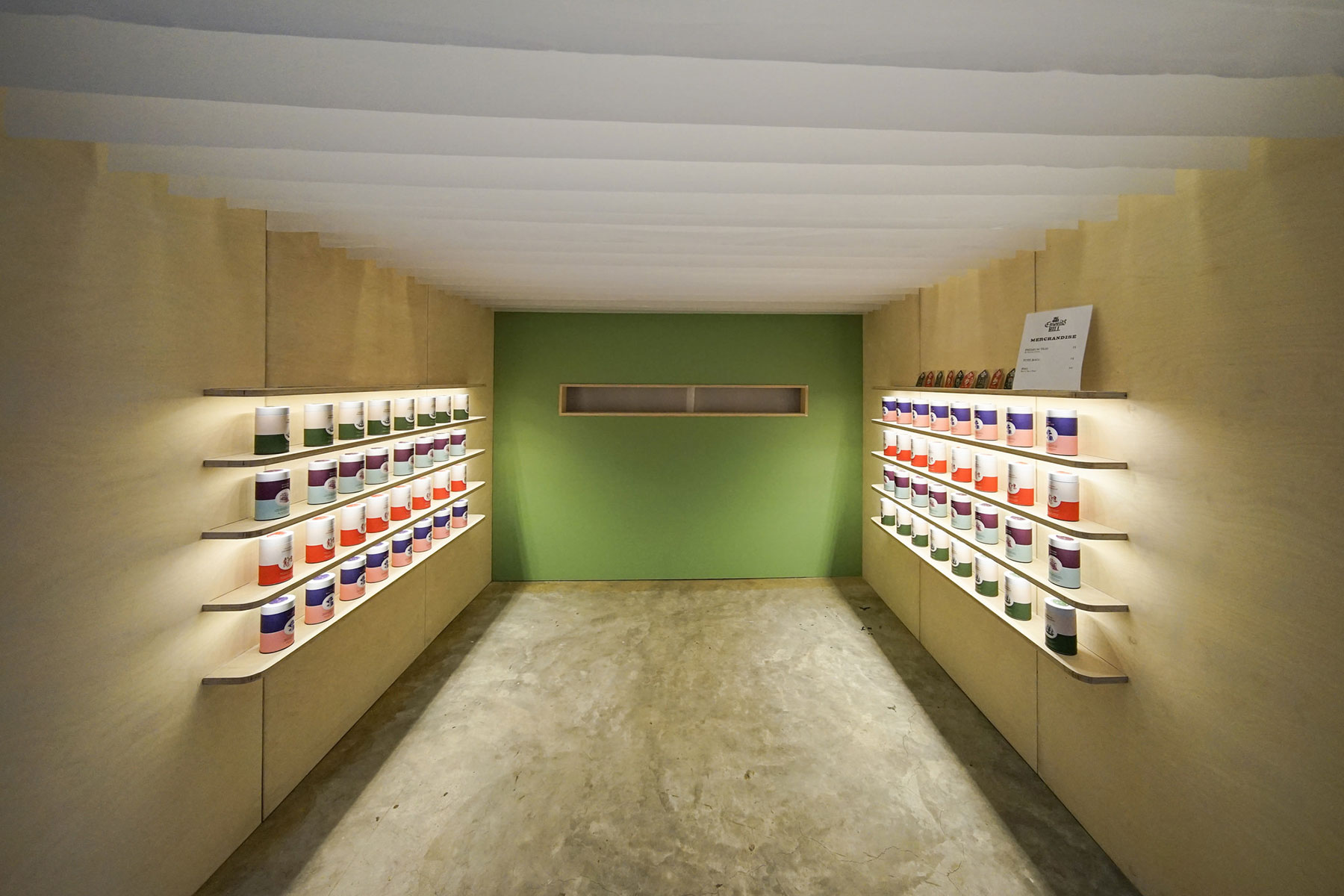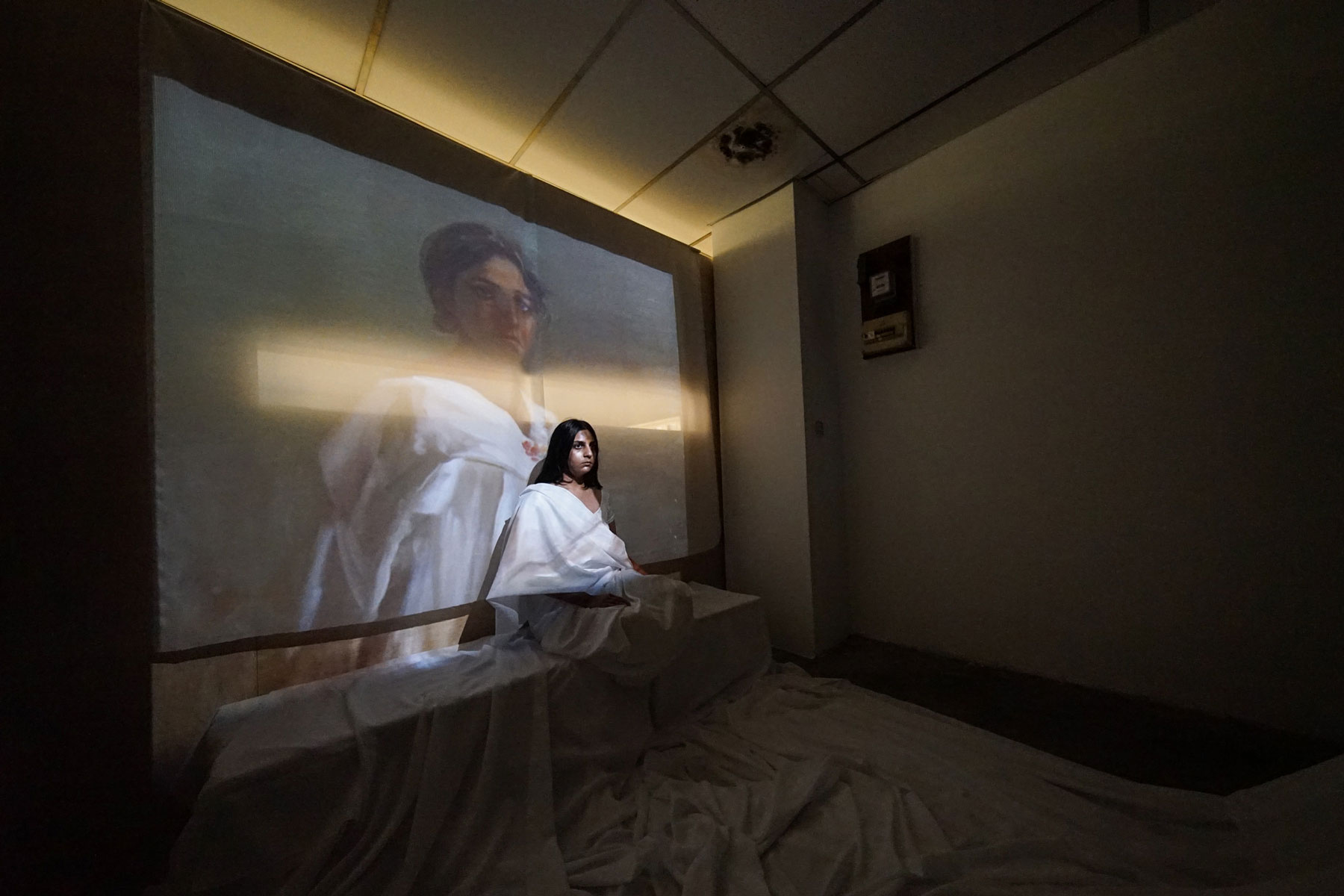 Click on image to view in full size.
Tea Revives the World (2018)
A shop that told the story of tea through four specially-blended brews - Oriental Persuasion, Stolen Scents, Oolong Oppression and Her Majestea. Each responds to a chapter in the larger, fraught history of tea, from the moment it was stolen from China to its ascent as the most beloved drink in Britain. The teas were created by Pek Sin Choon (est. 1925), one of the oldest tea merchants in Singapore.

In a hidden part of the shop, audiences could attend a short, secret performance that addressed the theme of labour and oppression.


Click on image to view in full size.
.
Small Landscape (2018)
A landscape carefully sculpted by the artist. The composition of the space re-imagined the topography of the Emerald Hill area back in 1893, and was inspired by Japanese dry gardens and Chinese landscape paintings. Audiences were encouraged to sit down, observe and contemplate in this landscape of natural elements.


---
During a series of conversations that took place over take-out sushi and cheesecake, and handmade meals in Little India, Nithiya, Su Pei & Mike discussed their personal relationships with food. The topics ranged from the joys of Family Mart and Don Don Donki; to the comforting, but homogeneous flavours of pre-packaged meals; and the warmth of a home-cooked meal.

The fruit of their labour was an art experience where Nithiya, Su Pei and Mike invited audiences to sit down and have a conversation about food, over food.
Dream Dish
Close your eyes. Imagine that you're in an empty white room. You are hungry. Cold.

What would you most like to eat now?

With this scenario in mind, audiences were invited to draw their dream dish, with the promise that their dish would be 'prepared' for them at the end of the experience.

Artist:
Nithiya N
Hosts:
Su Pei and Mike
The Onigiri
Scattered around the living room are pictures of onigiris - snapshots of Su Pei and Mike's frequent travels to Japan. Over hand-made onigiris, the hosts share about their experiences with convenience food using their own love for pre-packaged onigiris as a starting point.

The onigiri served to the audiences was a delicious chicken rice onigiri, wrapped and packaged in plastic film, mimicking those found in convenience stores. For host Mike, chicken rice was the quintessential dish of convenience and comfort to Singaporeans.
A/B Laksa
Audiences were invited to a blind taste test of two laksa broths. One was Su Pei's favourite laksa premix by Prima Deli, while the other was Nithiya's home-cooked laksa made with fresh ingredients from Tekka Market.

Over bowls of laksa, Nithiya, Su Pei and Mike prompted audiences to consider their biases and share which laksa broth they preferred. Why do they prefer the laksa that they do? Is it familiarity? Depth of taste? Tastiness? What do they really look for in a bowl of laksa?
Artist:
Nithiya N

Hosts:
Su Pei and Mike
The Restaurant of the Future
"The dish you ordered is ready!" Audiences are shuffled into a small room in groups of three with the promise of their dream dish.

As each trio enter the dimly lit room, they are greeted by name and welcomed to sit down by a server. They are served a small box containing 9 coloured cubes. The server sprays scents mimicking their dream dish onto the box.

"Your meal has been served. Please leave."

Audiences are then shuffled out of the home and into the common corridor to enjoy their "dream dish".

What audiences experienced was in fact Nithiya, Su Pei and Mike's imagination of the Restaurant of the Future, where food becomes simply a necessity. Each coloured cube served was infused with a superfood that mimicked the possible future and direction of food consumption. The sharp, cold and jarring experience prompted audiences to ponder over their own relationships with food.
Artist:
Nithiya N

Hosts:
Su Pei and Mike
Artist Pat and host Cheryl shared multiple conversations over numerous walks in and around Woodlands. Their conversations brought up personal stories of exercise, the pursuit of fitness and our ideal goals of the body.

Through it emerged a participatory art experience where Pat and Cheryl guided audiences through a series of movements and gestures. Audiences were taught to understand their body and appreciate its limitations.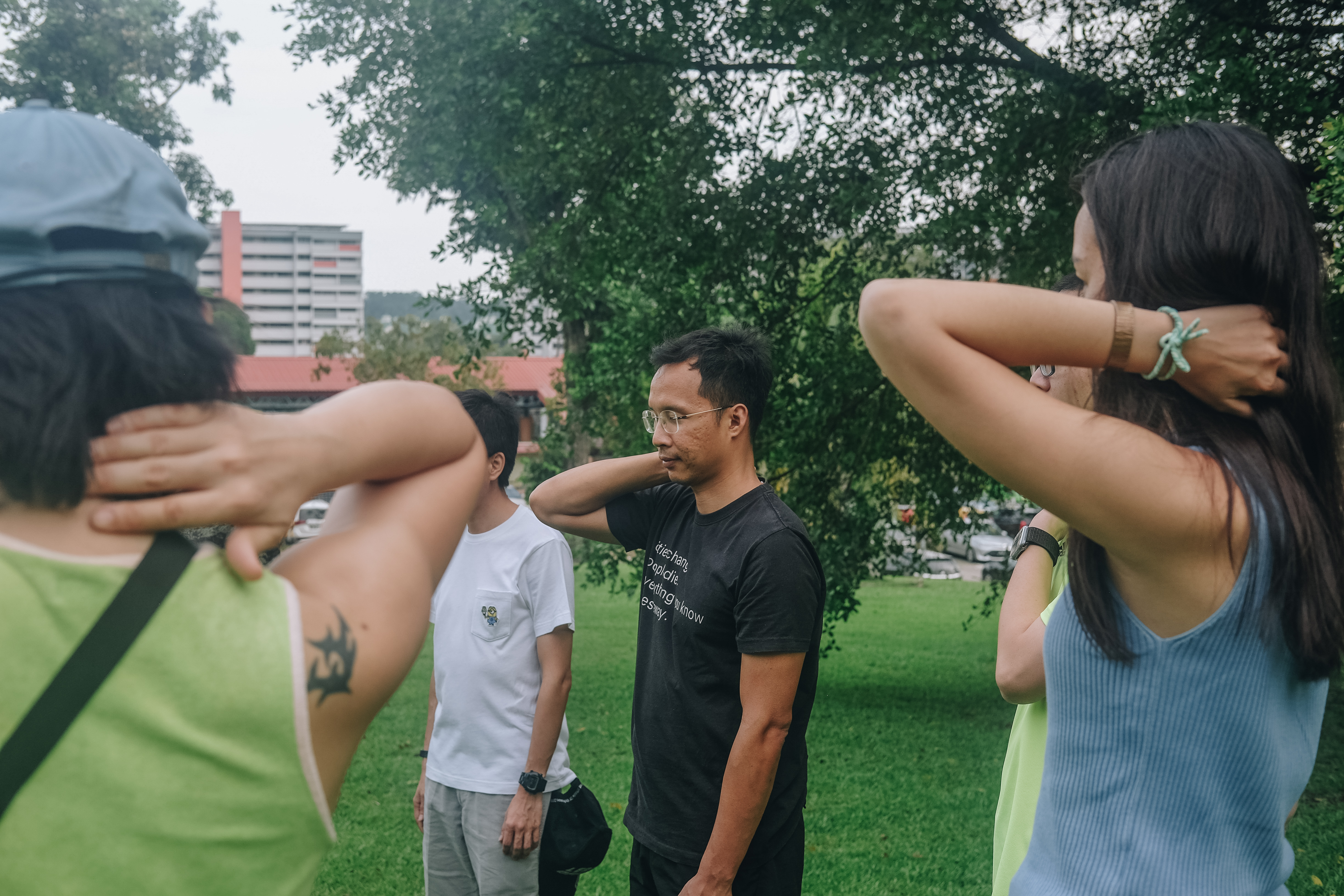 The Body Check-In
How often do we listen to our bodies? Stemming from Cheryl's own TCM body-check ins, the experience starts with a simple yet important act of listening to one's body.

Over the course of 10 minutes, audiences were made to be keenly aware of the inner workings of their body, noting every ache, tension and sore. At the end of the segment, they were instructed to identify where their body ached the most and to use that part of the body to sign their initials in the air. This was the first in many ways which they will use an unfamiliar body language to express themselves.

Artist:
Pat Toh
Hosts:
Cheryl Beh

Personal Kinesphere
Walking is an accomplishment of the whole body in motion. After Cheryl's body check-in, Pat invited audiences to walk very slowly and become more mindful of each joint that makes up the simple repetitive gesture of walking.

After articulating the act of walking, Pat introduced the element of speed. Walking at speeds 0 - 10, from slowest to fastest, Pat noted how she related to each speed personally.

At the end of the segment, audiences were invited to leave traces into the grass, signing their names into the land with their footprints.
Artist:
Pat Toh

Hosts:
Cheryl Beh
Social Body
We all move differently. What may be natural to us is tense and awkward for others. Audiences were invited to relate their own bodies to others around them in this segment by mirroring with other participants.

Often leading to a chaotic mix of movements between each person, they were forming social bonds through movement.

As audiences mirrored each other, they were instructed to form an imaginary triangle with two other audience members. Without saying a word, strange configurations developed as each participant became more keenly aware of their positions in relation to others. Some ran, others walked, but everyone kept a faithful eye on their own end points as they readjusted to maintain their imaginary triangle.
Artist:
Pat Toh

Hosts:
Cheryl Beh
Ground Sound Structure
What lies outside the body? How do we find our place outside our own skin? Building upon the Social Body, audiences were brought through a slow yet important act of listening.

As the social body came to a close, audiences were told to still themselves. As they stood completely motionless, they were prompted to be aware of how the body can never stay still - our heart beats, our lungs gasp for air. And beyond that, the rest of the world too. As the quietened themselves, they heard the distant sounds of the Woodlands Stadium, the muffed train tracks from the MRT and the sound of crickets chirping.

As they spent a moment situating their own bodies in the environment around them, they were invited to hum a note they were comfortable with. As they did, they were gestured to slowly gather in a close intimate circle.

Artist:
Pat Toh

Hosts:
Cheryl Beh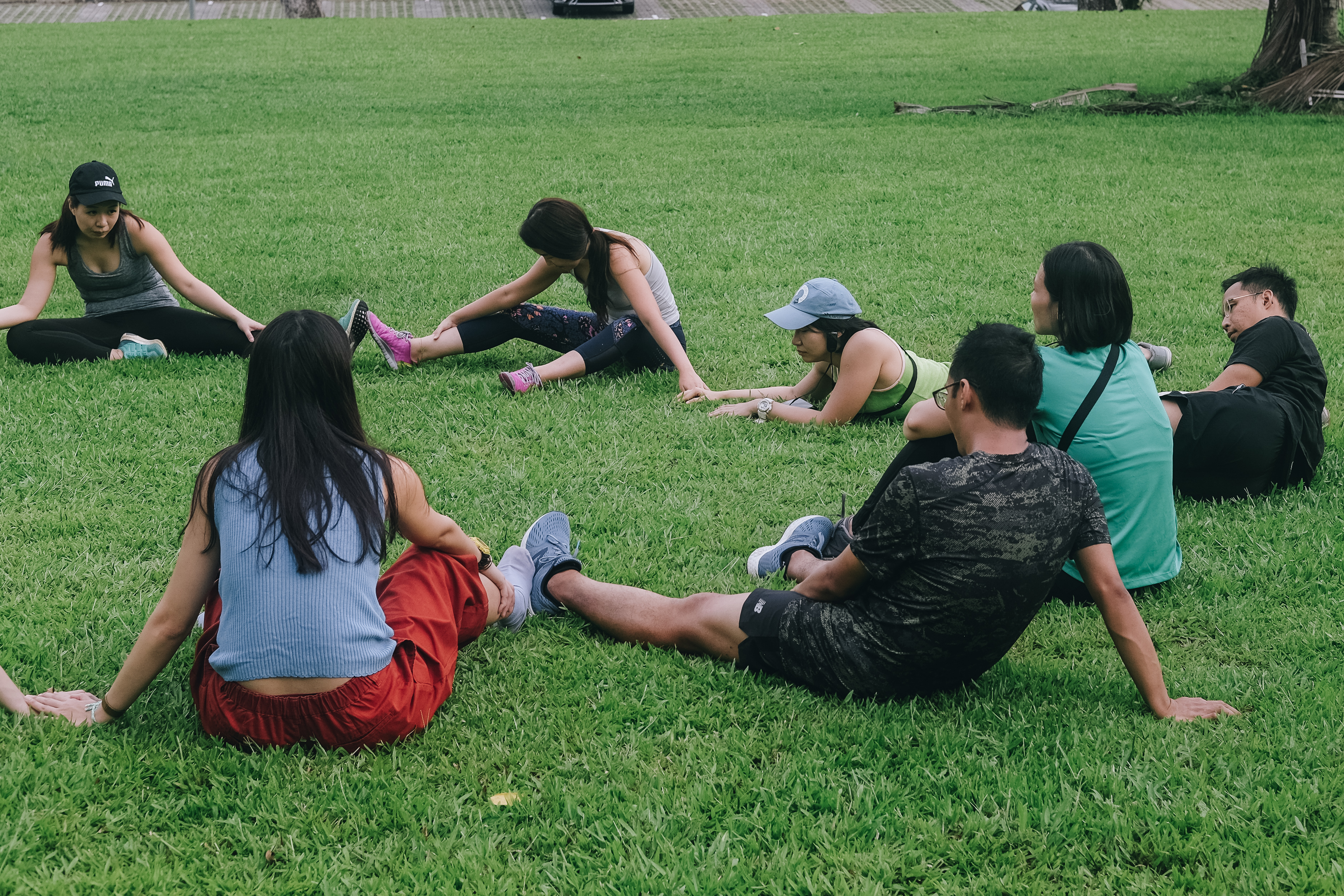 Sharing Circle
As the group gathered into a small intimate circle, they were prompted to closed their eyes and share how they felt about the body. From their aches and injuries, to their own personal stories of ageing, beauty and pain, audiences opened up their own stories of their body. In moments where audiences were not vocalising their perspectives, they were still invited to contribute through their hums.
Artist:
Pat Toh

Hosts:
Cheryl Beh

What is your ideal home? Advertisements are aspiration, they tell us we need a sanctuary - nature by our side, perfect objects within the home. But beyond that, perhaps it's also about simply changing the spaces/homes we already have, and bringing a bit of joy/fun/playfulness into our everyday lives.

Artist Yen Phang and host Pauline spent their time together discussing the ways in which they crafted spaces of comfort and safety within their homes. Together, they designed forts and childlike spaces that audiences were invited to explore and rest within.

Their experience was divided into two parts – an audio tour and a guided tour by the artist Yen Phang.

Audio Tour
Audiences were invited to explore Pauline's home freely while listening to an audio tour. As they encountered a pillow fort, a reflective bunker, a library of books and layouts of homes, they were accompanied by Yen's voice. He took on different personas, speaking to audiences as a contractor, a real estate agent, and eventually, himself. Each person reflected on the idea of 'home'.
Artist:
Yen Phang

Hosts:
Pauline Gan
Guided Tour
The guided tour invited audiences to explore the artworks and home through along with Yen himself. The tour began with a sharing by the artist and ended with a drawing session, in which audiences were asked to remember and draw the layouts of their homes.
Artist:
Yen Phang

Hosts:
Pauline Gan

Goliath, 2014
Goliath is a stop-motion film of an artist painting artists painting their self portraits. The figure in the film morphs from Carravagio's self portrait in David with the Head of Goliath to Velázquez' self-portrait in Las Meninas before Oei reveals his hand.

Paintings are constructions of reality, representations that lend order to messy, complex events. In Goliath, Oei uses the artist's self-portrait and its complex interrelations of the artists' hand, the gaze and the subject (in this case, you and me), as a way of turning our encounter of Jalan Besar back unto ourselves. What are some of the preconceived notions or biases that cloud our gaze when we walk through this neighbourhood? How have different hands imposed different representations of Jalan Besar into the national imagination?

The work is presented in a 34-year-old carpentry shop founded by Mr Phua (or lovingly known as Jackie Chan of Jalan Besar). Behind the artwork is a secret garden hand-built by Mr Phua. He is representative of the last surviving tradesmen in the neighbourhood.

No Strings Attached, 2021 and Grey Clouds at the Beach, But I Don't Want to Leave (Series), 2021

In both works, Nature Shankar uses repurposed fabrics and objects of personal significance to create works that are not only a documentation of personal experiences but an object of resistance.

Shankar's practice is rooted in the use of materiality to investigate her identity and place in Singapore as a mixed-raced individual. Fabrics are torn apart and put together before being assembled and reassembled in a meditivate, movement-driven and intentional process. This simultaneous destruction and creation parallels the unlearning of internalised racism and construction of identity on her own terms.

Shankar's work extends beyond the personal gaze to engage with the social gaze — how do we understand the Other? Have we attempted to force-fit the complex into simpler categories? Jalan Besar has been romanticised as a "nostalgic slice of Old Singapore". At the same time, it is a "dirty red light district" and "the grittier cousin of Tiong Bahru". Like Shankar, this neighbourhood has had to create an identity for itself on its own terms, separate from the labels imposed on it by others.



UTOPIA, 2021

UTOPIA is fundamentally about migrant justice, and was created with the intention of being a vehicle for the stories and voices of migrant workers themselves. Subhas' practice is rooted in action. In contrast to the pure artist gaze, he engages with the migrant worker community in Jalan Besar directly — using his time, energy and body as a means for activism and speaking truth to power.

The installation was presented at Dibashram, which translates to "daycare" in Bengali. Before the pandemic, this was a social space where migrant workers gathered to jam, write poetry and get-together. These spaces are important and provide opportunities for the migrant worker community to socialise and enjoy recreational activities beyond the dormitories.

Dibashram also doubles up as the office of Mr Mohsin, the editor of Singapore's only Bengali newspaper, Banglar Kantha (The Voice of Bengal). The newspaper covers current affairs in Bangladesh and Singapore, and also has a creative writing platform for short stories and poetry, contributed by migrant workers from all over the world (Singapore, Malaysia, Dubai).


Artist:
Subhas

In collaboration with Migrants Band Singapore

Migrants Band Singapore was founded in 2015 by band leader, Nilsagar Shahin. The band, which comprises 15 members between 23 and 34, practises every Sunday in the second floor of a shophouse along Rowell Rd. They have performed at The Substation, the Esplanade and the National Library.


Hampshire Road, 2019
In Hampshire Road, Min-Wei Ting assumes an observational mode of filming to document the scene at the bus depot along Hampshire Road. This bus depot was built in response to the 2013 Little India riots to prevent the spontaneous boarding of buses and trucks.

The realism of Hampshire Road highlights the state's tight control of the space as well as the heightened levels of surveillance imposed on the migrant worker community. By using a disconnected, detached, almost voyeuristic gaze, Ting creates space for viewers to experience their own organic thoughts and emotions in response to the film.




Vakantie in Indonesië (Holiday in Indonesia) , 2016 – 2021
Vakantie in Indonesië (Holiday in Indonesia) explores the critical role that photography plays in moulding the perspectives we have of the colonised. The artwork features photographs of colonisers in awkward circumstances while holidaying in the Mooi Indies. In doing so, it recalls the staged photographs of locals taken by colonial photographers, who subsequently framed them as anthropological facts. The work's sardonic reversal of circumstances underscores how our ways of seeing have been shaped by the colonial gaze, while highlighting the power imbalances that continue to persist in the present.
Artist:
Agan Harahap

C-print
Dimensions variable
#4 Picturing Power: Wherein one tables an indexical record of data-turned-assets and rules like the boss you now say that you are, 2013
The Picturing Power series of photomontages responds to the use of photography as a means to expand colonial power. By drawing on and appropriating specific elements from archival images from the Tropenmuseum in Amsterdam — an institution founded in 1864 to present knowledge from Dutch colonies overseas — to create new scenes, Yee I-Lann has generated new ways of apprehending the relationship between colonist and colonised. In doing so, the work prompts us to recognise image-making's function in establishing and maintaining power hierarchies.
Artist:
Yee I-Lann

Courtesy of:
The Gouws Collection

Giclée print
63 x 180 cm
The Book of Hours of Asmaradana, 2014
Eddy Susanto hybridises two 13th-century literary works: the Book of Hours, a type of personal prayer book originating from Europe; and Smaradahana, a 12th-century Javanese poem. In doing so, the artist highlights the universality of cultural literacy during that time period, despite the differences between these two cultures. Moreover, through the inclusion of an MP3 player within the installation, the artist also argues for the importance of recognising these medieval texts as ancient forms of technology that shaped the cultural identities of today.

Artist:
Eddy Susanto

Courtesy of:
The Gouws Collection

Acrylic on canvas, wood, MP3 player
180 x 291cm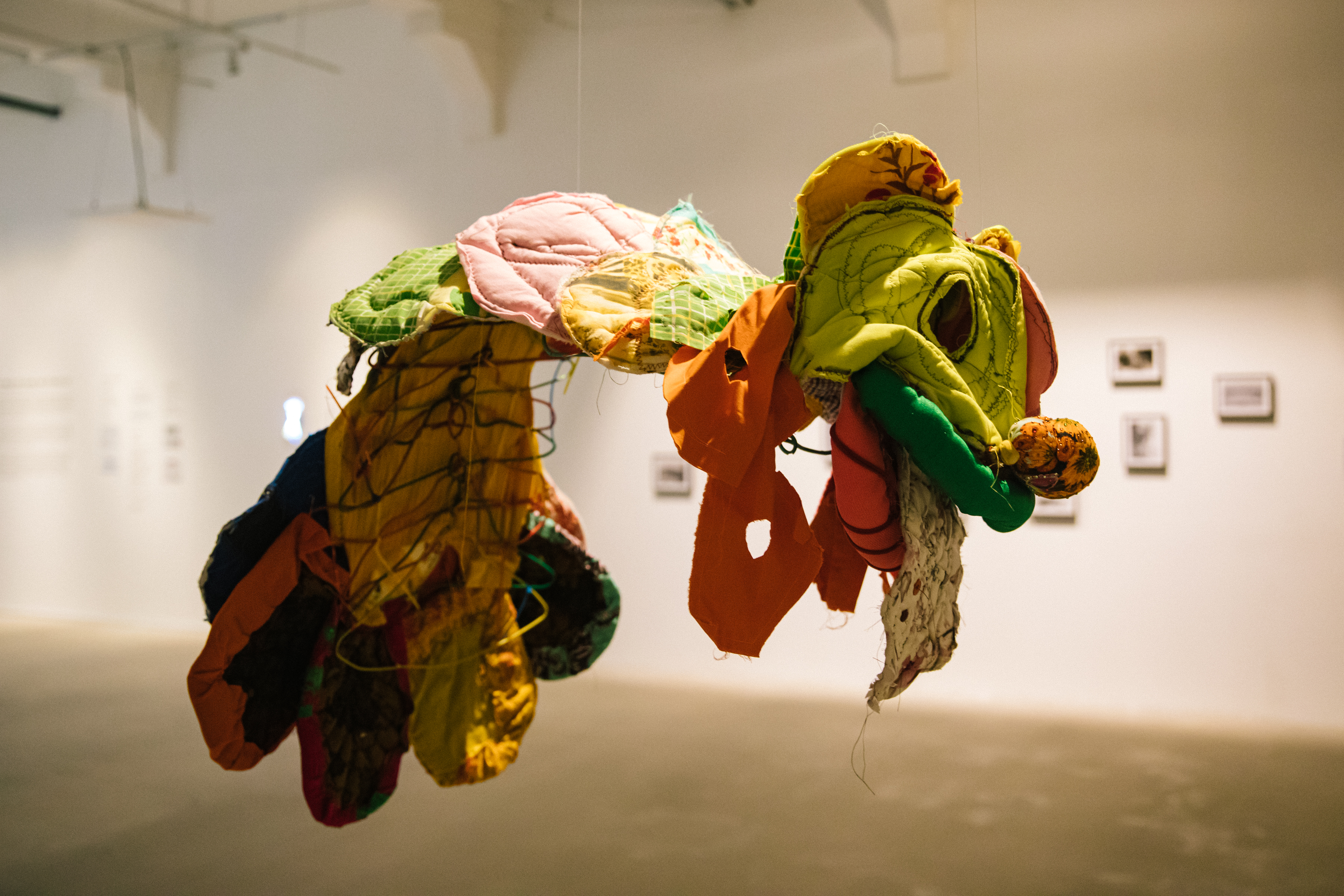 BARONG Singa Laut 700 and BARONG Singa Laut 200, 2021
BARONG Singa Laut 700 and BARONG Singa Laut 200 bring into perspective the extensive history of the island of Singapura. These "lion-dance" costumes draw multiple allusions to the Merlion, a Singaporean motif, and the Barong, a Southeast Asian one. While both creatures are of seemingly mythological origins, the chimerization of their attributes also makes apparent their distinctions: while the myth of the Barong predates the 10th century, the Merlion was conjured only as recently as 1964.

Artist:
Jimmy Ong

Courtesy of:
The artist and 3Pumpkins, in collaboration with the Tak Takut Kids Club (TTKC)

Quilted repurposed textiles
Dimensions variable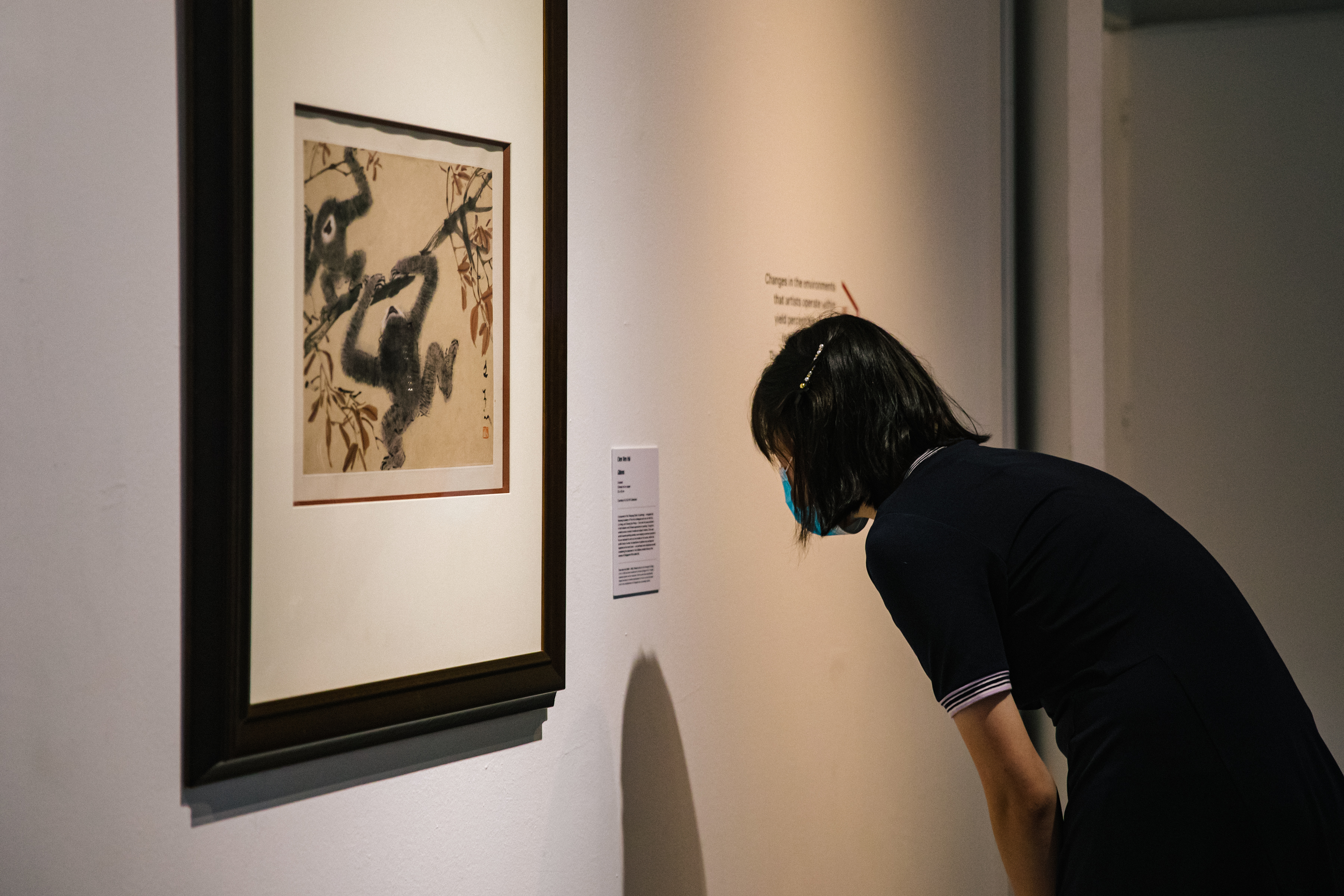 Gibbons, Undated

A proponent of the 'Nanyang Style' of paintings, Chen Wen Hsi was proficient in both Western and Chinese approaches to painting. Though he worked across media and subject matters, Chen was partial towards painting animals, even keeping numerous species to serve as live studies. Within his prolific body of works, his depictions of gibbons may perhaps be regarded as his most iconic — and perhaps most ubiquitous as well, considering the placement of Two Gibbons Amidst Vines on the reverse of Singapore's fifty-dollar bill.

Artist:
Chen Wen Hsi

Courtesy of:
JH & KH Collection

Chinese ink on paper
33 x 43 cm
Kampong Scene with Boats, Undated
Tew Nai Tong pursued further studies in Paris following his education at the Nanyang Academy of Fine Arts. Tew worked predominantly with watercolour during his early career, citing its convenience and appropriateness for his preferred en plein air style of painting. His growing interest in figurative painting eventually led to an increased utilisation of oil paints which would then characterise the later years of his practice. Regardless of medium, his subject matters of interest remained largely focused on portraying the peoples, landscapes, and cultures of the localities he visited.
Artist:
Tew Nai Tong

Courtesy of:
JH & KH Collection

Oil on canvas
106 x 106cm

Fishing Village, 1970

Chuah Thean Teng is often regarded as the artist who elevated the status of batik from craft to a fine art form. Chuah's initial foray into batik was as a business venture — he opened a batik factory in Penang at the end of the Second World War. While the business was unsuccessful, he became renowned for his batik designs and paintings. Portrayals of an idyllic and rustic Malayan lifestyle were a mainstay of his numerous batik paintings, and the individuals depicted are usually engaged in a variety of subsistence or agrarian tasks
Artist:
Chuah Thean Teng

Courtesy of:
JH & KH Collection

Batik dye on cloth laid on paper
61 x 45cm
022022.img (Screenshots of 'Tic Toc Club Report of the Department of Broadcasting for the year of 1953, 10, Malaya'; '1958 Foreign Exchange' and 'some STB image'), 2022
Through the process of printing texts and images on threads and weaving them into new textiles, Fyerool Darma mirrors the progressive illegibility of stories as they are transmitted through time. The artwork melds screenshots of textual and visual archives drawn from numerous sources into a singular image. In doing so, the artist examines the complex relationships in the advent of nationhood. Moreover, the work plays on the etymology of the word "text" – which means "to weave" – as a means of revalorising the conceptual underpinnings of Malayic fabrics.

Artist:
Fyerool Darma

In collaboration with:
Lee Khee San and Amas Leong

Handwoven polyester, dye sublimation, aluminium, stained plywood, velvet adhesive, plexiglass and vinyl
121 x 68 x 2cm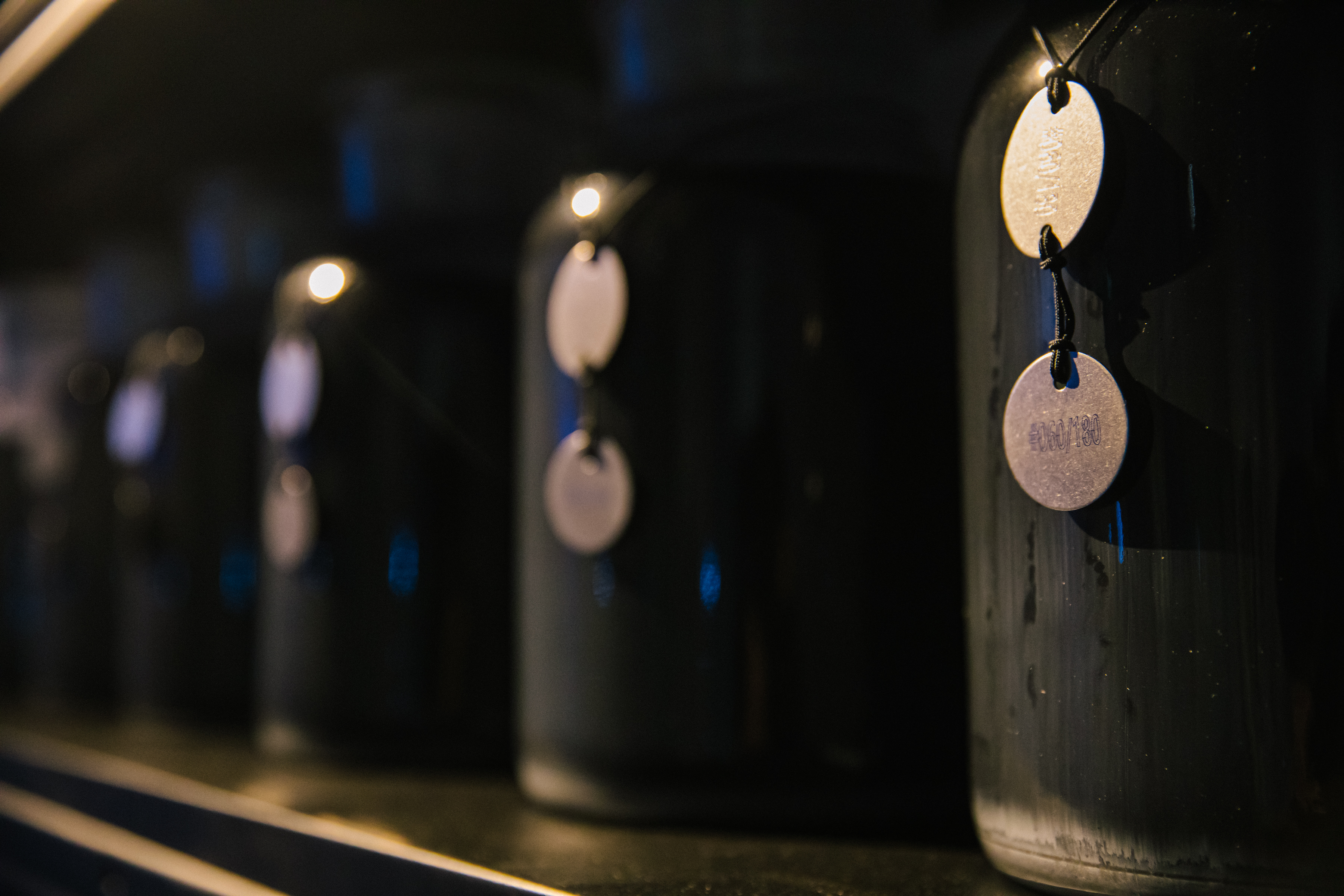 The Incomplete Momotaro: Sacred Sailors (II), 2022
Momotaro: Sacred Sailors, released in 1945, was commissioned by the Japanese government as a piece of WWII propaganda targeted at children. Filling in on the film's omissions of war-time agony, the artwork highlights Gillman Barracks as the site of the final battle between the British and invading Japanese forces.

Reflecting the losses suffered by The Loyal Regiment (2nd Battalion) that was based here in Gillman Barracks, the installation consists of 180 containers, each filled with 5 litres of black paint — approximating the amount of blood in an adult human's body — and bearing a military identity tag. Accompanying the installation is a children's song extracted from the film, which was used by the Japanese forces to educate local peasants about the Japanese Hiragana alphabets.

Artist:
Anthony Chin

180 glass containers, black acrylic paint, military ID tags, sound track
Dimensions variable
The Contract, 2022
A handwritten copy of Singapore's National Pledge resides within a glass vitrine, sheltered by a blue sailcloth awning — a remnant from Dennis Tan's self-constructed kolek featured in the Singapore Biennale 2019 commission, Many Waters to Cross.

The Pledge, written with two pencils at once, gives the illusion of an image out of focus. In bringing these elements together, The Contract pays homage to Singapore's maritime roots, while alluding to the challenges of nation-building and the aspirational nature of the pledge.

Artist:
Dennis Tan

Special thanks:
Trika

Handwritten National Pledge in vitrine, housed in a re-purposed blue sailcloth tent
Dimensions variable
Edges and Residues 20 - Madder Carmine, Cadmium Red, and Prussian Blue, 2015
Kanchana Gupta incorporates seemingly sculptural techniques in the creation of her two-dimensional works. Employing techniques such as layering, tearing, burning, peeling, stacking, folding, bundling, heaping, arranging, compressing, and cleaving, her process of creation is reflective and meditative. Jute — the material which the oil paint skins are layered upon — also references a material utilised across construction sites and temporary homes. In this regard, both materials and technique allude to the topic of labour, of which the artist is deeply concerned.

Artist:
Kanchana Gupta

Courtesy of:
The Gouws Collection

Stacked oil paint skins burnt and stripped off jute and mounted on wooden structure
173 × 131cm

They Came In from the Sides, 2013
Approaching abstraction as a distillation of personal experiences of the real world, the artist likens the process of artmaking as one of recollecting. Yet, rather than faithful imitation of the aforementioned experiences, the work conveys the intuitions of the artist by concerning itself with shapes, contrasts, and motion.

Upon stretched linen, monotone hues and flourishes of colours seem bound within a frame, while the use of differing brushstrokes and varying intensities of colours evoke a sense of dynamism as the distinct layers of paint coalesce on a single plane. The work's title, They Came In from the Sides, suggests continued interaction of these elements that expand even beyond the borders of the painting itself.

Artist:
Ian Woo

Courtesy of:
The Gouws Collection

Acrylic on linen
183 x 147cm

Floating Rays of a Wanderer: Wanderer #2, 2019
In the Floating Rays of a Wanderer series, Lavender Chang compresses extended durations of time into singular images. The image, created by means of prolonged exposure aboard a public bus in Singapore, amalgamates the different sights from the fixed routes the buses ply. Beyond serving as chronicles of journeys undertaken, the work also documents Singapore's ever-changing landscape. Moreover, with the compression of the journey's entire time frame into a snapshot, the work intimates the haziness of the time that elapses between the point of departure and arrival.

Artist:
Lavender Chang

Courtesy of:
The Gouws Collection

Fine art inkjet print
81.45 x 100 cm
National Anthem (Zubir Said Drive), 2022
Kentaro Hiroki painstakingly replicates a photograph of the sky as seen from Zubir Said Drive and a piece of rubbish collected there. The title of the artwork takes after a chapter within Zubir Said's biography, and the hyper-realistic drawing and paper sculpture is also accompanied by the same text fashioned from the colour-pencil shavings derived from the process. The Malay text, loosely translated as "Where the sky above I hold, the earth beneath I tread", simultaneously grounds Hiroki's artwork as a contemplative deliberation of the anthem's significance in shaping a country and moulding a national identity.

Artist:
Kentaro Hiroki

Colour pencil on paper
Various dimensions



Nothing Is Forever/Vernonia Elliptica, 2022
These vernonia creepers — widely known to Southeast Asia's horticulturalists by the moniker 'Lee Kuan Yew Creeper' — have been pruned by Nila Choo to spell out the letters L-K-Y. The greening of Singapore, giving it the nickname, The Garden City is one of numerous initiatives conceptualised and spearheaded by the founding Prime Minister of Singapore. His demise in 2015 has done little to quell architects' penchant for incorporating this creeper into green construction initiatives. In conceptualising this living botanical artwork, Choo seems to pose the age-old question of nature versus nurture in relation to a country's development.

Artist:
Nila Choo

Installation with vernonia creepers
Dimensions variable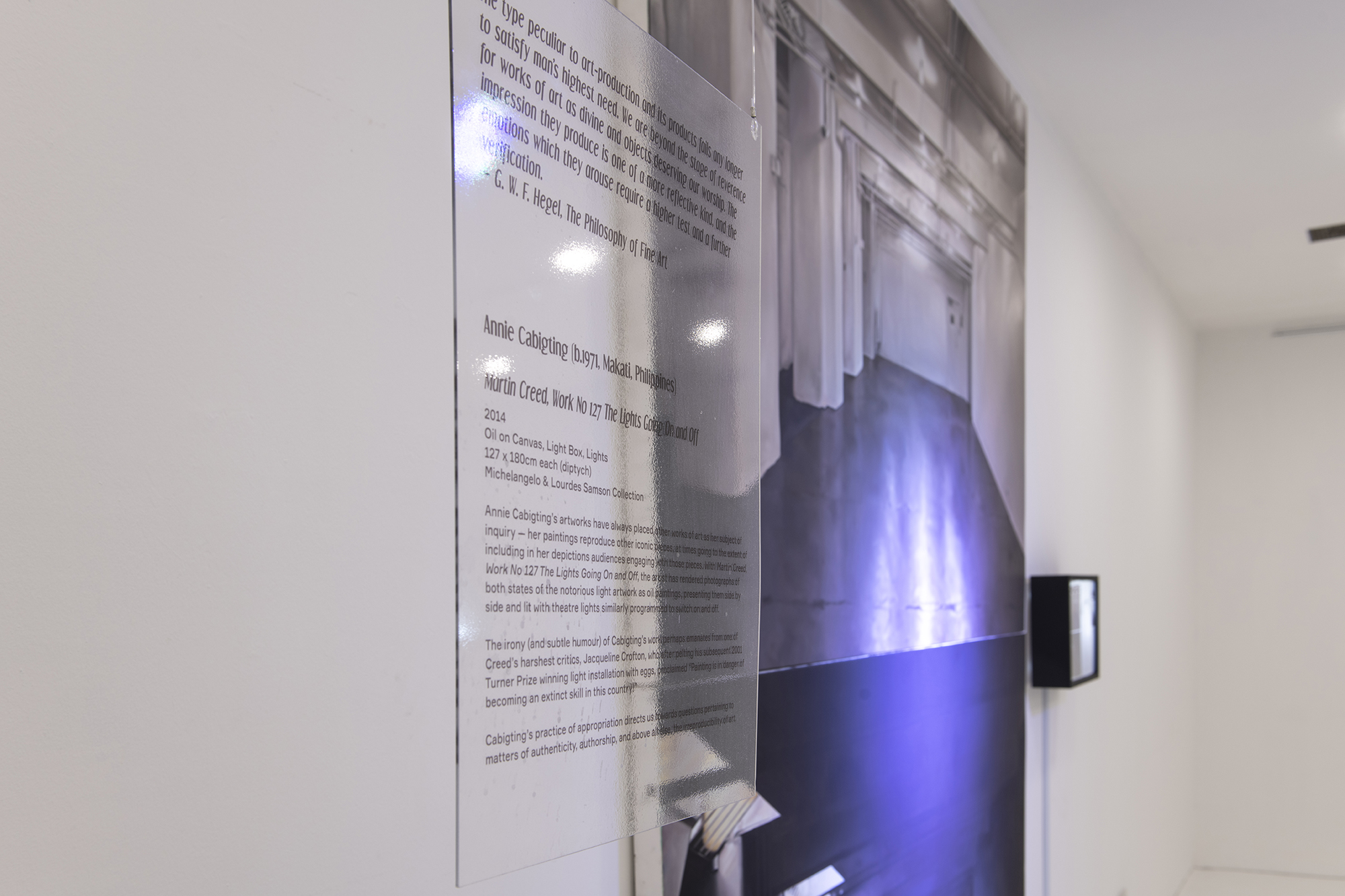 Martin Creed, Work No 127 The Lights Going On and Off, 2014
Annie Cabigting's artworks have always placed other works of art as her subject of inquiry – reproducing iconic pieces, at times going to the extent of painting in audiences engaging with the artwork in question. With Martin Creed, Work No 127 The Lights Going On and Off, the artist renders photographs of both states of the notorious light artwork as oil paintings. In presenting them side by side and lit with theatre lights similarly programmed to switch on and off.

Artist:
Annie Cabigting

Courtesy of:
Michelangelo & Lourdes Samson Collection

Oil on Canvas, Light Box, Lights
127 x 180 cm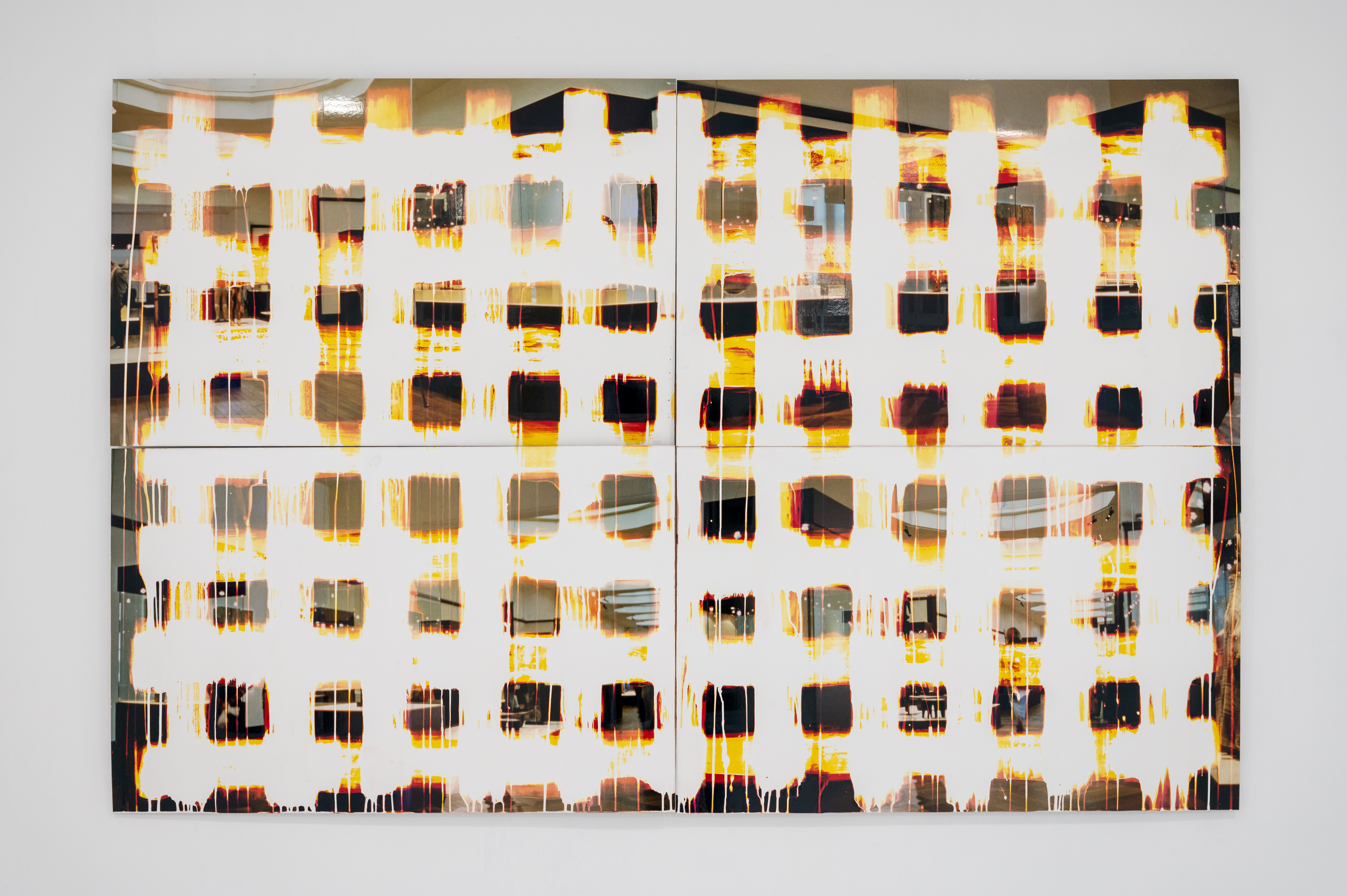 HOW I PAINT CERTAIN OF MY PAINTINGS (4 landscape, grids horizontal), 2011
Damag's practice centres on the reclamation of the bulol – wooden carvings of an Ifugao rice god – from Western colonial plunder troves. In How I Paint Certain of My Paintings, Damag goes over photographs of Ifugao artefacts – captured by himself and residing in foreign collections – with brushes dipped in bleach.
Artist:
Gaston Damag

Courtesy of:
Jim Amberson

Photograph and Acid
100 x 150 cm (quadtych)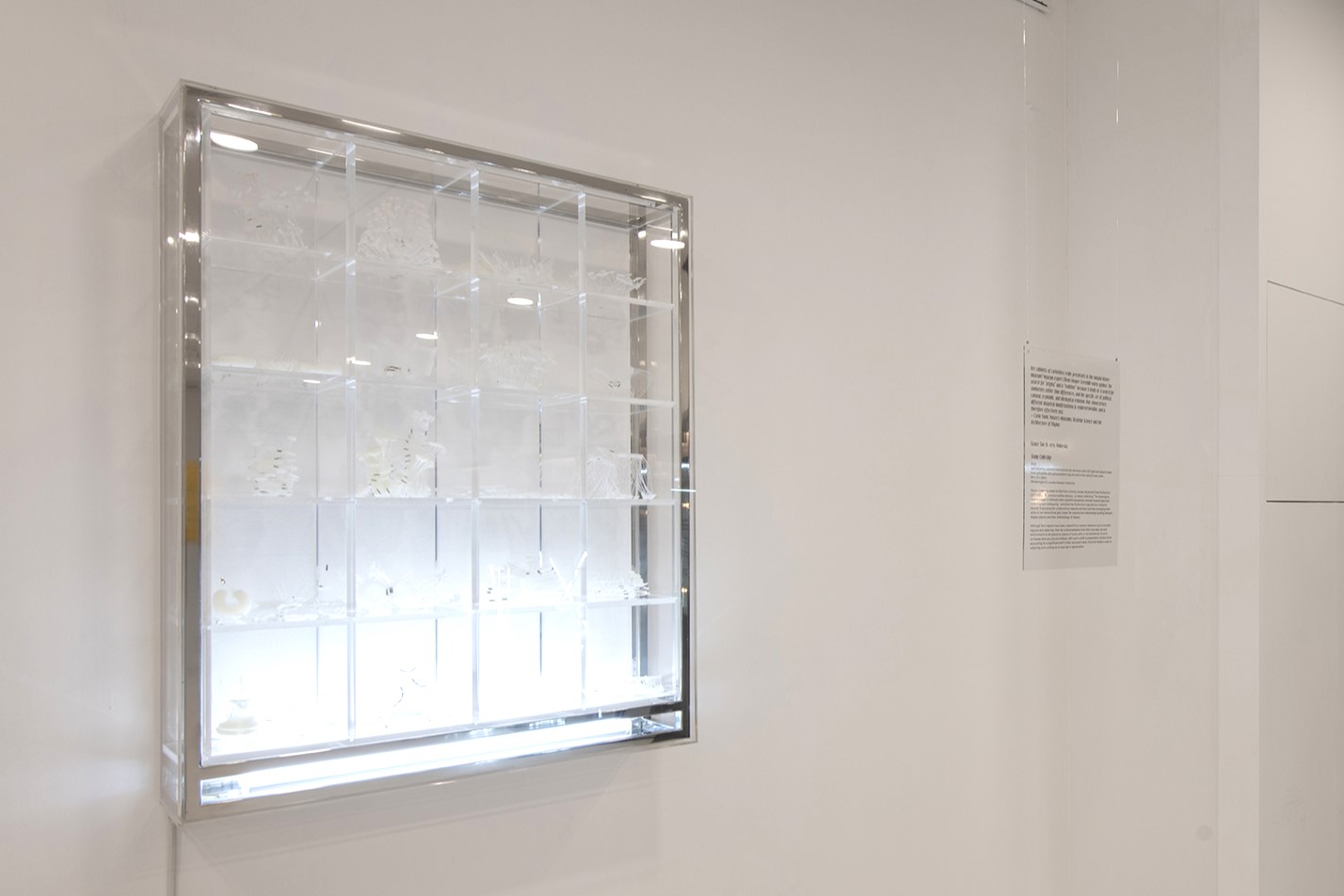 Stamp Collecting, 2020
Tan is a contemporary artist based in Singapore. Influenced by geometry, her interest in material and construction led her wearable works to evolve into sculptural objects and site-specific installations. Although Tan's objects have been created from common fasteners such as moulded tag pins and cable ties, their de-contextualisation from their everyday use and environments to be placed as objects of study within a Wunderkammer of sorts re-frames them as cultural artefacts.

Artist:
Grace Tan

Courtesy of:
Michelangelo & Lourdes Samson Collection

Wall-mounted Stainless Steel, Acrylic Structure With LED Light, Objects Made From Polyamide and Polypropylene Tag Pins and Nickel-plated Brass Tubes
94 x 73 x 16 cm

Red Tree, 2014
Nature and natural history are the recurring subjects in Geraldine Javier's multi-media paintings and installations. Her works are about display, about filling the space with dead specimens and dressing them up to make them seem alive, but it is also a personal process, simultaneously emptying out and remembering. Red Tree is one of a pair of trees created by the artist reflecting the duality of life and death. While Red Tree, symbolic of life, featured seemingly blissfully sleeping birds aloft in hammocks.

Artist:
Geraldine Javier

Courtesy of:
Michelangelo & Lourdes Samson Collection

Mixed Media
218 x 155 x 76 cm

Racharudee (Zhu Clan), 2022
Siripattananuntakul's oeuvres are grounded on social, political, economic, and political ecology issues that question the meaning of life. Racharudee (Zhu Clan) consists of individual sheets of handmade paper made by the artist by pulping her own family ancestry book. With the destruction of an heirloom that has been kept within the family for years becoming the basis for the creation of a new artwork, the process of creation entails numerous reversals in perceived value: an object with historical value is rendered worthless only to become an object imbued with artistic value.
Artist:
Wantanee Siripattananuntakul

Handmade Paper
90 x 60 x 60 cm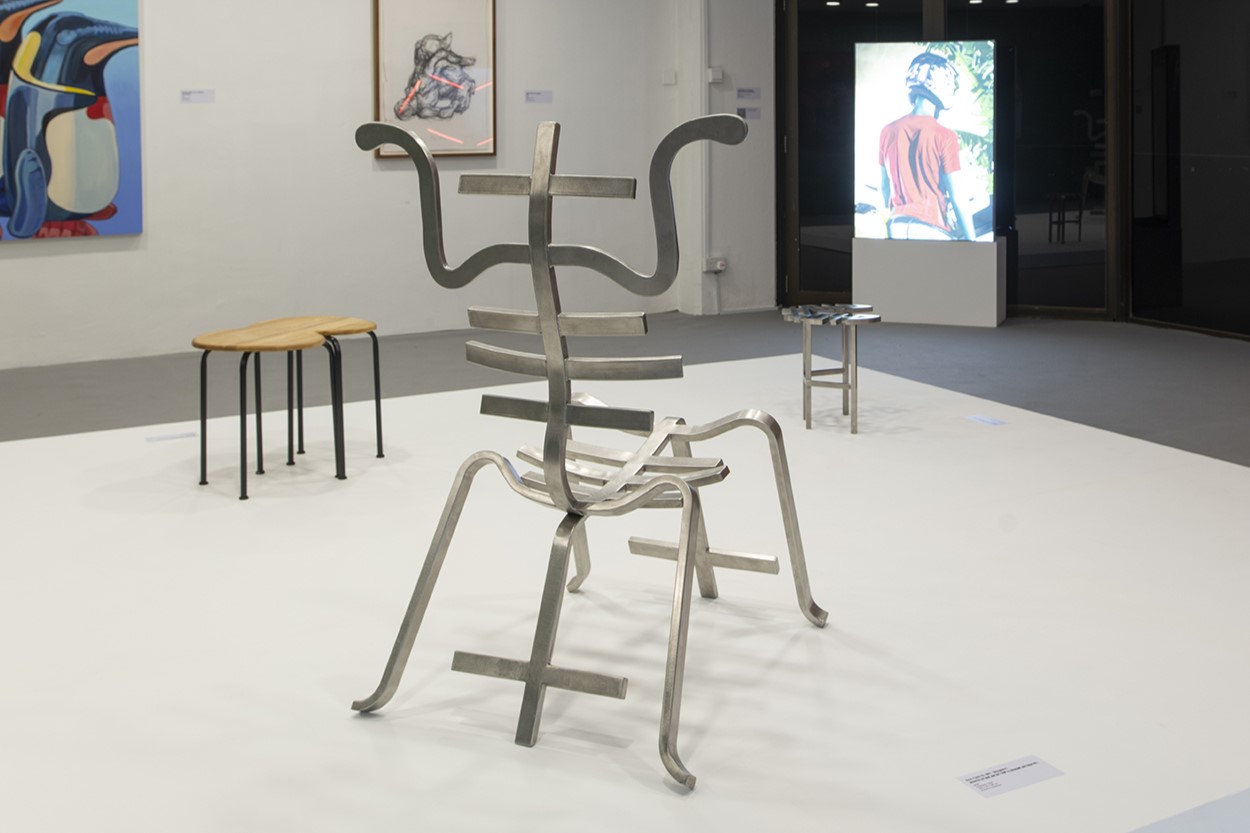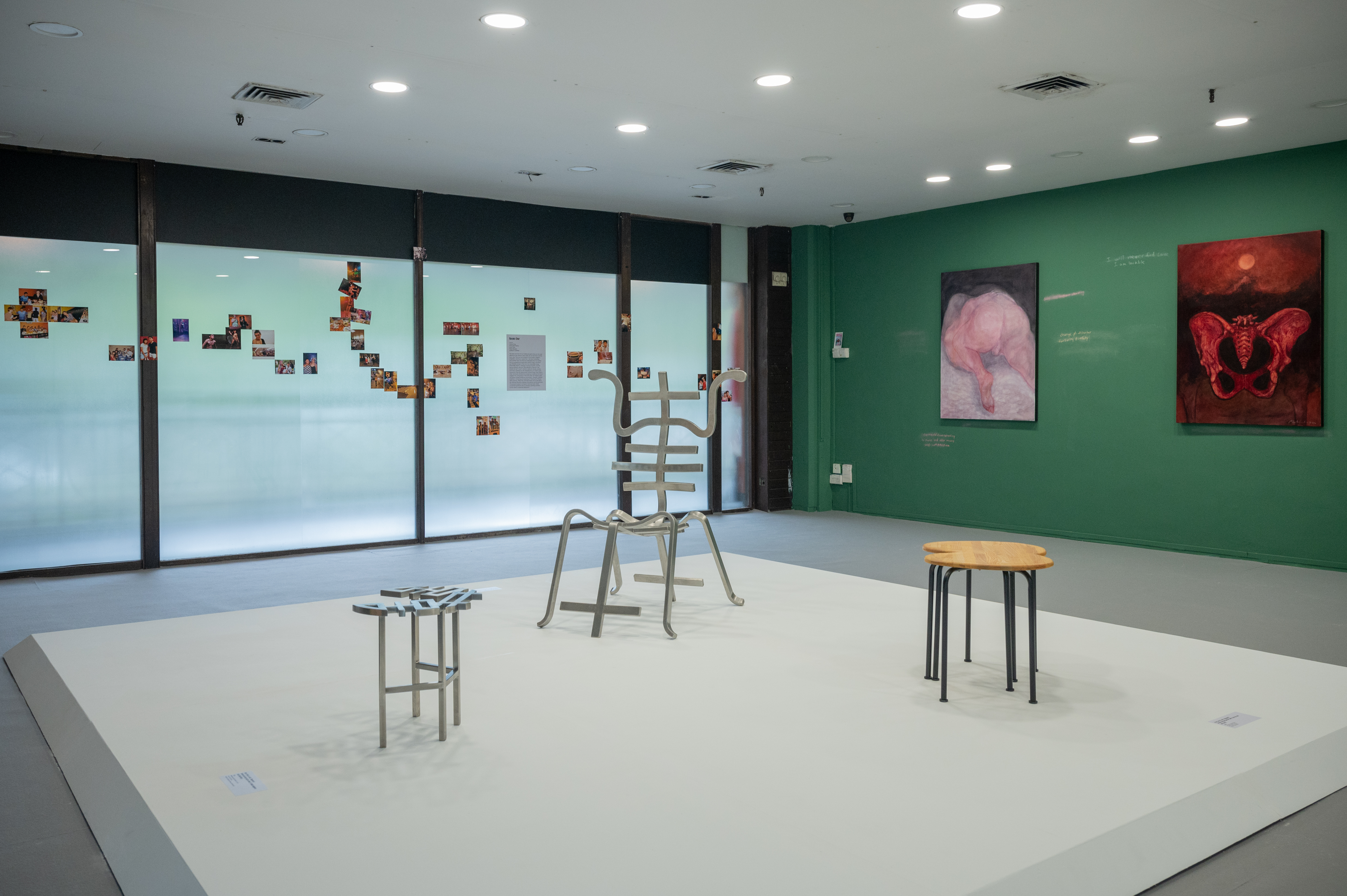 Between the Butt and the Chair #3 (One for each butt cheek), 2020
Between the Butt and the Chair #4 (Heatsink and Longevity), 2020
Between the Butt and the Chair #7 (Double Happiness Goes Both Ways), 2022

Kray Chen's practice largely deals with lived experience and body politics, reflecting on the body and the self within the economical machine, observing the fissures and ruptures of the psyche arising from the parallel quests to progress and to conserve. His chair and stools reframed as erogenous traditional furniture suggest the contortions of the body that can happen when one allows oneself libidinous encounters.

Artist:
Kray Chen

Between the Butt and the Chair #3 (One for each butt cheek)
Wood and Aluminium
46.5 x 60.5 x 44 cm

Between the Butt and the Chair #4 (Heatsink and Longevity)
Stainless Steel
115 x 92 x 84 cm

Between the Butt and the Chair #7 (Double Happiness Goes Both Ways)
Stainless Steel
40 x 40 x 45 cm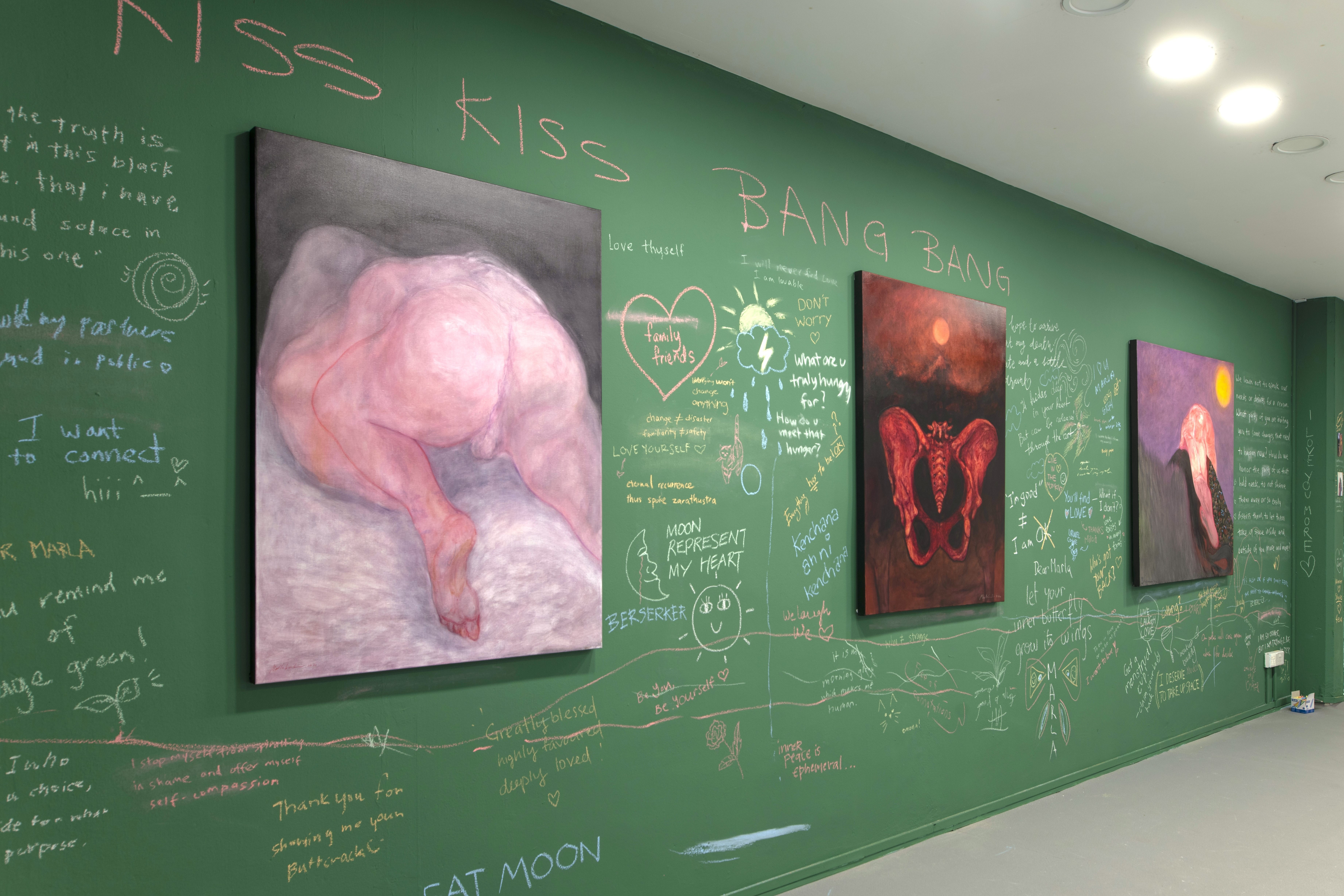 Stealth / Where Do Wounded Soldiers Go?, 2021
Where Do Prayers Go? / This Is Not The End, 2021
Where Do Desires Go When They Are Forgotten?, 2022
Where Do Thoughts Go When They Are Forgotten?, Undated

Marla Bendini is a cross-disciplinary artist and trans woman working in painting, text, sound and performance to articulate the infinitely faceted transgender experience on her own terms. Her figures in her durational wall "mural" unfold to embody trauma, anxiety, and hope, questing for the remembrance of a history and community that are tied up with Orchard Road.

Artist:
Marla Bendini

Stealth / Where Do Wounded Soldiers Go?
Oil on linen
122 x 122 cm

Where Do Prayers Go? / This Is Not The End, Where Do Desires Go When They Are Forgotten?
Oil on linen
122 x 91 cm

Where Do Thoughts Go When They Are Forgotten?
Pastel, Photographs From Artist's Archive on All Mural
Dimensions Variable

Stop Looking Back / You're Not Going That Way / Trust Where Life is Taking You, 2023
Marla Bendini is a cross-disciplinary artist and trans woman working in painting, text, sound and performance to articulate the infinitely faceted transgender experience on her own terms.

Artist:
Marla Bendini

Live Performance at Tanglin Shopping Centre, #01-02/03
51 Min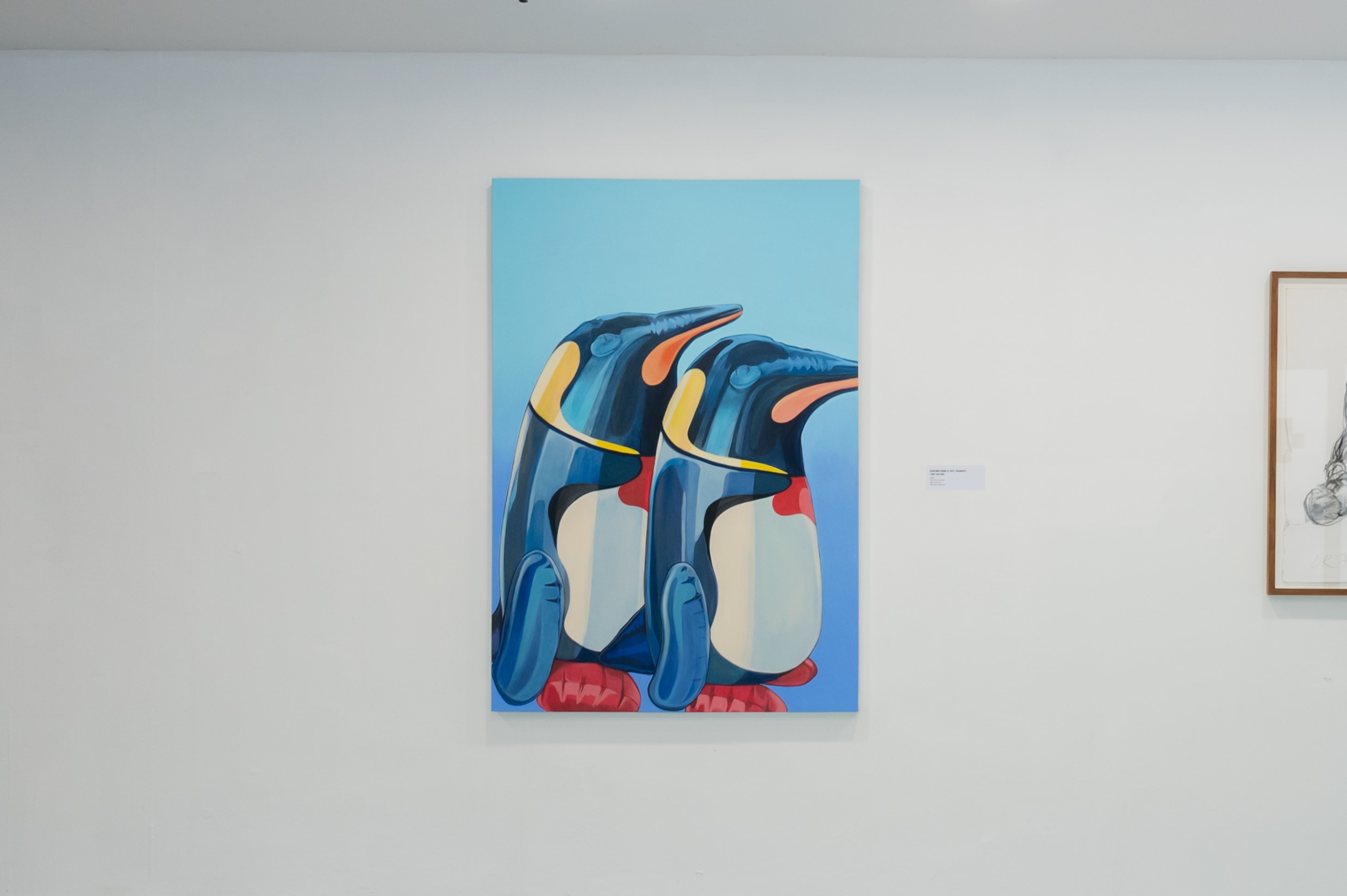 I have your back, 2015
Khairullah Rahim is a Singapore-based artist working across mixed-media installation, object-making, painting, photography and moving images. His explorations delve into complex strategies of resourcefulness for everyday survival in environments under constant surveillance. Recurring points of departure in his work premise around themes of queerness, desire, resistance, aspiration, labour and ethics of disclosure.

Artist:
Khairullah Rahim

Courtesy of:
The Yan Collection

Acrylic on Canvas
160 x 110 cm

LR7-1, 2001
One of Singapore's preeminent contemporary artists, Jimmy Ong has been noted for his large-scale, figurative charcoal works on paper. His works explore how multiple identities and perspectives – whether sexual, ethnic, national, or even generational – can coexist within the individual. His deeply personal works have taken inspiration from a stark analysis of his own experience, and indeed of his physical form, an ongoing process of what he calls "creative self-therapy".

Artist:
Jimmy Ong

Courtesy of:
Shi'ai Liang Collection

Charcoal on Paper
89 x 61cm

Malay boy (posterior) (After Cheong Soo Pieng), 2016
Zulkhairi Zulkiflee is an artist-curator committed to a practice centred on Malayness and its social ontology. His reframing and queering of Cheong Soo Pieng's 1953 painting, Malay Boy with Bird, leads one to ask about the desiring dynamics between the painter and the pictured. The present subject's refusal to look back also raises uncharted questions about Cheong's painting contrary to the viewer's expected deference.

Artist:
Zulkhairi Zulkiflee

Courtesy of:
The Yan Collection

Lightbox With Fabric Print
122 x 87 cm
Edition 1 of 3

CONTACT US
OH Open House Ltd
92C Syed Alwi Road
Level 4
Singapore 207668