A CITY OF BOOKS
Click on image to view in full size.
Evergreen (2018)
Evergreen is an installation of PVC banners hung on the railings in an air well near the store, inserted next to other banners already advertising various shops in Bras Basah Complex. The banner designs echo familiar book spines, but refracted through abstraction and repetition. Yet they retain a recognisability, suggesting that there is a visual system of books of which we are all subconsciously aware, which makes visits to secondhand bookstores in Bras Basah Complex feel so familiar.

Click on image to view in full size.
10 Books About Time (In No Particular Order) (2018)
Basheer Graphic Books is a 25-year-old bookstore located in Bras Basah Complex that specialises in books about architecture, design, fashion, and art. Through conversations with the owner, Mr Abdul Nasser, learning about the history of the bookstore, its present situation, and its plans for the future, the artist decided to: (1) Ask him to recommend 10 books about time; (2) Purchase the books to create an artwork; (3) Offer to reorganise the books in the bookstore together with him.

Click on image to view in full size.
Fort of Leaves (2018)
Intending to mimic the forts we all tried to build as children, this piece was made with yarn, hand-spun with a spindle out of the leaves of familiar calendars recognisable in many Singaporean households (produced by Maha Yu Yi bookstore), which were left to be discarded when unsold once the new year began. The act of tearing the calendar as each day passes is symbolic of time passing, and using this representation of 'time' to create the fort in brittle paper yarn makes one feel its fragility, like a passing moment in time.

SINGAPORE CALENDAR: LABOUR DAY


This four month long programme ended with a final exhibition that featured four new artworks by artists Liana and Robin.


Click on image to view in full size.
Verisimilitudes (2018)
A series of four printed t-shirts that provide a tongue-in-cheek commentary on labour.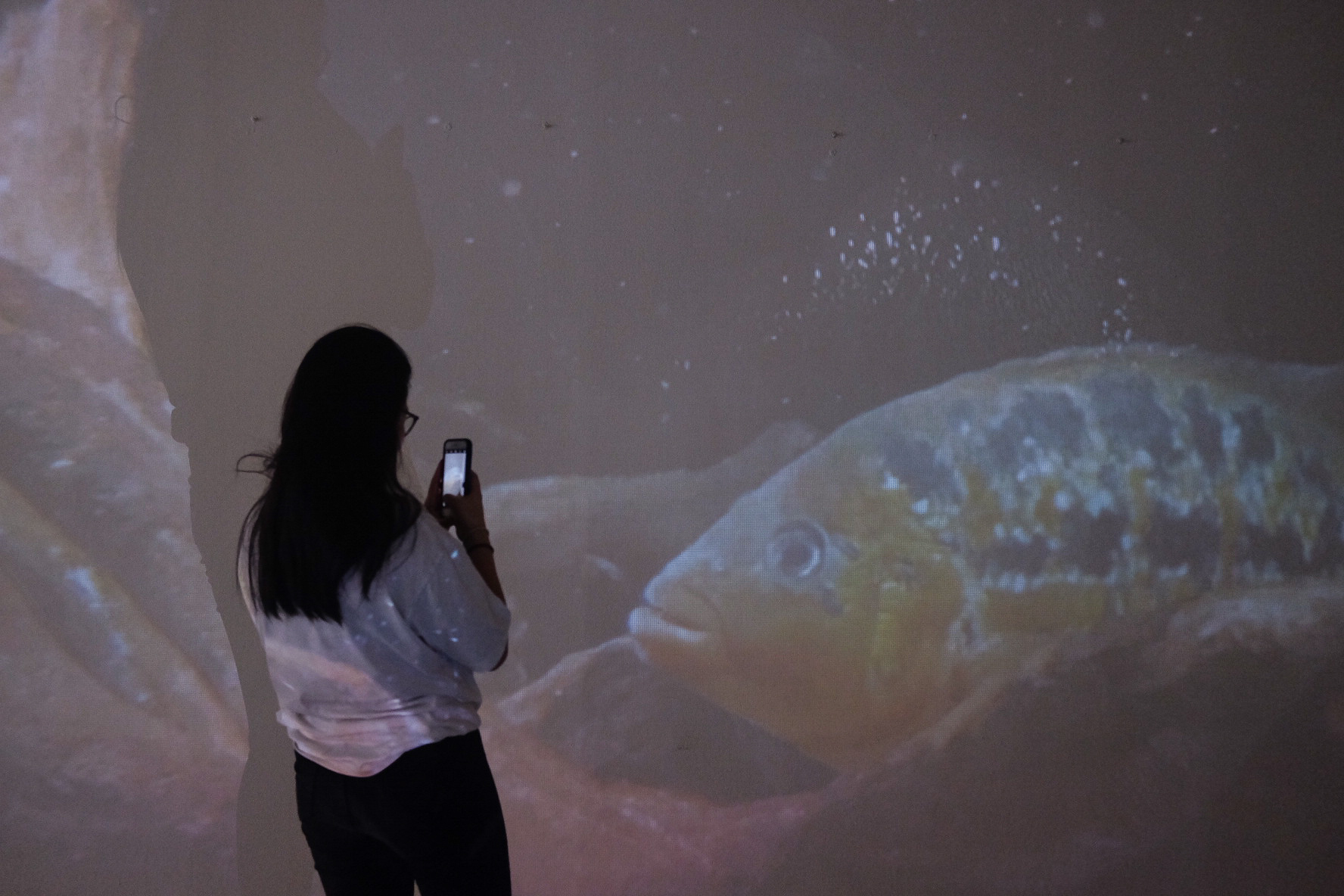 Click on image to view in full size.

Undertow (2019)
Three projections were plastered across the exhibition space, creating a lulling sensation for the viewer and challenging the agency that one has over his life.

Are we in charge of our own lives? Or are we simply going through the motions, caught up in a current that simply moves us long, day by day?
This artwork gives new life to old, unused artworks and objects from past shows by Liana, Robin & OH! Open House. Each object carries the weight of hours of thought, experimentation and discussion.

What makes an artwork, an artwork? Can an artist's unseen contributions be considered as meaningful work?

Step into a room bathed in blue light and listen closely to the repetitive soundscape — akin to the humdrum of one's life.

The rhythms of contemporary life can get boring. Can we truly escape the humdrum of our working lives and take a break?

SINGAPORE CALENDAR: LABOUR DAY

This four month long programme ended with a final exhibition that featured four new artworks by artists Liana and Robin.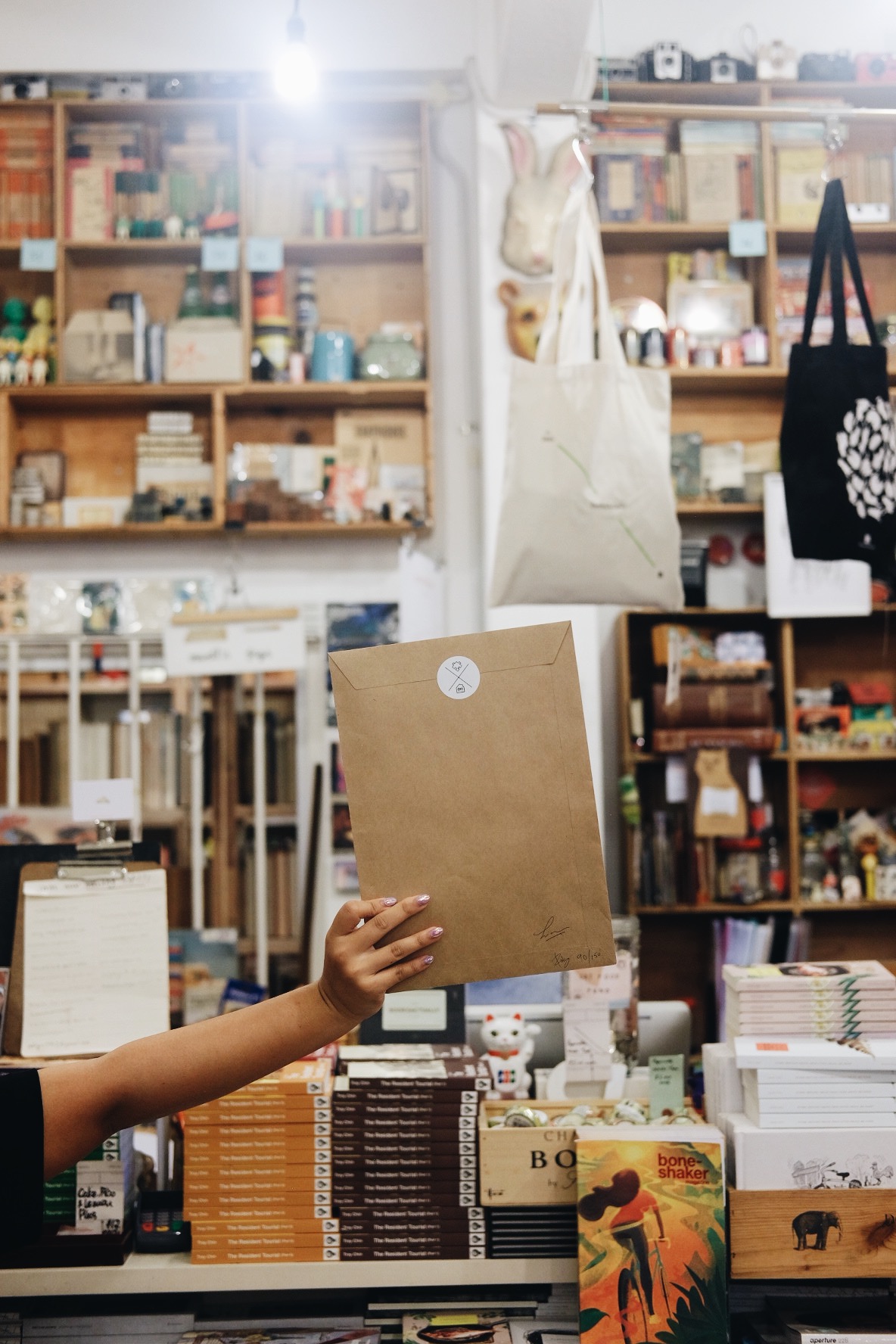 Click on image to view in full size.
Quests and Zines
Over three self-led quests to secret locations across Singapore, audiences were rewarded with zines that reflected the artists' takes our modern work lives.

Each zine unlocked ideas of labour, leisure and the "Good Life" — which were discussed further in the final exhibition.
SINGAPORE CALENDAR: HUNGRY GHOST FESTIVAL

This was a four month long programme that began with three offerings from the artist Eugene TYZ and ended with an exhibition.


Click on image to view in full size.
Offering 1
The first offering introduced audiences to Eugene and his interests. Hosted on a website, audiences could click through a series of pop-ups to slowly uncover stories, images and gifs from Eugene.
Eugene used the internet and its many tools to communicate with audiences during the programme. The second offering took the form of a google drive folder. This shared folder was the artist's 'online work desk' for the project and contained his thoughts, writings and research material. Audiences were invited leave their own comments and questions behind.

Click on image to view in full size.

Final Exhibition
Over four months and across three offerings, Eugene asked himself and others - how would you like to be remembered after you're gone? One of his own answers was a work-in-progress presented in the final exhibition - the GraveApp, a high-tech grave system. An app to create virtual tombstones. Ticket holders were invited to a private appointment with the artist, where they had an opportunity to chat with him and try the GraveApp.

His past works and other works-in-progress were also featured in a small exhibition, which was opened to the public for a weekend.

PROPOSALS FOR WATERLOO: THE VERTICAL GALLERY

During
Proposals for Waterloo
, audiences were invited to explore the unexpected and underused spaces of Waterloo Centre. Unlike a conventional gallery, these works were placed across different floors of the building, transforming it into a 'vertical gallery'.
For more information about Proposals for Waterloo, click
here
.
Click on image to view in full size.
Lost in the Midst of Time (2017)
Proposals for Waterloo begins on the 15th floor with Kayleigh Goh's painting installation. Visually inspired by the cracks and peeling paint around Waterloo Centre, she incorporated construction materials and debris as both canvas and paint. Adopting the language of aging architecture, combined with a soft palette, the artist invites us to contemplate the impermanance of the structures around us.

Click on image to view in full size.
So Far Yet So Near (2017)
On the level below, Chan Jia Yu's work explored the idea of temporality through the medium of plastic bags, which are objects that quickly transform from an essential into trash. The installation focused on the lightness and translucency of the plastic bag, and how natural elements like wind and light alter our experience of this common object.
Click on image to view in full size.
Take Shelter (2017)
Unwanted items collected from residents formed the foundation of this spatial collage of drawings and objects. Woven together with imagery inspired by Waterloo Centre as well as the artist's personal items, the resulting installation resembled an imagined temporary residence, overlapping the memories and experiences of both the artist and the residents.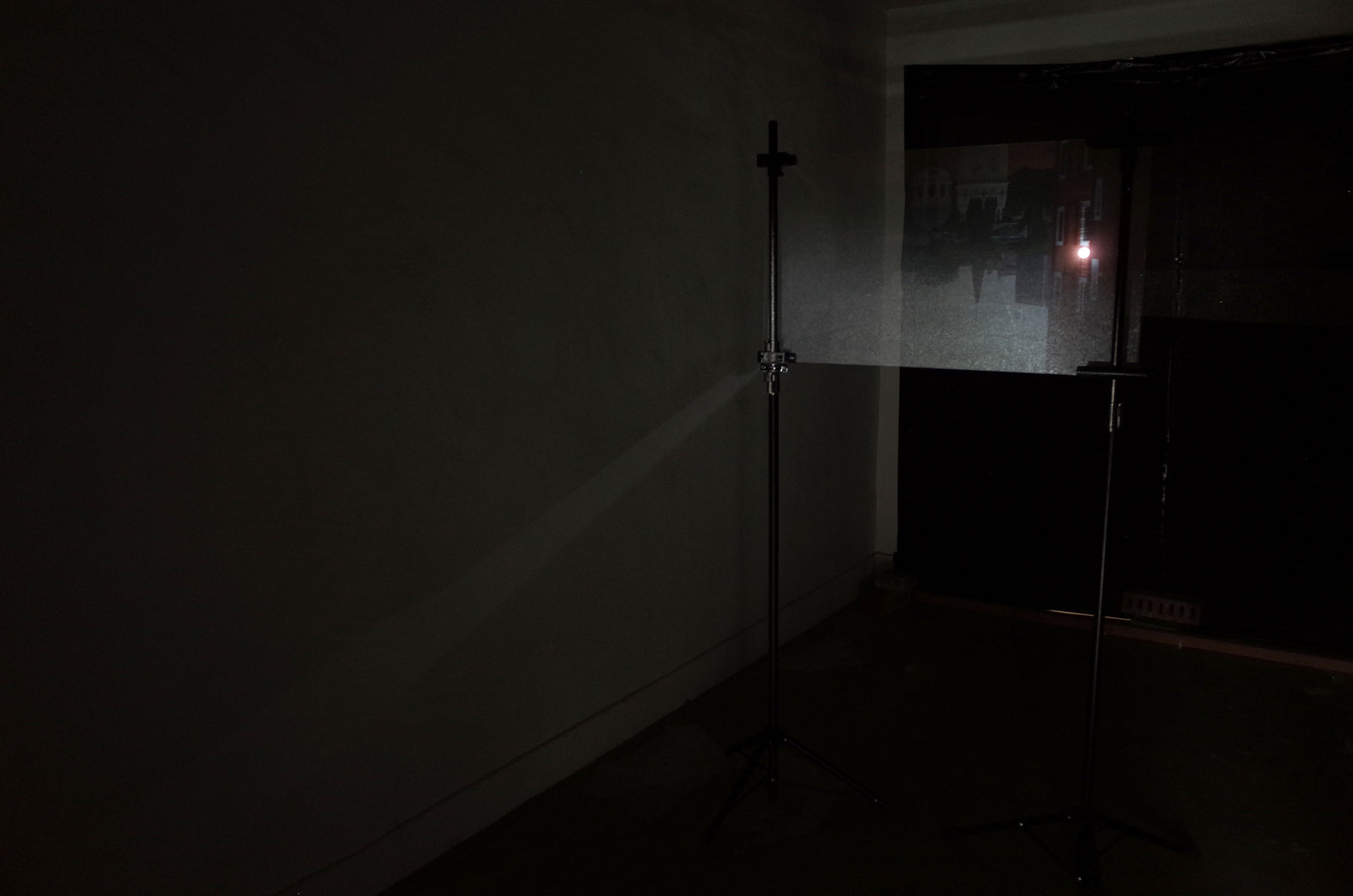 Click on image to view in full size.
The Screen to the Outside (2017)
Within a darkened area, the artist created a camera obscura that reflected the landscape surrounding Waterloo. This natural projection was then overlapped with a digital projection. By distorting audiences vision of the exterior, the work paralleled our modern ways of seeing and understanding the world through digital screens.

---
Click on image to view in full size.
Love Shrine (2017)
Waterloo Centre is an aging building with aging residents, yet is surrounded by constant redevelopment. In response to these juxtapositions, the artist appropriated the domestic form of the bed, using the coarse material of tulle to represent how wrinkles in bed sheets record the movements of the bed's user(s). Suspended within a cell on the 12th floor, the bed took on an overwhelming shrine-like quality.

OH! Joo Chiat: The Tour Experience

Here's a virtual walk-through of the artworks.
For more information about OH! Joo Chiat, click
here
.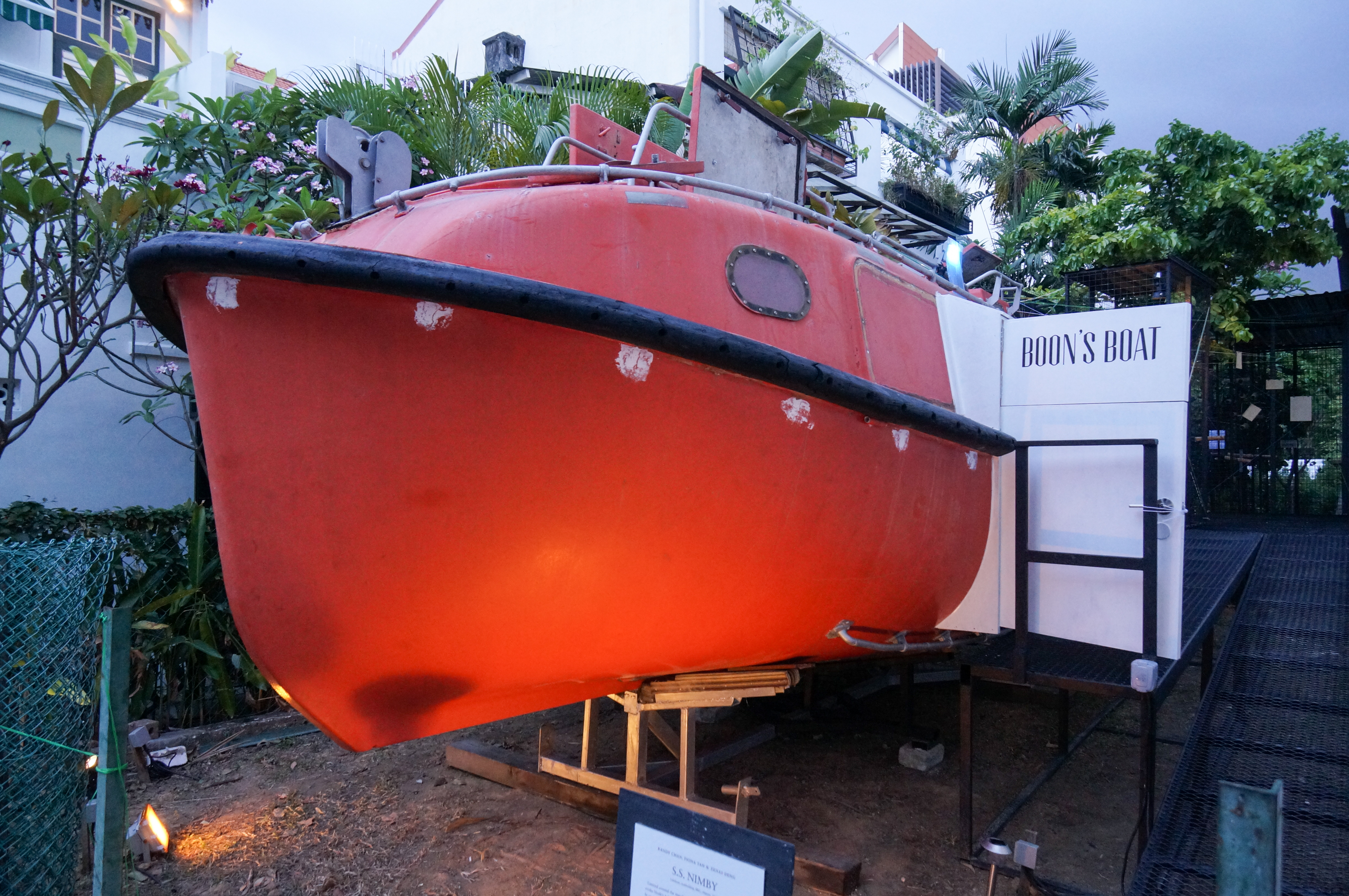 Click on image to view in full size.
Joo Chiat's tour begins in a secret garden that we've dubbed No Man's Land. Boon's boat sits here, evoking Noah's Ark and displaying a collective map of personal memories borrowed from all walks of life. Instead of thinking of Joo Chiat in terms of Peranakan architecture or Vietnamese food, we think about the people whose lives and stories inhabit it.

Artists: Randy Chan, Fiona Tan & Zenas Deng

Click on image to view in full size.
My Name is Joo Chiat (2015)
With community engagement in the form of a bicycle procession and flag making workshop, Osman reimagined Joo Chiat as a passageway that traverses different communities. Thus, the messiness of the outside was brought inside pristine & protected gated communities like Sandalwood.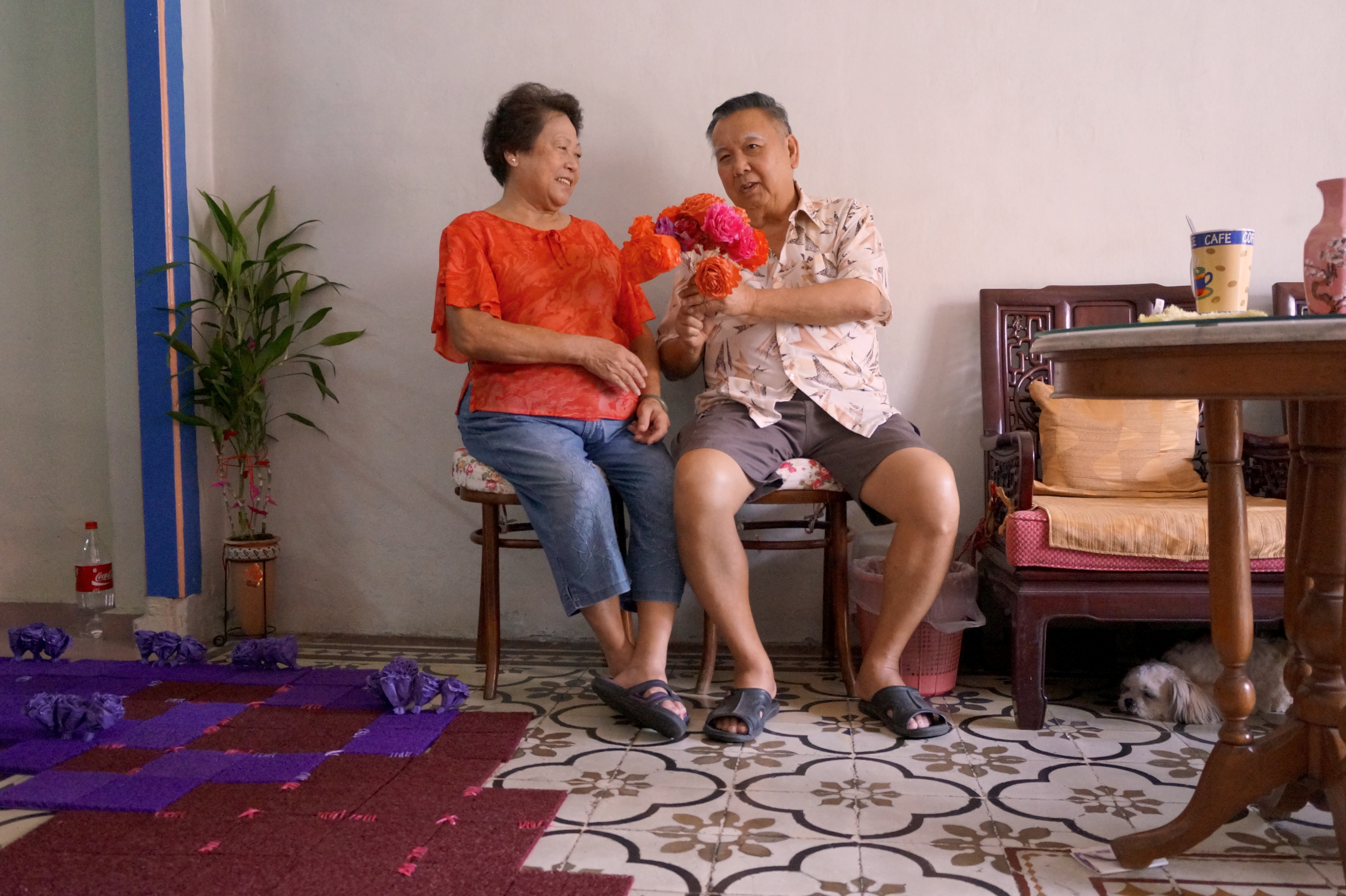 Click on image to view in full size.
Ordinary Things (2015)
Next, audiences entered Koon Seng Road, the heart of Joo Chiat and witnessed the private and sentimental life of Mr & Mrs Tan. The art meandered through the first floor of the house, responding to the theme of domesticity and the weight of memory.

Click on image to view in full size.
Fragments (2015)
Old Logs (2015)
Fragments from Ng Eng Tend's former studio represent the past. A past that reflects our cultural amnesia for the old and useless. Will this example of a ghost house become Joo Chiat someday?

Artist: CK Kum, Kum Chee Kiong

Click on image to view in full size.
Garden of Being (2015)
Joo Chiat belongs to many people and many religions, it exists in the everyday, the things we do again and again. Neo weaves a sensual narrative of rituals shaped by individuals within the larger community.

Click on image to view in full size.
Osman practices socially engaged art, where the creation involves community stakeholders.

He went door to door, trying to convince residents to let him paint the pattern of blue tarpaulin in their flats. The process of negotiation turned upgrading from something that is to be actively ignored and kept outside the home, into a process that was social, vulnerable and even humorous.

OH! Potong Pasir: The Tour Experience
Here's a virtual walk-through of the artworks.
For more information about OH! Potong Pasir, click
here
.
Click on image to view in full size.
Fractal Dunes (2016)
Potong means cut, Pasir means sand. The artist draws inspiration of Potong Pasir's history as a sand quarry and presents two kinetic, constantly moving, sandscapes. One is driven by a grid of mini-fans, the other by a water feature simulating the flow of the Kallang River.

Click on image to view in full size.
One to None Exchange (2016)
A book, a chair, a hanger… Our personal belongings are extensions of ourselves and say something about our taste, lifestyle, education and beliefs. What happens when the artist removes an everyday object from its original context into another home? Here, the artist uncovers the personal stories of homeowners.

Click on image to view in full size.
Let Sounds Go Wherever They Will Go (2016)
By surreptitiously inserting hidden cameras into domestic objects, the artist complicates power relations – the observer and observed overlap.

Click on image to view in full size.
Consigned (2016)
What does it mean to reproduce an object or place that has been destroyed?

The artist recreated Chiam See Tong's iconic table from Blk 108's Meet the People Session, which many Potong Pasir residents have real memories of. Yet, the artist also recreated Alkaff Gardens in miniature, a bite sized souvenir to be consumed in SG50's wake of nostalgia that most of us have no relationship with. How do we treat memory in Singapore? Do we commercialise it till nostalgia becomes meaningless souvenirs?

The Chip Bee Tour
Art Walk 1 of 3 for
OH! Holland Village (2017)
With only one road in, and the same road out of this 1960s estate built for the British, installations reflected on the nature of an enclave.
Click on image to view in full size.
EAST OF SUEZ (2017)
In a vacant house along Jln Kelabu Asap, the artist sanded down the walls of a bedroom, revealing layers of history under coats of white paint from the past 60 years. The paint, residue and dust was collected and moulded into British Empire campaign service medals from the 1960s, referencing a time in Singapore when British troops were withdrawing from its-then colonies post-WW2.
Click on image to view in full size.
Creep in Three Movements. (2017)
Inspired by the organic development of the neighbourhood, the artist has inked, stacked, layered and bundled toilet paper, making delicate sculptures that intrude quietly into the homeowner's space. These "soft disruptions" in ignored or under-utilised areas are compared to the audience's voyeristic invasion of space.
Click on image to view in full size.
In Between Spaces. (2016)
This artwork speaks of Singapore's tightly controlled nature and growth, where lush greenery flourishes only within the narrow strips of the Rail Corridor.

Set within the same house as, and therefore in direct comparison with, Creep in Three Movements (2017) which intrudes into space and represents organic disorder. In Between Spaces (2016) on the other hand, disallows and contains movement, representing imposed order.
Click on image to view in full size.
Crackling, Pour (Red), Pour (Beige Double), Pour (White Ten),
Pour (White Pair), Pour (Green Quad), Umbilical. (2013)
Here, heavy strands of yarn burst forth from the defined borders of a 'carpet' and the lushness of the material contrasts heavily with the minimalist form. Audiences were invited to consider how this was similar to Chip Bee Garden's history as insular living spaces for British military families, yet the presence of this community affected the surrounding area of Holland Village.
Click on image to view in full size.
An Exile Revisits the City (2011)
This series of photographs feature a fictitious political exile returning to Singapore after a long absence. He contemplates the view before him – Mt Faber, Tanjong Pagar Railway Station & Kanji War Cemetery – of places of historical significance, remembering a time lost past.

As an exile, the figure in these photographs represent someone who is both within and outside, familiar and unfamiliar, and cannot cross a border either by force or by choice.
THE HDB TOUR
Art Walk 2 of 3 for
OH! Holland Village (2017)
Heartland drama unfolded through everyday objects transformed by artists, ending in one of Singapore's original suburban malls.
Click on image to view in full size.
COMMONERS (2014–ongoing)
Three surreal environments hang in the corners of a HDB flat representing alternative universes of Singapore's public housing units. The artist was inspired by looking up into the windows of flats at night and imagining wild scenarios of these unseen worlds.

As the first art encounter of this tour, the perspective of Singapore's domestic heartlands was subverted and relooked at.

Artists:
Dorcas Ng
(in collaboration with Fazli Manor)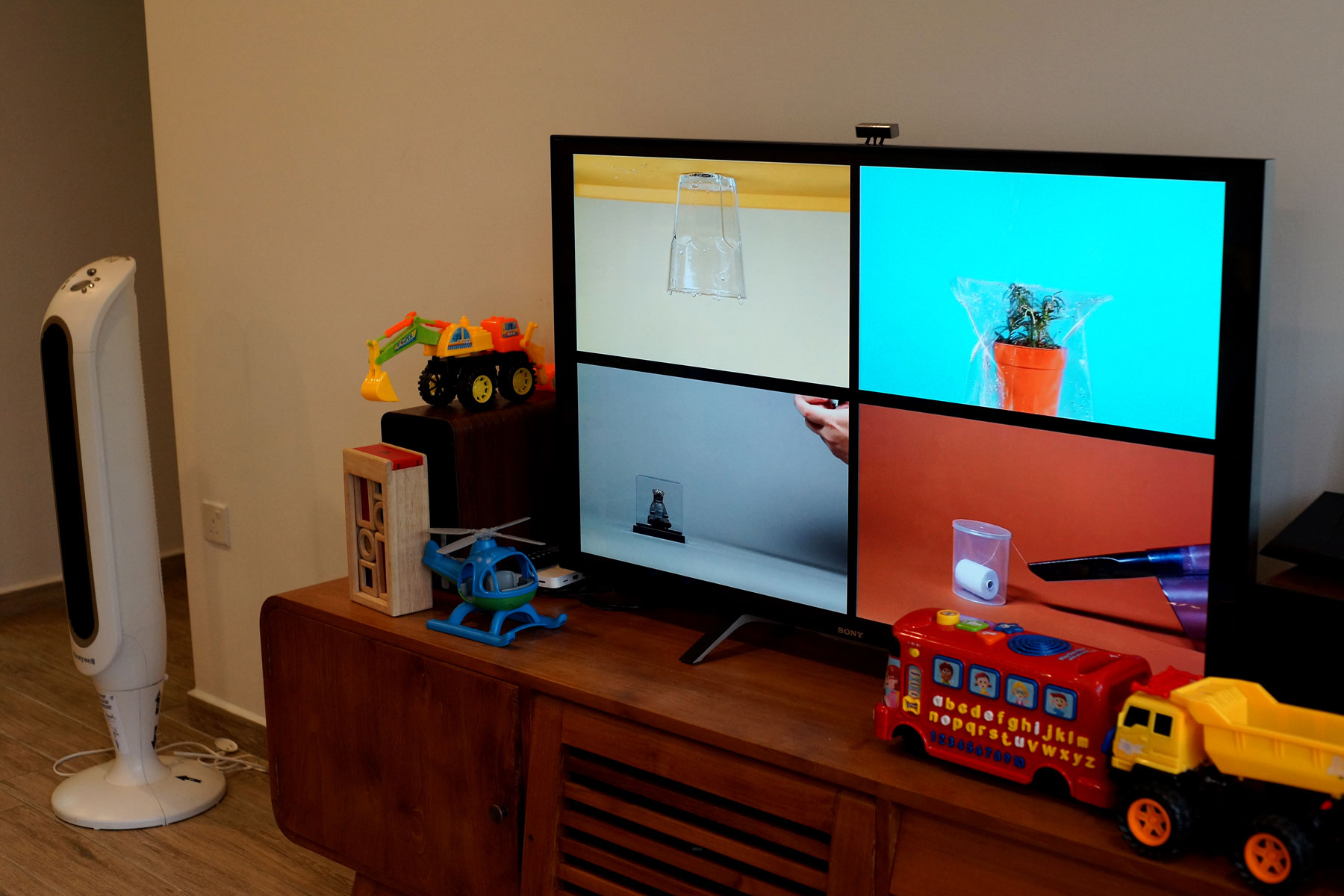 Click on image to view in full size.
To live and let live. (2016)
A series of videos featuring everyday objects in absurd conflict with each other, highlighting the nature of conflict and compromise that routinely take place in the heartlands between neighbourhoods.

In Holland Village, are we to believe that Lorong Mambong's hip cafes and late night bar vibes "cannot be mixed" with the HDB estate?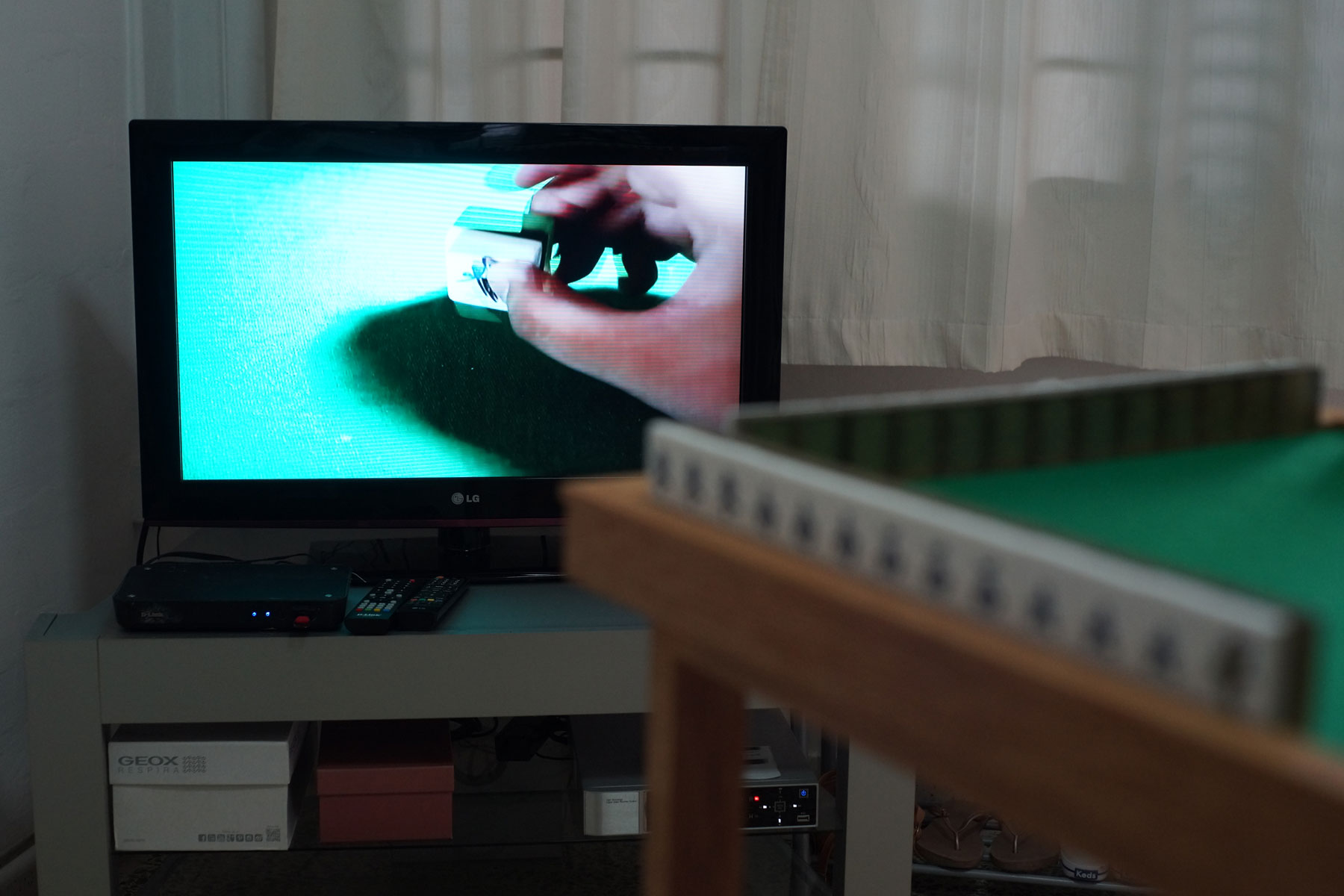 Click on image to view in full size.
Waiting on a Bird (2016)
A recognisable domestic scene in Asian culture – the mahjong table with a game seemingly in play – has been set up. However, upon closer inspection, audiences familiar with the game and its rules will realise that the artist has set up an absurd, practically impossible situation where everyone is waiting for one tile – the Bird – in order to win.

At the end of the day, nobody wins.
Click on image to view in full size.
Dear FWB (2017)
Here in a spare bedroom of a typical 4-room HDB flat, fresh flowers wilted, and were constantly replaced. Snippets from a relationship – "I am not going to tell you I miss you" – scrolled across the LED screen.

In reference to the pubs of Lorong Mambong, the artist turns the concept of the bedroom as a warm, domestic space on its head by inviting the modern, short-lived and temporary romance in.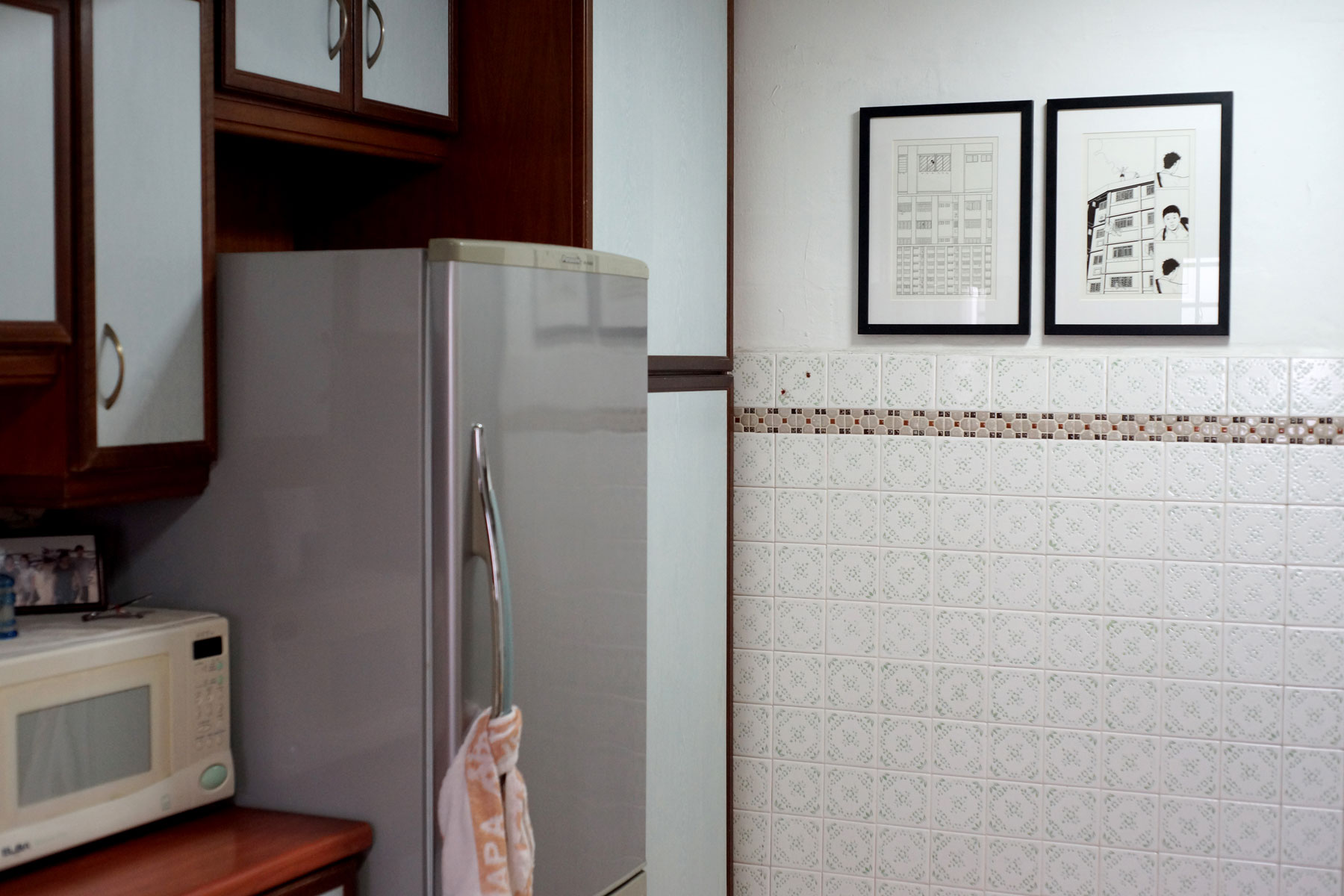 Click on image to view in full size.
Excerpts of original drawings from Gone Case (2010)
Gone case is a graphic novel, set in a 3-room flat, that sensitively explores the heartlands and highlights the humanity of everyday life.

These excerpts were chosen for their nuanced representation of the HDB estate architecture, where audiences dwelled on quiet yet relatable moments of life depicted in recognisable spaces.
The Hakka Cemtery Tour
Art Walk 3 of 3 for
OH! Holland Village (2017)
More than just our traditions, artworks revealed patterns, repetitions, order in this self-guided, meditative tour.
Click on image to view in full size.
n. 330 - twenty constructs on a plane [contaminate/debris/fluid/irregular] (2016)
Exploring the notions of form and formlessness, tactility and repetition, the artist treated stacks of circular paper with different forms of calcium carbonate – marble, eggshells, chalk. The repetition and systematic process here parallelled ordered rituals audiences might experience in everyday life.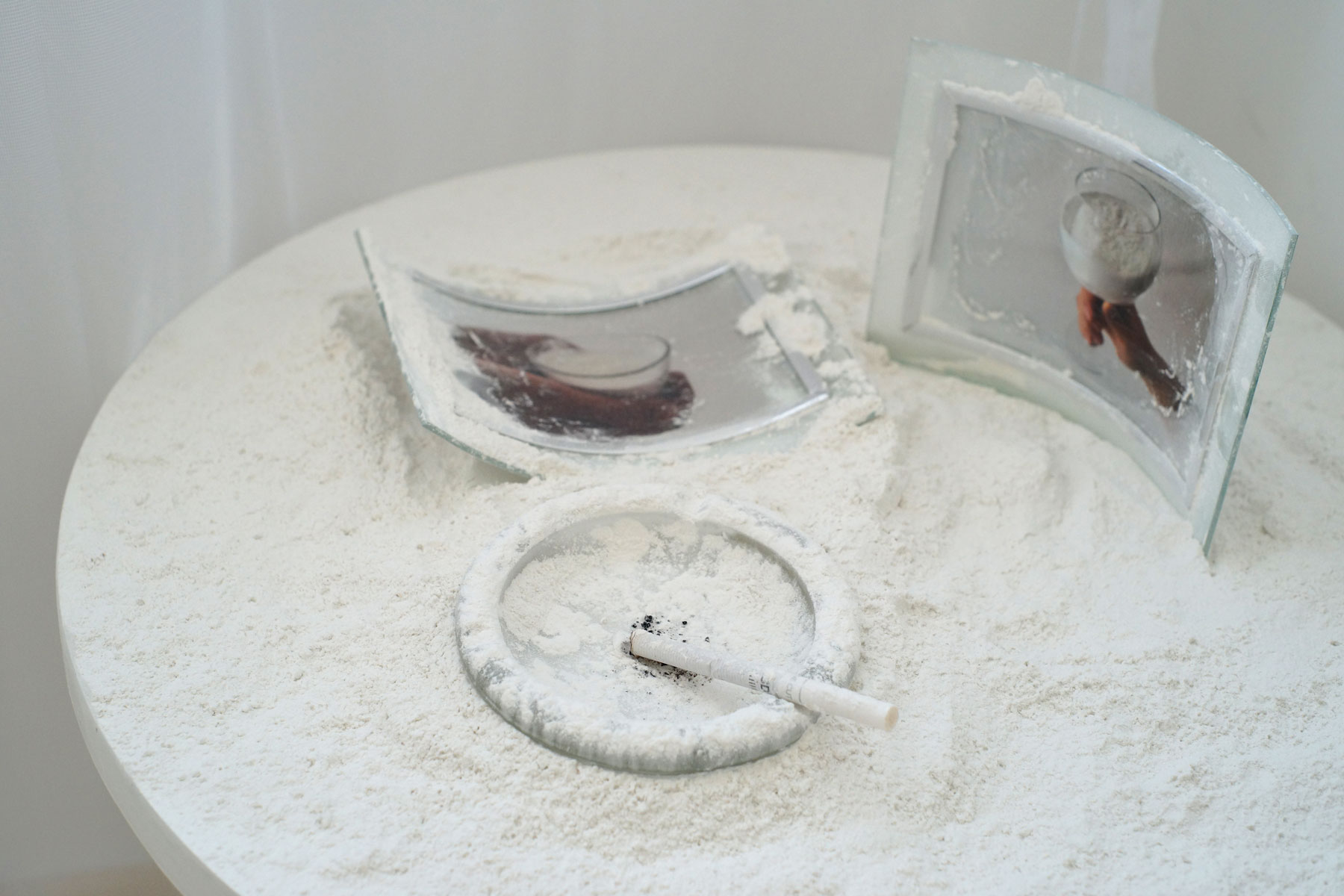 Click on image to view in full size.
you pick what i left behind (2017)
The fragrance of talcum power lingered, recalling domesticity, childhood and the body. The theme of loss and waiting, particularly waiting for someone who will neever return, was highlighted. The artwork and the Hakka Cemetery, which was visible from the kitchen window, reminded audiences of their own mortality.
Click on image to view in full size.
Echo (2017)
The physical erasure of all motifs on the porcelain objects mirrored the erasure of the artist's own personal Hakka Chinese heritage. Within the larger context of Singapore, this erasure also mirrored the disappearance of important cultural sites, as heritage battles pragmatism in our urban city. How will our rituals survive?
Click on image to view in full size.
Ultima Thule: Here Be Dragons (Variation) (2017)
Inspired by migration and nomadism, this sound piece layered voices and audio samples that explored how nomads relate to their constantly changing environment.

Audiences were blindfolded as they listened to the disorientating audio and led by volunteers to the middle of the silent, serene Hakka Cemetery.
Click on image to view in full size.
Don't ask me where I came from (2017)
Stone and clay sculptures were scattered in a field within the cemetery. Loops and circular forms hinted at a sense of completion but with a large gap – much like the undefined and fragmented histoy of the Hakka people.
THE MORAL HAZARDS OF GROWING NUTMEG IN A FARAWAY LAND
This was the first of 4 tours for
OH! Emerald Hill (2018).
Immersive and sensorial, this tour told the story of colonial nutmeg mania in Singapore.
Click on image to view in full size.
Nutmeg Dream (2018)
This work took viewers back to Orchard Road in the 19th century during the height of 'nutmeg mania'. The area was filled with nutmeg plantations - every colonial settler wanted to get rich. Through found objects, sculptures, and bags of nutmeg, the artist's transformed a shophouse into a spice warehouse where the past and present collided.

Artists:
Nabilah Nordin
Nick Modrzewski

Click on image to view in full size.
Your Touch Turns to Gold (2018)
This foot represented Prince Albert, husband of Queen Victoria. He was Commissioner of The Great Exhibition of 1851, which showcased the wonders of the industrial age – including products from the colonies – at the Crystal Palace in London.

When touched, the work turned to gold. This transformation reflected the exploitative relationship between Britain and its colonies - spices, raw materials and objects taken from the East became sources of great wealth for the West.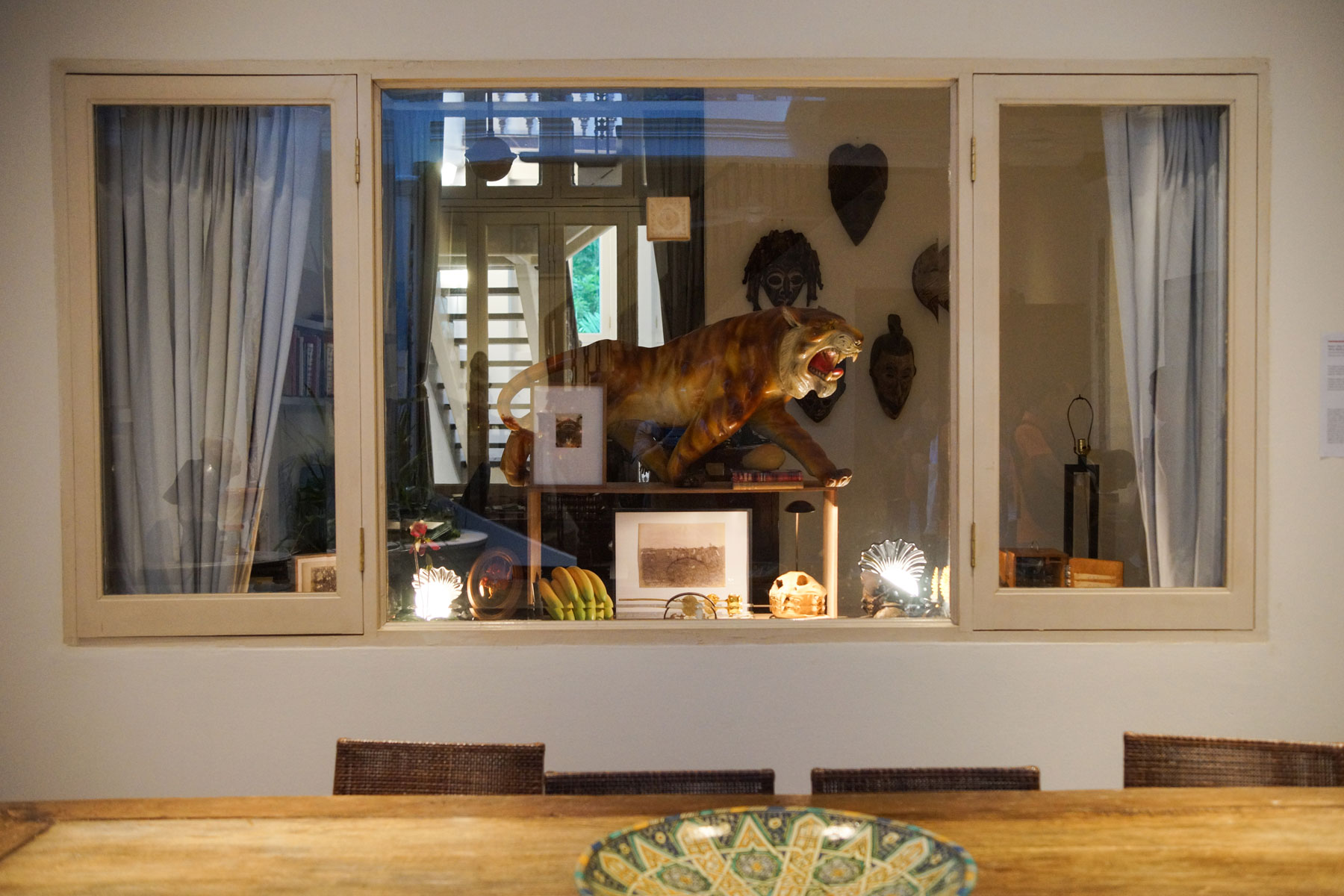 Click on image to view in full size.
White Rubber (2018)
This work presented a selection of objects related to plantation life in Singapore. Visiting rubber plantations was once a highlight of the Singapore itinerary and images of rubber tappers were novelty souvenirs. Rare artefacts presented here included a British tourist's souvenir from a rubber plantation and a coconut pearl harvested from one of many coconut pearl plantations in Singapore during the 1920s.

Artist:
Robert Zhao Renhui


Click on image to view in full size.
Arcane Root (2018)
Nutmeg Mania ended in tragedy and loss. The overproduction of nutmeg resulted in sacks of wasted nutmeg for buyers. In Singapore, a nutmeg canker wiped out all the trees by 1850. Planters discovered much later that it was not a disease but a local beetle that destroyed their plantations. These were reimagined by the artists who presented them upturned and filled with soil and flowers that decayed slowly over the course of the exhibition. Victorian children haunted darkened spaces like ghosts from the past.

Artists:
Allison M. Low
Ho Wai Kit


ALL THE KING'S PAINTERS

This was the second of 4 tours for
OH! Emerald Hill (2018).
This tour put our colonial history on a stage. Artists played with its construction and performance.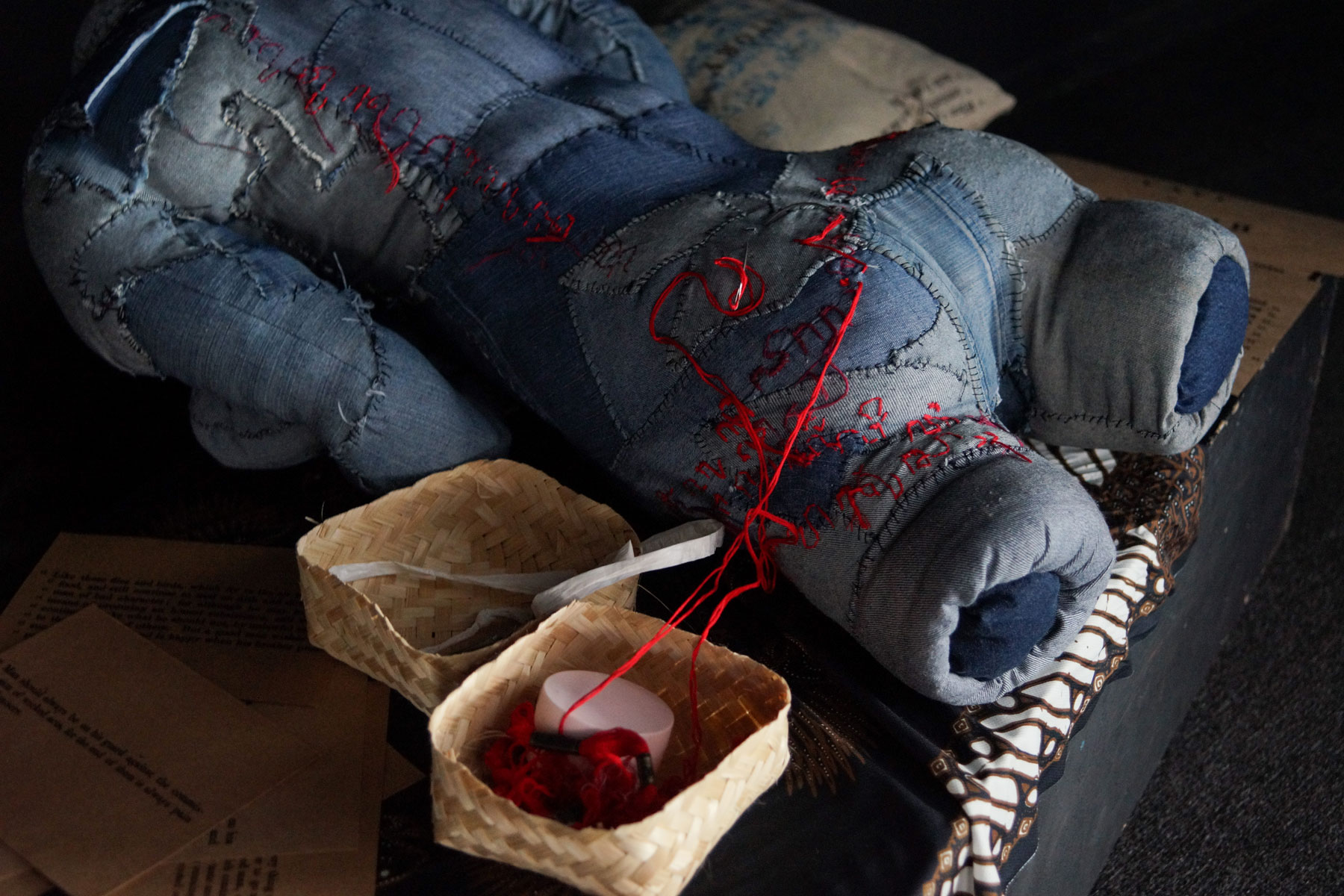 Click on image to view in full size.
Seamstresses' Raffleses (2016)
Inspired by Javanese acts of immortal vengeance, the artist created his own versions of Sir Stamford Raffles. While commonly lauded as the founder of Singapore, he is also regarded as a looter and invader in Java. The figure of Raffles is recognisable through his pose. While he typically stands proud as our founder, this stage provided a different story as Ong explored the Javanese version of Raffles. In his hands, the making of each sculpture as effigy — cutting, sewing, stuffing and hanging — enacted its form of violence.
Click on image to view in full size.
The Probability of Veracity: The Missing Daguerreotypes - Part 1 (2017)
In this series of paintings, the artist channeled the life and work of the 19th-century French photographer Jules Itier, who produced many daguerreotypes of Asia. The paintings recreate 7 of the missing daguerreotypes with reference to Itier's journal entries and other materials, which were displayed alongside the work. The collage of written, photographic and painted information prompted a consideration of the veracity of images – are these 'faithful views'?
Artist:
Gilles Massot
Click on image to view in full size.
To The Eastward (The Lines Divide) (2014)
A film that complicates the story of Singapore's founding. It introduces audiences to the figures of William Farquhar, the first British Resident of Singapore, and Tengku Long, the puppet Sultan, who were also involved in this pivotal moment. The film is based on letters to and from Raffles and references other historical documents - such as the Treaty of Singapore. The process of filmmaking is deliberately exposed throughout, reminding audiences that this narrative is staged. The work suggests that history, like film, is always constructed too.
Click on image to view in full size.
on the act of planting islands (2014)
A companion piece to the film To The Eastward (The Lines Divide). William Farquhar's natural history drawings with old colonial maps of the Malay Archipelago. The work reflects on the West's fascination with the exotic East.
Click on image to view in full size.
Open Love Letters (2018)
In Singapore, Stamford Raffles is celebrated as the gentleman-hero. However, the lesser known aspects of Raffles' stories are tied to Java, where he was an invader and a looter. What could commemorate Raffles' acts of dishonour in colonial Java?


In Open Love Letters, the artist attempts to atone for, reconcile and exorcise Raffles through a performance. For this purpose, the familiar Raffles monument was transformed into a grill on which fragrant Javanese kueh kapits were cooked. The kuehs were stamped with Javanese text published in a book by Raffles and shared with the audiences as a talisman against colonialism.
Created with the support of: Sound Artist: Jeremy Sharma / Singer: Wahyuningsih
FANTASTIC BEASTS AND MAN-EATING FLOWERS
This was the third of 4 tours for
OH! Emerald Hill (2018).
This tour took the form of a choose-your-own-adventure through the themes of botany, science and representation.
Click on image to view in full size.
Exponential Taxonomies (2014)
In this series of images, William Farquhar's natural history drawings were scanned alongside real plants. Two modes of documentation are contrasted – one scientific, the other luxuriant. The scans deliberately include dust particles and rolled-up edges, even cropping out significant parts of the plant. The work challenges our assumptions about the objectivity of scientific observations and points out the limits of representations.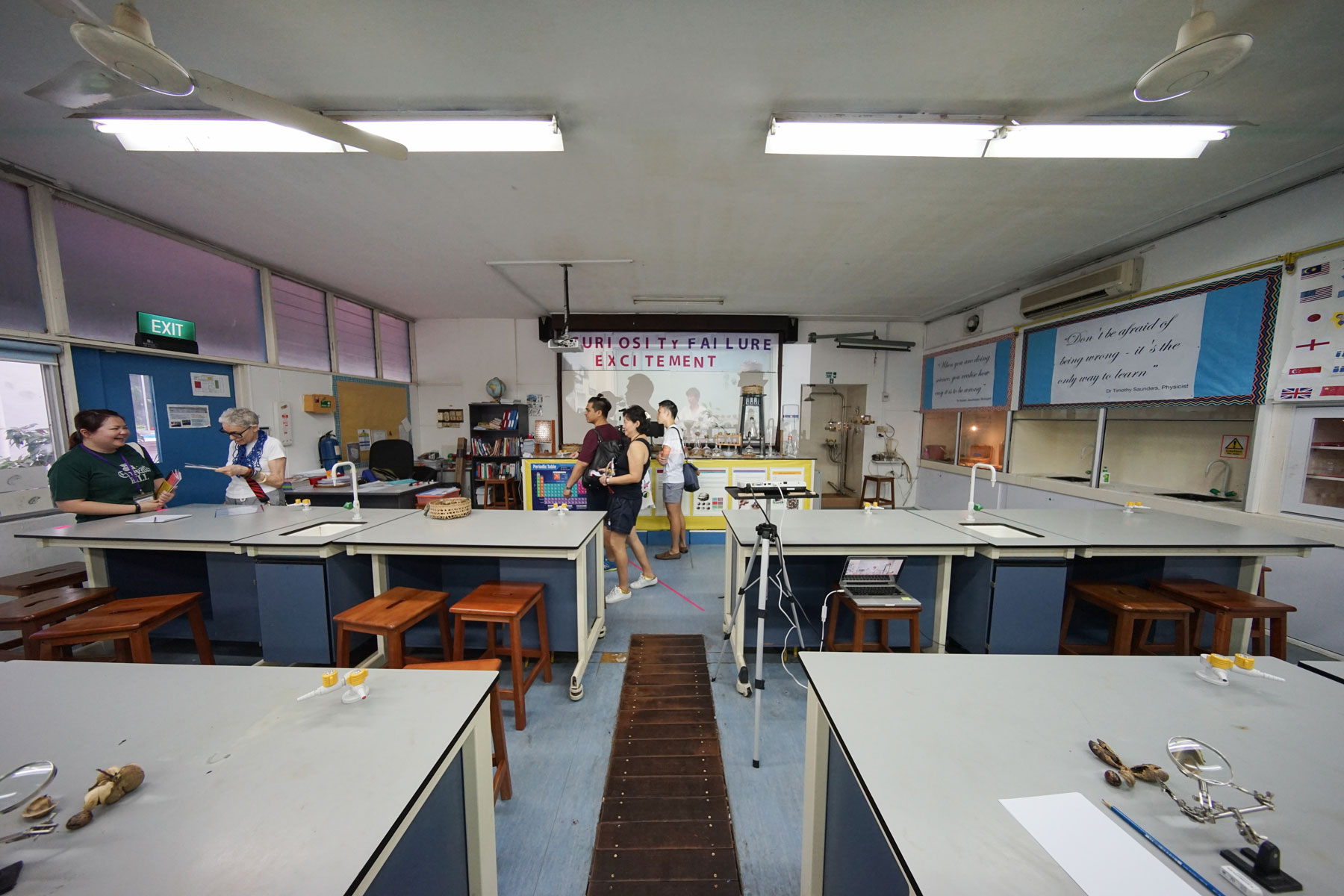 Click on image to view in full size.
How To Study A Rubber Seed (2018)
Rubber was one of Malaya's most important cash crops. Henry Ridley experimented with it in the Singapore Botanic Gardens, discovering a way to tap the tree extensively without destroying it.

In this work, the artist invited audiences to approach rubber differently. They could experiment with it across different stations in the installation. The work encouraged curiosity, without agenda for exploitation or profit.

Created with the support of: Cinematography: Russell Morton / Hevea consultant: Gregory Lesturge / Biophysics consultant: Dr Tim Saunder / Scientific consultant: Dr Suresh Jesuthasa / Hevealogists: SK and Pre-school students of Blue House international School
Click on image to view in full size.
Garden State Palimpsest (2017)
An installation based on the artist's interviews with residents of kampungs that no longer exist in Singapore. Each object is an attempt at recreating the environments that marked the interviewees' lives, serving as documentation of a lost landscape that now seems mythical in heavily urbanised Singapore. The images are abstract and hazy, and the stones fragmented – they are only an approximation of a space that once existed, refracted through memories.

Click on image to view in full size.
ENDEMIC 'END66 Pantlingia Manrii' (2015)
The orchid in this work is endemic to Mount Kinabalu, it can only exist in that particular environment. Yet, the work can be brought to any place in the world. A part of it twitches, revealing its artificiality. The artist defied nature by creating a copy of the orchid with industrial materials. The endemic orchid can now exist anywhere. It does not belong to nature, but to the industrial age of machines and mass reproduction.
Artist:
Chris Chong Chan Fui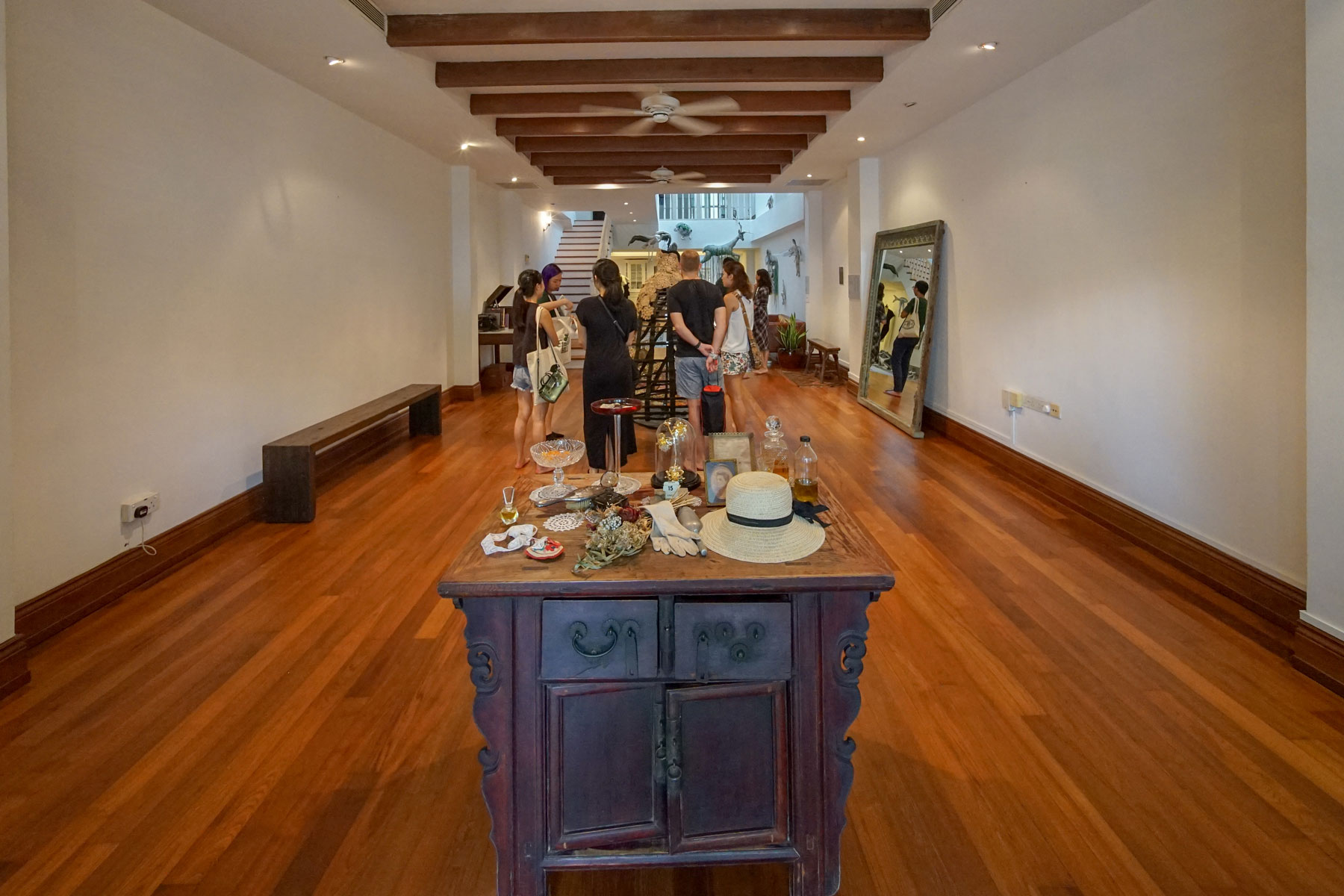 Click on image to view in full size.
Daughter of the Soil (2018)
"Let her own works praise her." These words, inscribed into Agnes Joaquim's tombstone, inspired the artist to create this work. Here, each object celebrates the story of the woman who created Singapore's national flower - the Vanda Miss Joaquim. Guests were welcomed with a perfume oil that recreated the scent of Agnes's garden in Tanjong Pagar. They were greated by a sculpture of a 19th-century crinolinecovered with lace dipped in soil from Joaquim's garden. Each part of the installation also speaks to the domestic and progression labour performed by many women that often goes unnoticed.
Created with the support of: Crinoline: CoreCrewFx, Paul Pistore, Rob Jenkin, Juneau Lim, Tania May Leong, Nawel Hammoumraoui, Jeroen Ow / Sound Installation: The Gunnery / Poem Recordings: Agatha Lee, Ani Umedyan, Aurora Hamons, Britta Oustrip, Coco Anna Oustrup Laureijs, Damini Roy, Debasmita Dasgupta, Elaine Friedlanger, Fiona Silva, Hazel Locke, Helle Max Mullen, Ho Tran Da Thao, Jolie Ow, Kali Ma Shub, Lily Dogarel, Linda Locke, Louise Padley Simpson, Madina Khamitova, Mamakan, Meena Peters, Pauline Chen, Saniya Yerlan, Sarah Ichioka, Sofia Xandra Oustrop Laureijs, Stephanie_Zarigian, Tahnya Butterfield-Gill, Zara Yelunin / Perfume Development: Heather Ho, Pauline Chen / Research and Materials: Britta Oustrup, Anna Bervander, Linda Locke, Nadia Wright / Soil Support: Kalthom Abd Latiff, Tay Ah Ba
BUY EMPIRE EVERY DAY EVERYWHERE
This was the finale exhibition for
OH! Emerald Hill (2018)
that took place in Orchard Plaza. Citizens were invited to fulfil their civic duty by consuming.
Click on image to view in full size.
The Mad Dog Singers (2018)
A Barbershop Quartet performed an over-the-top, campy rendition of "Mad Dogs and Englishmen" for audiences. Together, they walked down Orchard Road, to a mall of days gone by – Orchard Plaza.

---
Click on image to view in full size.
Salvation Made Simple (2018)
"We are The School, for we are many, like fishes in this vast spiritual sea". The School is a spiritual organisation that believes in the authority of The Goddess's teachings for their life and practice. They are committed to assisting anyone who seeks to graduate into enlightenment under the guidance of She Who Is Blessed.


Audiences could get blessed at this special pop-up store. They experienced the Goddess's unconditional love through merchandise dispensed in the vending machines. Salvation is simple.


Created with the support of: Art Director: Miki Charwin / Spatial Designer: inthewild / Sound Designer: FERRY / Illustration of The Goddess: whitehorsegrey, May Chua Embroidery / Artist: Karen Leong / T-shirt & Badg e Artwork: Deon (@deonasaurus) / Social Media Executive: Christian Maranion / Behind-The-Scenes Photographer: Christopher Sim / Behind-The-Scenes Videographer: Daniel Chan Xian Wen / Assisted by: Ernest Zacharevic, Henzy David, Joel Chua, Sheena Liam, Stephanie Moh / "#BlessedWater" Advertisement Director & DP: Lenne Chai / Stylist: Josiah Chua / Hair & Makeup: Alex T / Model: Huda Shamin / Assisted by: Daniel Chan Xian Wen "Oyster World: The Dog & The Goddess" / Trailer Director: Adin Kindermann / DP: Lenne Chai / VO Artist: Mitchell Poon / Starring: Mitchell Poon, Dave Rogers, Alex T / "Soul Spinning Amulet" Advertisement Director: Jasper Tan / Vadbibes / Talent: Travion "Watching The Goddess" / Documentary Director & DP: Lenne Chai / Extras: Adin Kindermann, Bao En, Calvin Phua, Charlie Triano, Hailey Rodee, Henzy David, Joie Tan, Miki Charwin, Sylvia Paing, Teddy Phuong, Tiffany Pan


---
Click on image to view in full size.
Gold Gold Real Estate Agency (2018)
The Gold Gold Real Estate Agency invited audiences to look for thier dream homes in Emerald Hill. A conservation neighbourhood, each home in Emerald Hill has its own distinct architectural features, some of which were represented in the paintings displayed at the agency. Each painting of the facades of Emerald Hill shophouses is a tidy, easily consumable representation of our culture and heritage. They were contrasted with a series of paintings placed by the door, which depicted anonymous interior spaces that are contemporary in their colour palette and composition – there is no heritage to be found there.


---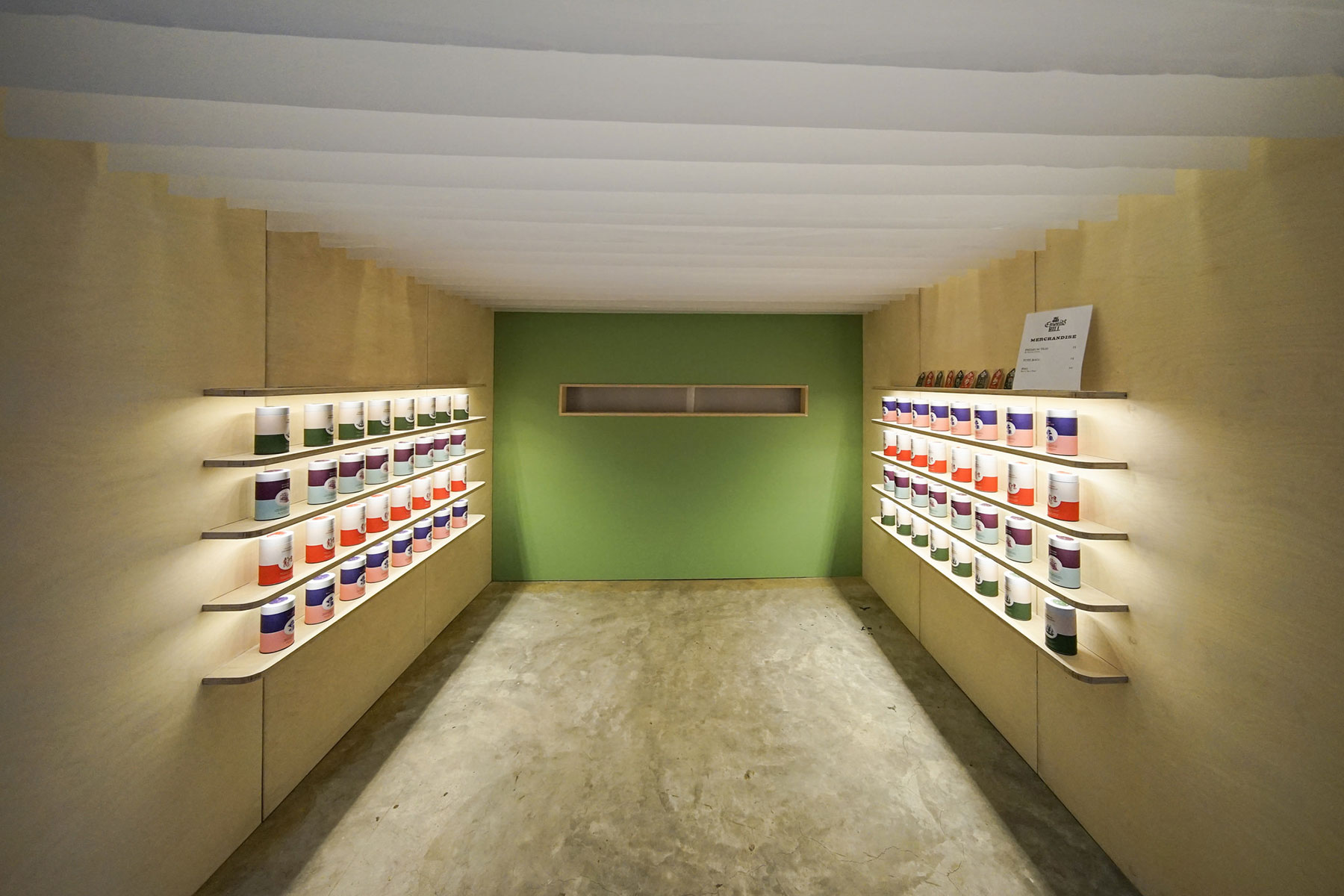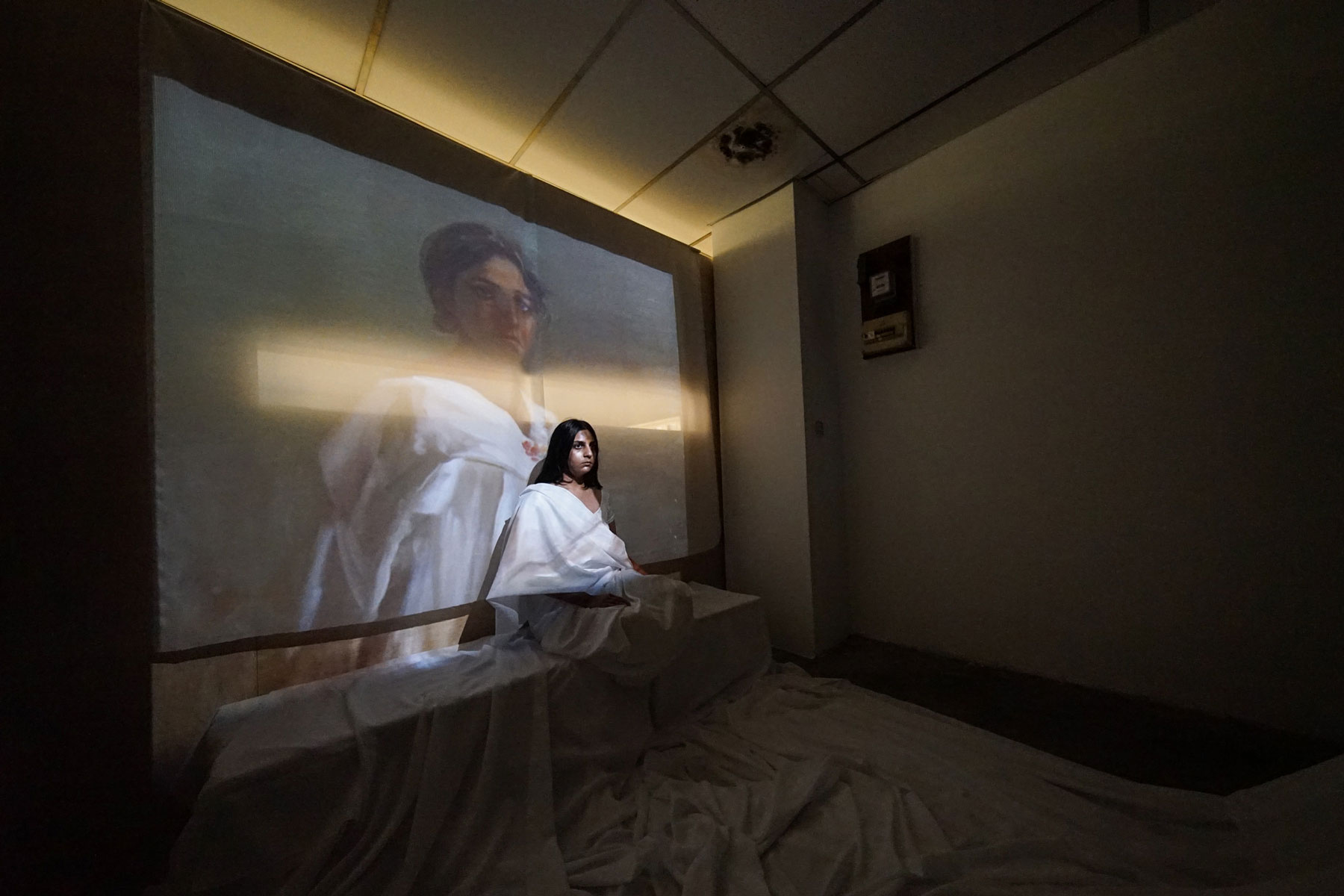 Click on image to view in full size.
Tea Revives the World (2018)
A shop that told the story of tea through four specially-blended brews - Oriental Persuasion, Stolen Scents, Oolong Oppression and Her Majestea. Each responds to a chapter in the larger, fraught history of tea, from the moment it was stolen from China to its ascent as the most beloved drink in Britain. The teas were created by Pek Sin Choon (est. 1925), one of the oldest tea merchants in Singapore.

In a hidden part of the shop, audiences could attend a short, secret performance that addressed the theme of labour and oppression.


Click on image to view in full size.
.
Small Landscape (2018)
A landscape carefully sculpted by the artist. The composition of the space re-imagined the topography of the Emerald Hill area back in 1893, and was inspired by Japanese dry gardens and Chinese landscape paintings. Audiences were encouraged to sit down, observe and contemplate in this landscape of natural elements.


---
CONTACT US
OH Open House Ltd
90 Goodman Road
Blk B #05-09
Singapore 439053