ALL THE KING'S PAINTERS

This was the second of 4 tours for
OH! Emerald Hill (2018).
This tour put our colonial history on a stage. Artists played with its construction and performance.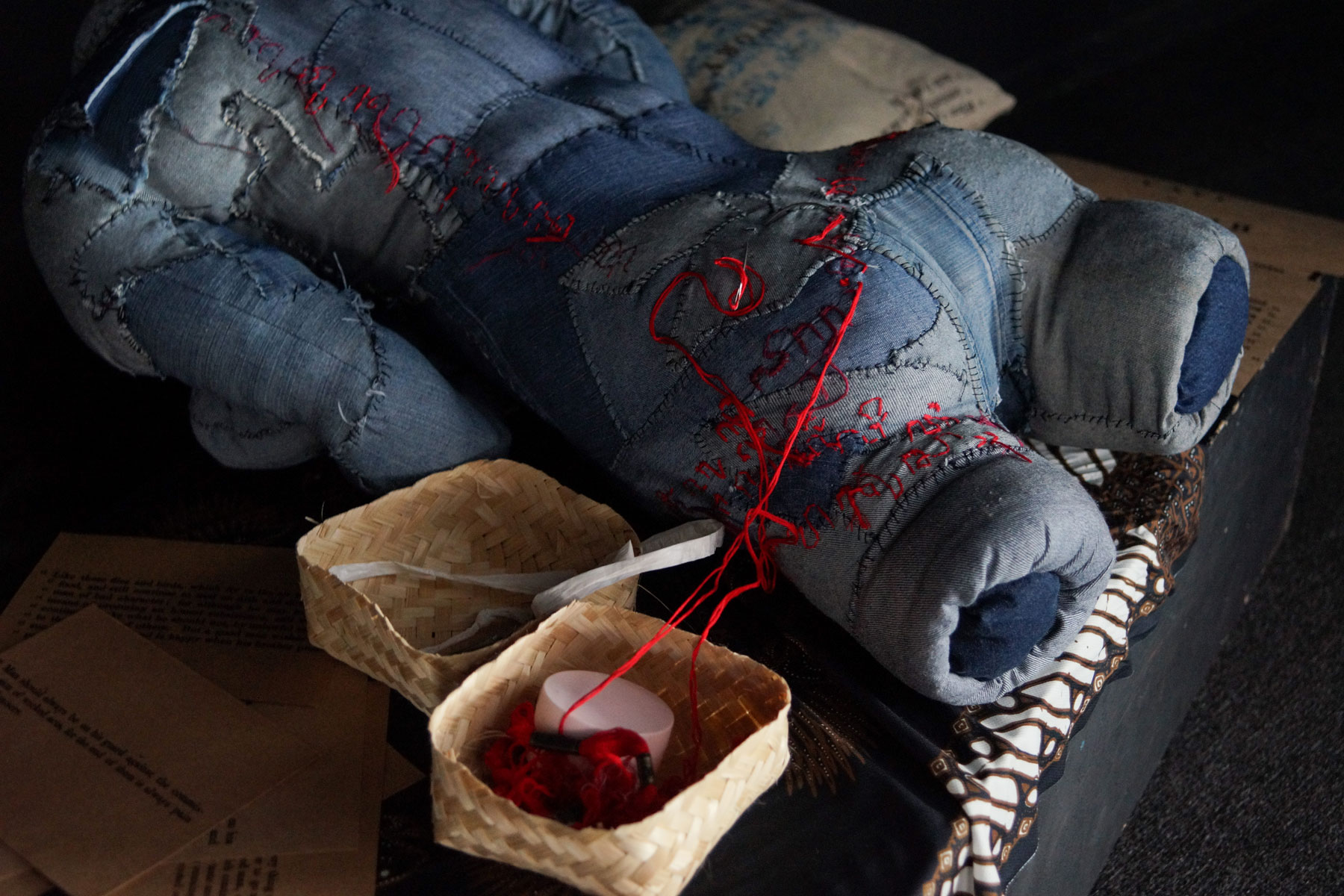 Click on image to view in full size.
Seamstresses' Raffleses (2016)
Inspired by Javanese acts of immortal vengeance, the artist created his own versions of Sir Stamford Raffles. While commonly lauded as the founder of Singapore, he is also regarded as a looter and invader in Java. The figure of Raffles is recognisable through his pose. While he typically stands proud as our founder, this stage provided a different story as Ong explored the Javanese version of Raffles. In his hands, the making of each sculpture as effigy — cutting, sewing, stuffing and hanging — enacted its form of violence.
Click on image to view in full size.
The Probability of Veracity: The Missing Daguerreotypes - Part 1 (2017)
In this series of paintings, the artist channeled the life and work of the 19th-century French photographer Jules Itier, who produced many daguerreotypes of Asia. The paintings recreate 7 of the missing daguerreotypes with reference to Itier's journal entries and other materials, which were displayed alongside the work. The collage of written, photographic and painted information prompted a consideration of the veracity of images – are these 'faithful views'?
Artist:
Gilles Massot
Click on image to view in full size.
To The Eastward (The Lines Divide) (2014)
A film that complicates the story of Singapore's founding. It introduces audiences to the figures of William Farquhar, the first British Resident of Singapore, and Tengku Long, the puppet Sultan, who were also involved in this pivotal moment. The film is based on letters to and from Raffles and references other historical documents - such as the Treaty of Singapore. The process of filmmaking is deliberately exposed throughout, reminding audiences that this narrative is staged. The work suggests that history, like film, is always constructed too.
Click on image to view in full size.
on the act of planting islands (2014)
A companion piece to the film To The Eastward (The Lines Divide). William Farquhar's natural history drawings with old colonial maps of the Malay Archipelago. The work reflects on the West's fascination with the exotic East.
Click on image to view in full size.
Open Love Letters (2018)
In Singapore, Stamford Raffles is celebrated as the gentleman-hero. However, the lesser known aspects of Raffles' stories are tied to Java, where he was an invader and a looter. What could commemorate Raffles' acts of dishonour in colonial Java?

In Open Love Letters, the artist attempts to atone for, reconcile and exorcise Raffles through a performance. For this purpose, the familiar Raffles monument was transformed into a grill on which fragrant Javanese kueh kapits were cooked. The kuehs were stamped with Javanese text published in a book by Raffles and shared with the audiences as a talisman against colonialism.
Created with the support of: Sound Artist: Jeremy Sharma / Singer: Wahyuningsih
CONTACT US
OH Open House Ltd
92C Syed Alwi Road
Level 4
Singapore 207668