FANTASTIC BEASTS AND MAN-EATING FLOWERS
This was the third of 4 tours for
OH! Emerald Hill (2018).
This tour took the form of a choose-your-own-adventure through the themes of botany, science and representation.
Click on image to view in full size.
Exponential Taxonomies (2014)
In this series of images, William Farquhar's natural history drawings were scanned alongside real plants. Two modes of documentation are contrasted – one scientific, the other luxuriant. The scans deliberately include dust particles and rolled-up edges, even cropping out significant parts of the plant. The work challenges our assumptions about the objectivity of scientific observations and points out the limits of representations.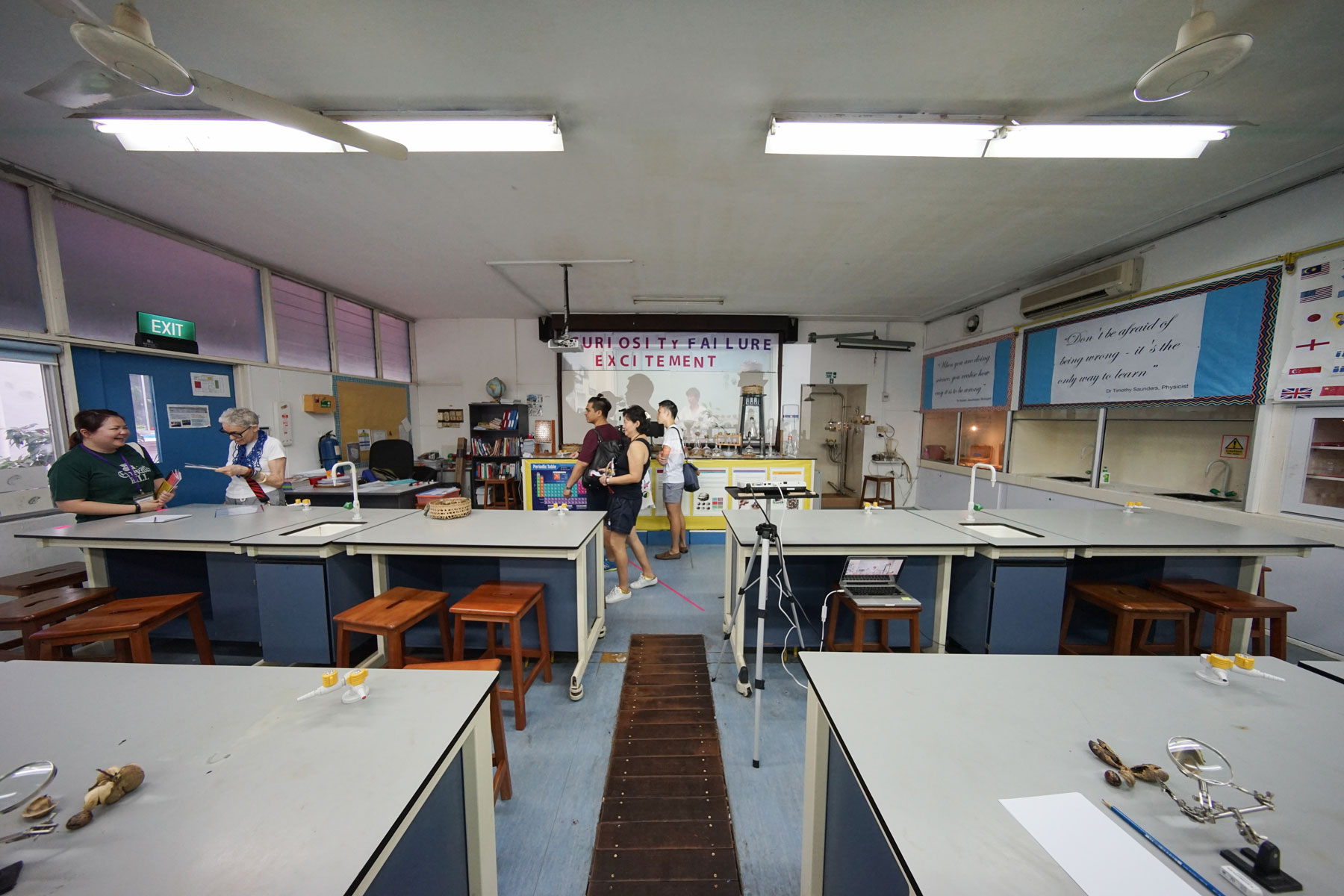 Click on image to view in full size.
How To Study A Rubber Seed (2018)
Rubber was one of Malaya's most important cash crops. Henry Ridley experimented with it in the Singapore Botanic Gardens, discovering a way to tap the tree extensively without destroying it.

In this work, the artist invited audiences to approach rubber differently. They could experiment with it across different stations in the installation. The work encouraged curiosity, without agenda for exploitation or profit.

Created with the support of: Cinematography: Russell Morton / Hevea consultant: Gregory Lesturge / Biophysics consultant: Dr Tim Saunder / Scientific consultant: Dr Suresh Jesuthasa / Hevealogists: SK and Pre-school students of Blue House international School
Click on image to view in full size.
Garden State Palimpsest (2017)
An installation based on the artist's interviews with residents of kampungs that no longer exist in Singapore. Each object is an attempt at recreating the environments that marked the interviewees' lives, serving as documentation of a lost landscape that now seems mythical in heavily urbanised Singapore. The images are abstract and hazy, and the stones fragmented – they are only an approximation of a space that once existed, refracted through memories.

Click on image to view in full size.
ENDEMIC 'END66 Pantlingia Manrii' (2015)
The orchid in this work is endemic to Mount Kinabalu, it can only exist in that particular environment. Yet, the work can be brought to any place in the world. A part of it twitches, revealing its artificiality. The artist defied nature by creating a copy of the orchid with industrial materials. The endemic orchid can now exist anywhere. It does not belong to nature, but to the industrial age of machines and mass reproduction.
Artist:
Chris Chong Chan Fui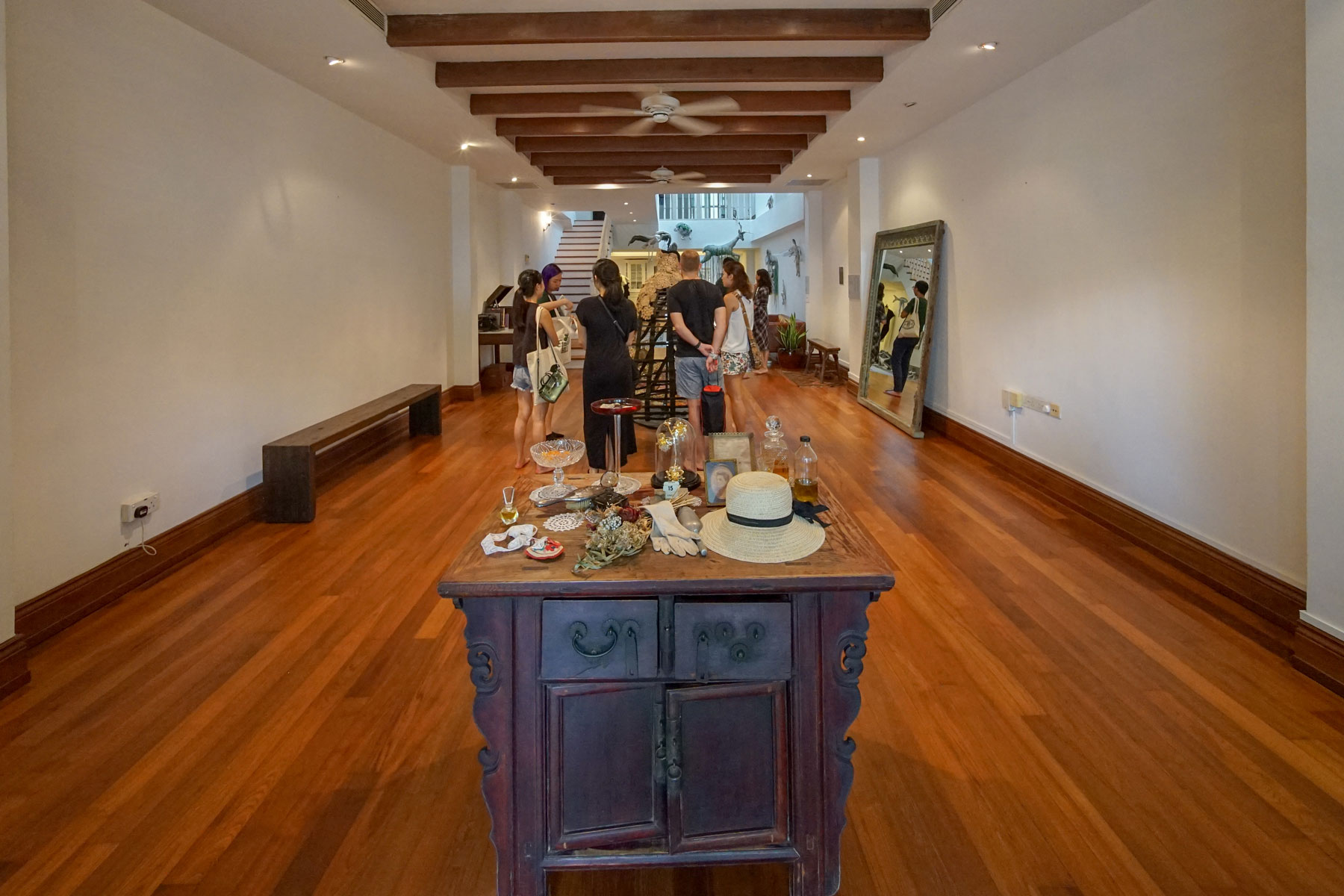 Click on image to view in full size.
Daughter of the Soil (2018)
"Let her own works praise her." These words, inscribed into Agnes Joaquim's tombstone, inspired the artist to create this work. Here, each object celebrates the story of the woman who created Singapore's national flower - the Vanda Miss Joaquim. Guests were welcomed with a perfume oil that recreated the scent of Agnes's garden in Tanjong Pagar. They were greated by a sculpture of a 19th-century crinolinecovered with lace dipped in soil from Joaquim's garden. Each part of the installation also speaks to the domestic and progression labour performed by many women that often goes unnoticed.
Created with the support of: Crinoline: CoreCrewFx, Paul Pistore, Rob Jenkin, Juneau Lim, Tania May Leong, Nawel Hammoumraoui, Jeroen Ow / Sound Installation: The Gunnery / Poem Recordings: Agatha Lee, Ani Umedyan, Aurora Hamons, Britta Oustrip, Coco Anna Oustrup Laureijs, Damini Roy, Debasmita Dasgupta, Elaine Friedlanger, Fiona Silva, Hazel Locke, Helle Max Mullen, Ho Tran Da Thao, Jolie Ow, Kali Ma Shub, Lily Dogarel, Linda Locke, Louise Padley Simpson, Madina Khamitova, Mamakan, Meena Peters, Pauline Chen, Saniya Yerlan, Sarah Ichioka, Sofia Xandra Oustrop Laureijs, Stephanie_Zarigian, Tahnya Butterfield-Gill, Zara Yelunin / Perfume Development: Heather Ho, Pauline Chen / Research and Materials: Britta Oustrup, Anna Bervander, Linda Locke, Nadia Wright / Soil Support: Kalthom Abd Latiff, Tay Ah Ba
CONTACT US
OH Open House Ltd
92C Syed Alwi Road
Level 4
Singapore 207668