BUY EMPIRE EVERY DAY EVERYWHERE
This was the finale exhibition for
OH! Emerald Hill (2018)
that took place in Orchard Plaza. Citizens were invited to fulfil their civic duty by consuming.
Click on image to view in full size.
The Mad Dog Singers (2018)
A Barbershop Quartet performed an over-the-top, campy rendition of "Mad Dogs and Englishmen" for audiences. Together, they walked down Orchard Road, to a mall of days gone by – Orchard Plaza.

---
Click on image to view in full size.
Salvation Made Simple (2018)
"We are The School, for we are many, like fishes in this vast spiritual sea". The School is a spiritual organisation that believes in the authority of The Goddess's teachings for their life and practice. They are committed to assisting anyone who seeks to graduate into enlightenment under the guidance of She Who Is Blessed.


Audiences could get blessed at this special pop-up store. They experienced the Goddess's unconditional love through merchandise dispensed in the vending machines. Salvation is simple.


Created with the support of: Art Director: Miki Charwin / Spatial Designer: inthewild / Sound Designer: FERRY / Illustration of The Goddess: whitehorsegrey, May Chua Embroidery / Artist: Karen Leong / T-shirt & Badg e Artwork: Deon (@deonasaurus) / Social Media Executive: Christian Maranion / Behind-The-Scenes Photographer: Christopher Sim / Behind-The-Scenes Videographer: Daniel Chan Xian Wen / Assisted by: Ernest Zacharevic, Henzy David, Joel Chua, Sheena Liam, Stephanie Moh / "#BlessedWater" Advertisement Director & DP: Lenne Chai / Stylist: Josiah Chua / Hair & Makeup: Alex T / Model: Huda Shamin / Assisted by: Daniel Chan Xian Wen "Oyster World: The Dog & The Goddess" / Trailer Director: Adin Kindermann / DP: Lenne Chai / VO Artist: Mitchell Poon / Starring: Mitchell Poon, Dave Rogers, Alex T / "Soul Spinning Amulet" Advertisement Director: Jasper Tan / Vadbibes / Talent: Travion "Watching The Goddess" / Documentary Director & DP: Lenne Chai / Extras: Adin Kindermann, Bao En, Calvin Phua, Charlie Triano, Hailey Rodee, Henzy David, Joie Tan, Miki Charwin, Sylvia Paing, Teddy Phuong, Tiffany Pan


---
Click on image to view in full size.
Gold Gold Real Estate Agency (2018)
The Gold Gold Real Estate Agency invited audiences to look for their dream homes in Emerald Hill. A conservation neighbourhood, each home in Emerald Hill has its own distinct architectural features, some of which were represented in the paintings displayed at the agency. Each painting of the facades of Emerald Hill shophouses is a tidy, easily consumable representation of our culture and heritage. They were contrasted with a series of paintings placed by the door, which depicted anonymous interior spaces that are contemporary in their colour palette and composition – there is no heritage to be found there.


---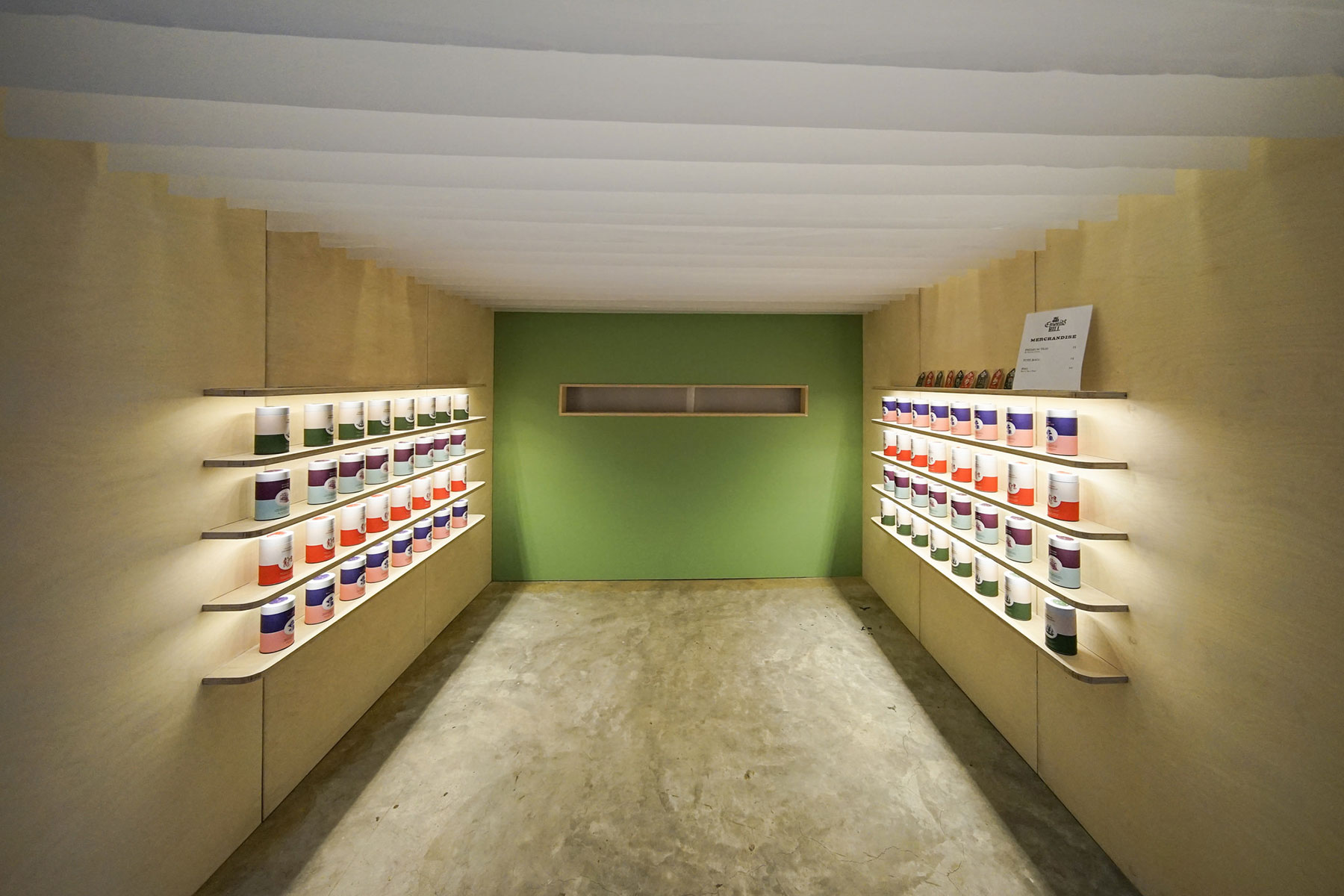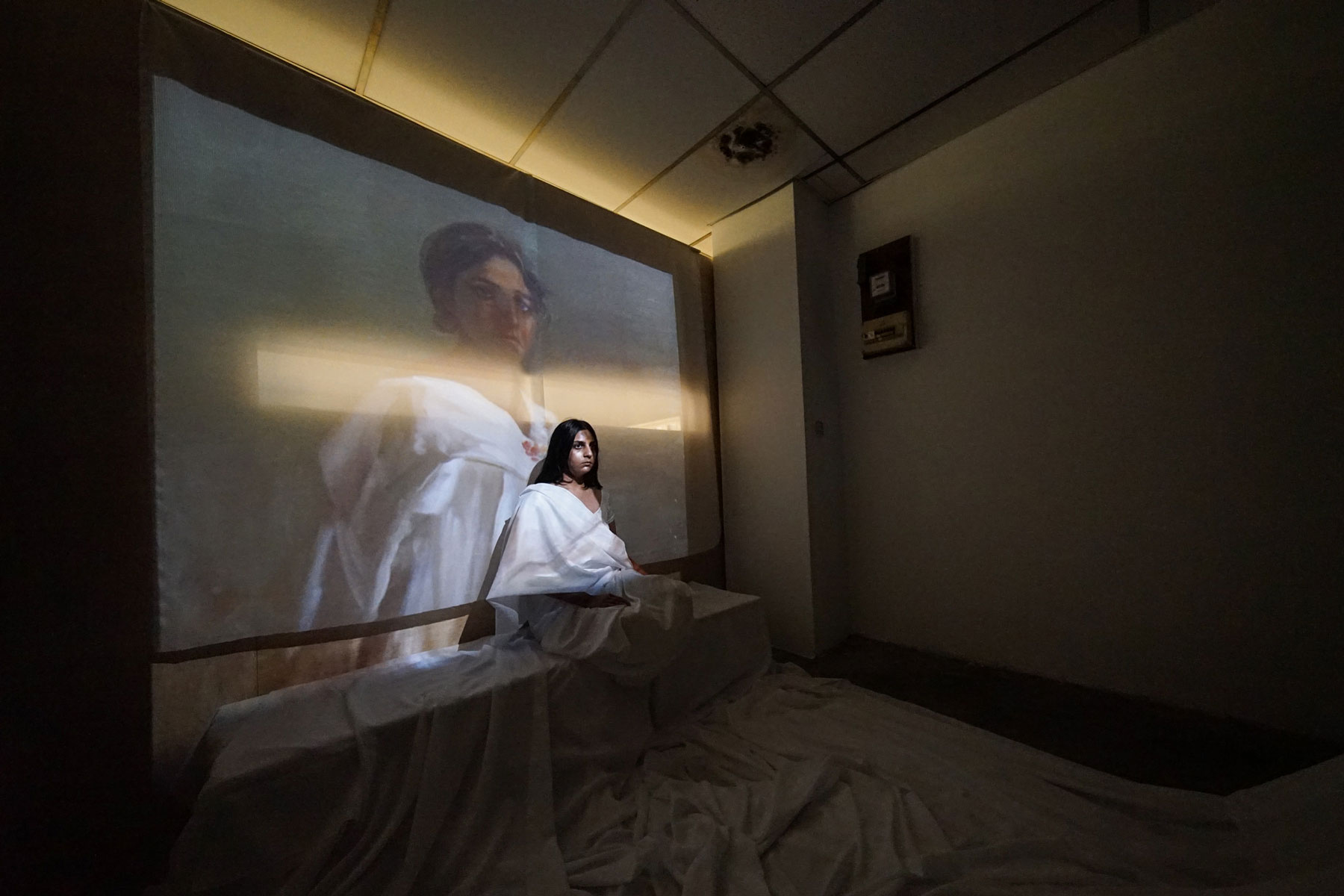 Click on image to view in full size.
Tea Revives the World (2018)
A shop that told the story of tea through four specially-blended brews - Oriental Persuasion, Stolen Scents, Oolong Oppression and Her Majestea. Each responds to a chapter in the larger, fraught history of tea, from the moment it was stolen from China to its ascent as the most beloved drink in Britain. The teas were created by Pek Sin Choon (est. 1925), one of the oldest tea merchants in Singapore.

In a hidden part of the shop, audiences could attend a short, secret performance that addressed the theme of labour and oppression.


Click on image to view in full size.
.
Small Landscape (2018)
A landscape carefully sculpted by the artist. The composition of the space re-imagined the topography of the Emerald Hill area back in 1893, and was inspired by Japanese dry gardens and Chinese landscape paintings. Audiences were encouraged to sit down, observe and contemplate in this landscape of natural elements.


---
CONTACT US
OH Open House Ltd
92C Syed Alwi Road
Level 4
Singapore 207668