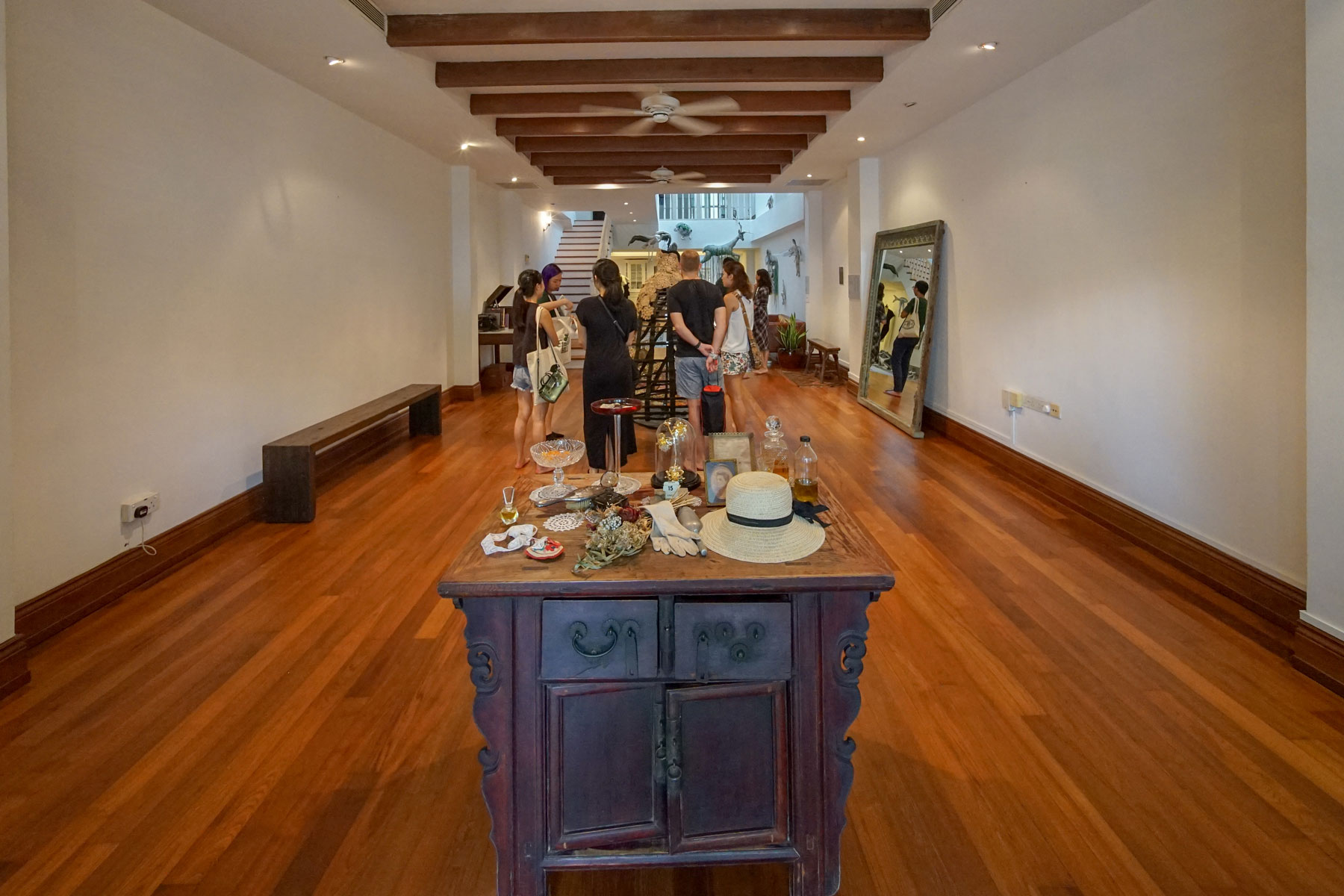 Click on image to view in full size.
Daughter of the Soil (2018)
"Let her own works praise her." These words, inscribed into Agnes Joaquim's tombstone, inspired the artist to create this work. Here, each object celebrates the story of the woman who created Singapore's national flower - the Vanda Miss Joaquim. Guests were welcomed with a perfume oil that recreated the scent of Agnes's garden in Tanjong Pagar. They were greated by a sculpture of a 19th-century crinolinecovered with lace dipped in soil from Joaquim's garden. Each part of the installation also speaks to the domestic and progression labour performed by many women that often goes unnoticed.
Created with the support of: Crinoline: CoreCrewFx, Paul Pistore, Rob Jenkin, Juneau Lim, Tania May Leong, Nawel Hammoumraoui, Jeroen Ow / Sound Installation: The Gunnery / Poem Recordings: Agatha Lee, Ani Umedyan, Aurora Hamons, Britta Oustrip, Coco Anna Oustrup Laureijs, Damini Roy, Debasmita Dasgupta, Elaine Friedlanger, Fiona Silva, Hazel Locke, Helle Max Mullen, Ho Tran Da Thao, Jolie Ow, Kali Ma Shub, Lily Dogarel, Linda Locke, Louise Padley Simpson, Madina Khamitova, Mamakan, Meena Peters, Pauline Chen, Saniya Yerlan, Sarah Ichioka, Sofia Xandra Oustrop Laureijs, Stephanie_Zarigian, Tahnya Butterfield-Gill, Zara Yelunin / Perfume Development: Heather Ho, Pauline Chen / Research and Materials: Britta Oustrup, Anna Bervander, Linda Locke, Nadia Wright / Soil Support: Kalthom Abd Latiff, Tay Ah Ba
CONTACT US
OH Open House Ltd
90 Goodman Road
Blk B #05-09
Singapore 439053