Desire is Dead
Through a playful juxtaposition of artworks, the exhibition seeked to tease out the erotic presences, complexities, and potentialities in Singapore's midst, where a plenitude of desire surrounds us every day and everywhere, shaping the way we view the world and ourselves.
The exhibition was configured such that it is as much a visual showcase as it is a spatial exercise enacted bodily through artworks that engages audiences sensorially or require audience interaction. Watch a short video
HERE
to hear about the curator Adele Tan's take and inspiration behind this.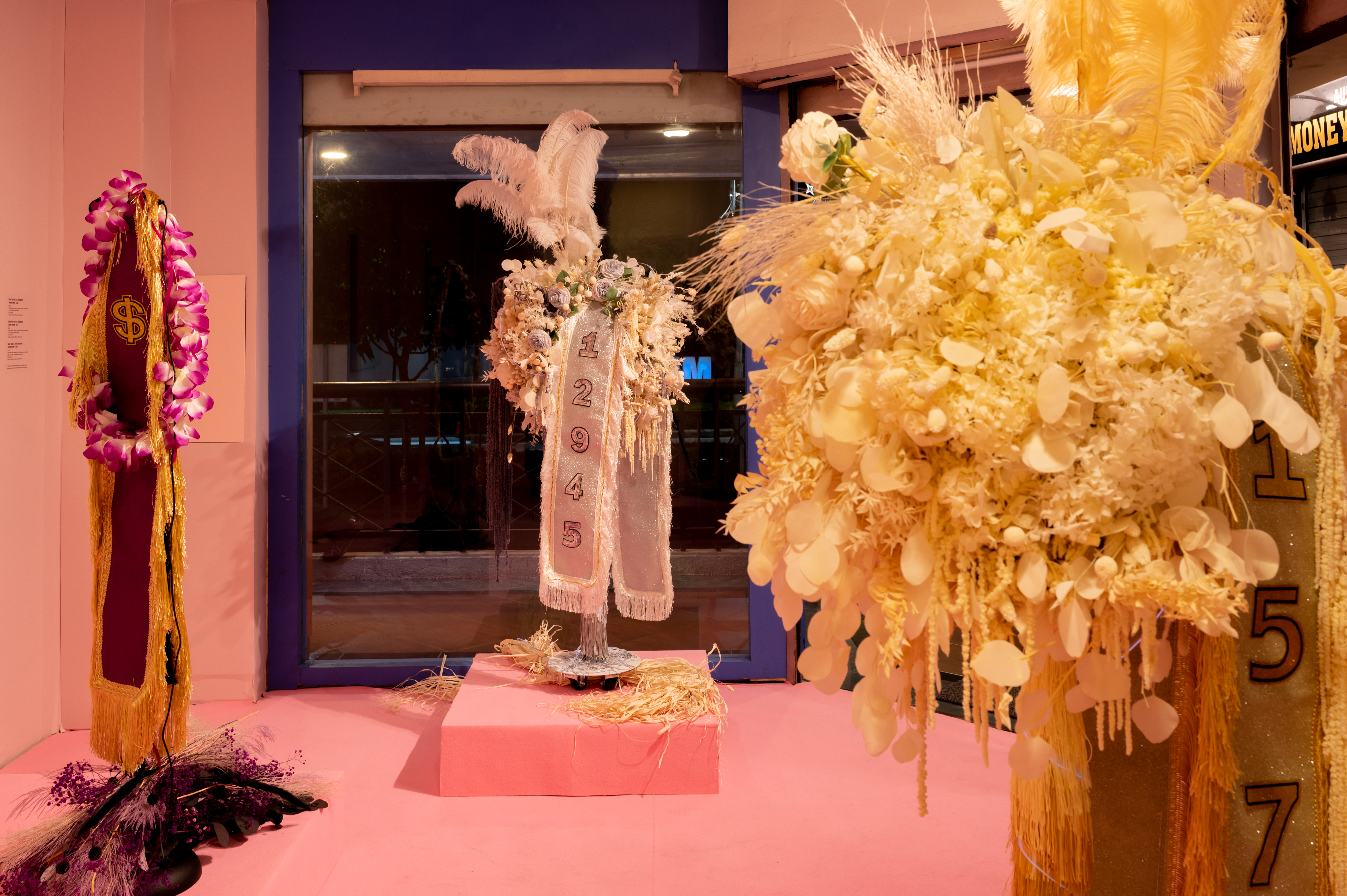 Sweetly Sweetly -12945, 2022
Sweetly Sweetly -1573, 2022
Sweetly Sweetly - prize, 2022

Yang is drawn to the aesthetics and intersections of social interactions and oddities in the online and physical environment. By combining photography, video, sound, and found objects, her practice entails her fascination with the enigmatic and unseen aspects of relationships, personal stories and experiences. These narratives are layered with contemporary culture to present the complexities of interpersonal relationships in relation to societal norms and pressures.

Artist:
Liana Yang

Sweetly Sweetly -12945, Sweetly Sweetly -1573
Dried Flowers, Feathers, Tassel Fringes, Money Sash, LED Strip Light, Metal Stand
140 x 90 cm

Sweetly Sweetly - prize, 2022
Artificial Flower Garlands, Dried Flowers, Money Dash, LED Strip Light, Microphone and Stand
140 x 90 cm

CONTACT US
OH Open House Ltd
92C Syed Alwi Road
Level 4
Singapore 207668