The Museum is Dead
History is speckled with museums as one of the key repositories of material culture, However, in an age increasingly defined by digitalisation and calls for decentralisation, perhaps the time is nigh to abandon our acknowledgment of the museum's monolithic centrality in defining the historicity of events and activities in human existence, so as to approach a more pluralistic understanding of our histories.
The exhibition and its works debated over the value of artworks and purpose of museums in today's context. Watch the short video
HERE
to hear about the curator John Tung's take and inspiration behind this.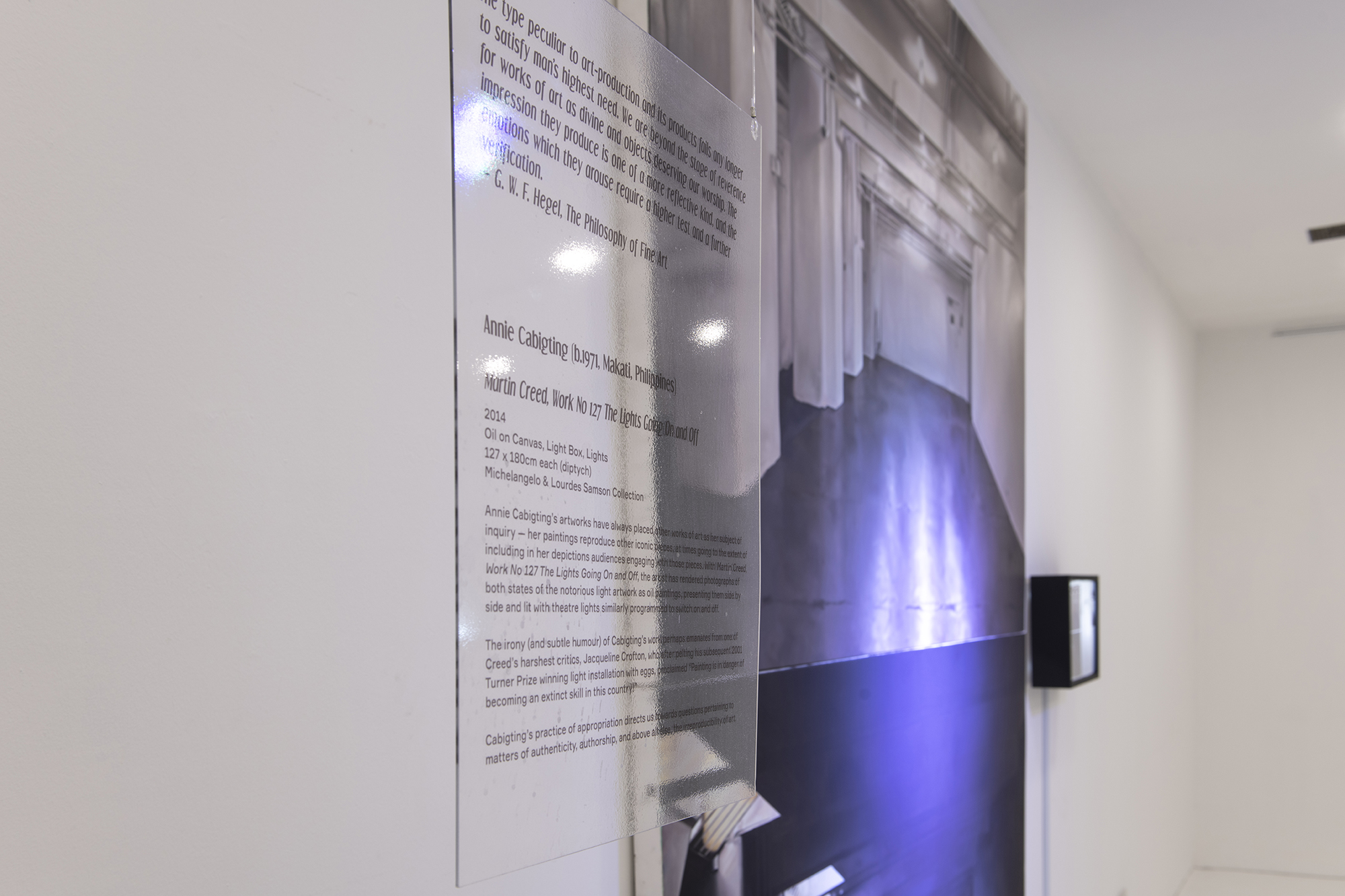 Martin Creed, Work No 127 The Lights Going On and Off, 2014
Annie Cabigting's artworks have always placed other works of art as her subject of inquiry – reproducing iconic pieces, at times going to the extent of painting in audiences engaging with the artwork in question. With Martin Creed, Work No 127 The Lights Going On and Off, the artist renders photographs of both states of the notorious light artwork as oil paintings. In presenting them side by side and lit with theatre lights similarly programmed to switch on and off.

Artist:
Annie Cabigting

Courtesy of:
Michelangelo & Lourdes Samson Collection

Oil on Canvas, Light Box, Lights
127 x 180 cm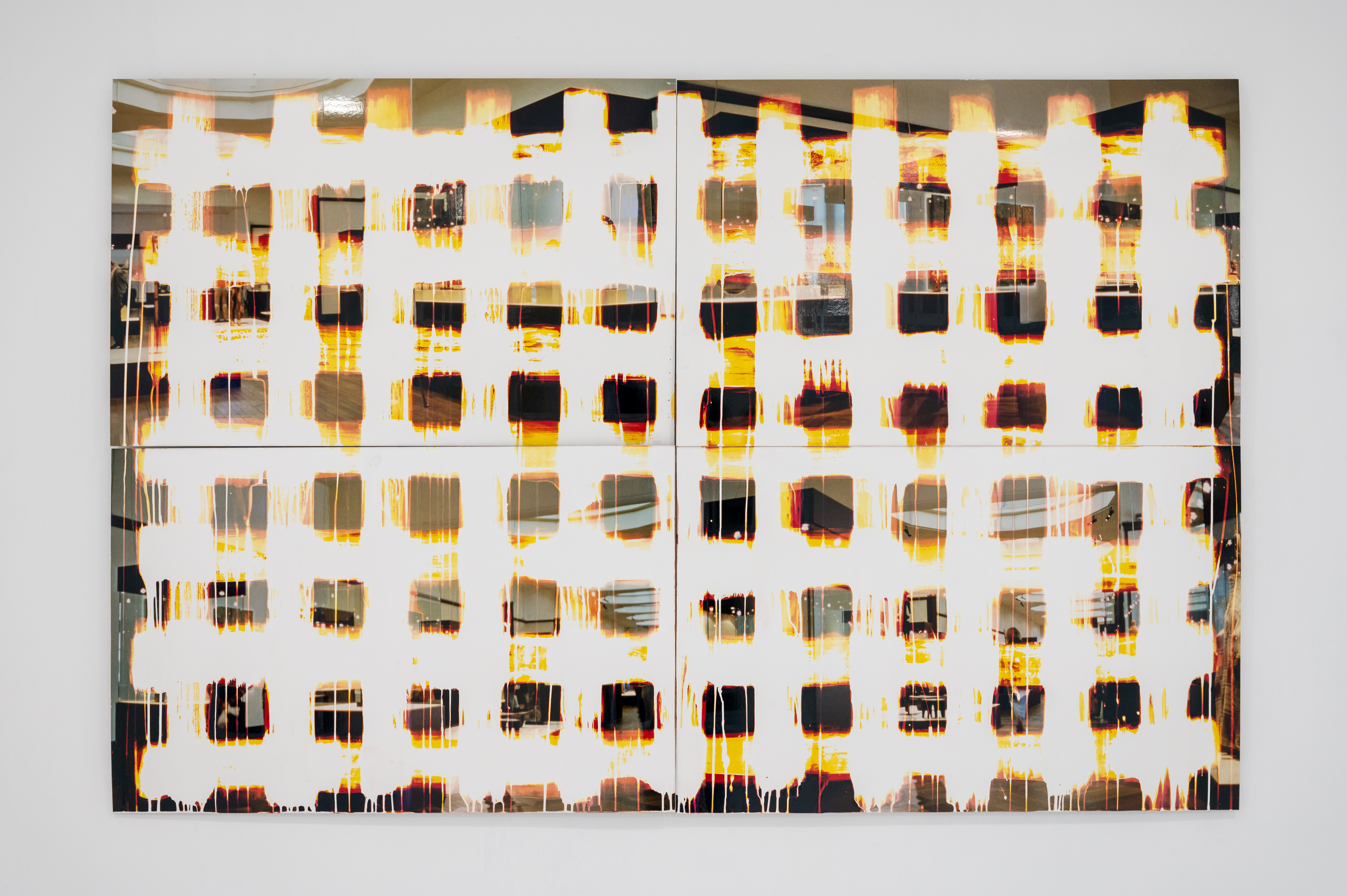 HOW I PAINT CERTAIN OF MY PAINTINGS (4 landscape, grids horizontal), 2011
Damag's practice centres on the reclamation of the bulol – wooden carvings of an Ifugao rice god – from Western colonial plunder troves. In How I Paint Certain of My Paintings, Damag goes over photographs of Ifugao artefacts – captured by himself and residing in foreign collections – with brushes dipped in bleach.
Artist:
Gaston Damag

Courtesy of:
Jim Amberson

Photograph and Acid
100 x 150 cm (quadtych)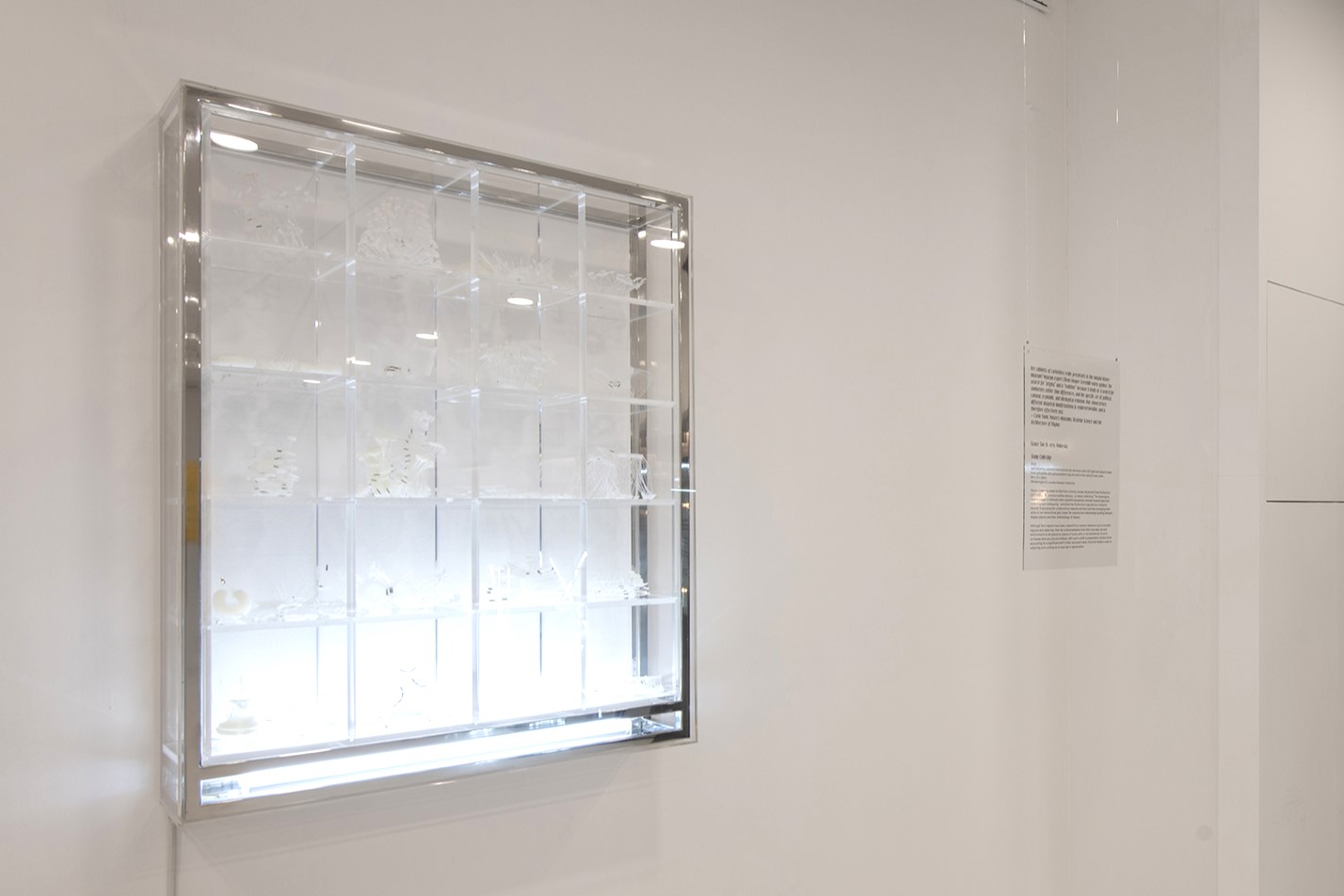 Stamp Collecting, 2020
Tan is a contemporary artist based in Singapore. Influenced by geometry, her interest in material and construction led her wearable works to evolve into sculptural objects and site-specific installations. Although Tan's objects have been created from common fasteners such as moulded tag pins and cable ties, their de-contextualisation from their everyday use and environments to be placed as objects of study within a Wunderkammer of sorts re-frames them as cultural artefacts.

Artist:
Grace Tan

Courtesy of:
Michelangelo & Lourdes Samson Collection

Wall-mounted Stainless Steel, Acrylic Structure With LED Light, Objects Made From Polyamide and Polypropylene Tag Pins and Nickel-plated Brass Tubes
94 x 73 x 16 cm

Red Tree, 2014
Nature and natural history are the recurring subjects in Geraldine Javier's multi-media paintings and installations. Her works are about display, about filling the space with dead specimens and dressing them up to make them seem alive, but it is also a personal process, simultaneously emptying out and remembering. Red Tree is one of a pair of trees created by the artist reflecting the duality of life and death. While Red Tree, symbolic of life, featured seemingly blissfully sleeping birds aloft in hammocks.

Artist:
Geraldine Javier

Courtesy of:
Michelangelo & Lourdes Samson Collection

Mixed Media
218 x 155 x 76 cm

Racharudee (Zhu Clan), 2022
Siripattananuntakul's oeuvres are grounded on social, political, economic, and political ecology issues that question the meaning of life. Racharudee (Zhu Clan) consists of individual sheets of handmade paper made by the artist by pulping her own family ancestry book. With the destruction of an heirloom that has been kept within the family for years becoming the basis for the creation of a new artwork, the process of creation entails numerous reversals in perceived value: an object with historical value is rendered worthless only to become an object imbued with artistic value.
Artist:
Wantanee Siripattananuntakul

Handmade Paper
90 x 60 x 60 cm
CONTACT US
OH Open House Ltd
92C Syed Alwi Road
Level 4
Singapore 207668