A Divergence of Realities

Part 2 of 3 for
Ivan (Life imitates art):

The very act of creating an artwork involves a selection that entails an omission. The completed work reshapes our perspectives of its subject matter more than it portrays the actuality of matters.
Johannes (Art imitates life):

Changes in the environments that artists operate within yield perceptible changes to their artistic output. This phenomenon reiterates the significant impact that life experiences have on artistic creation.
Text by: John Tung (Curator) | Editor: Yeo Boon Ping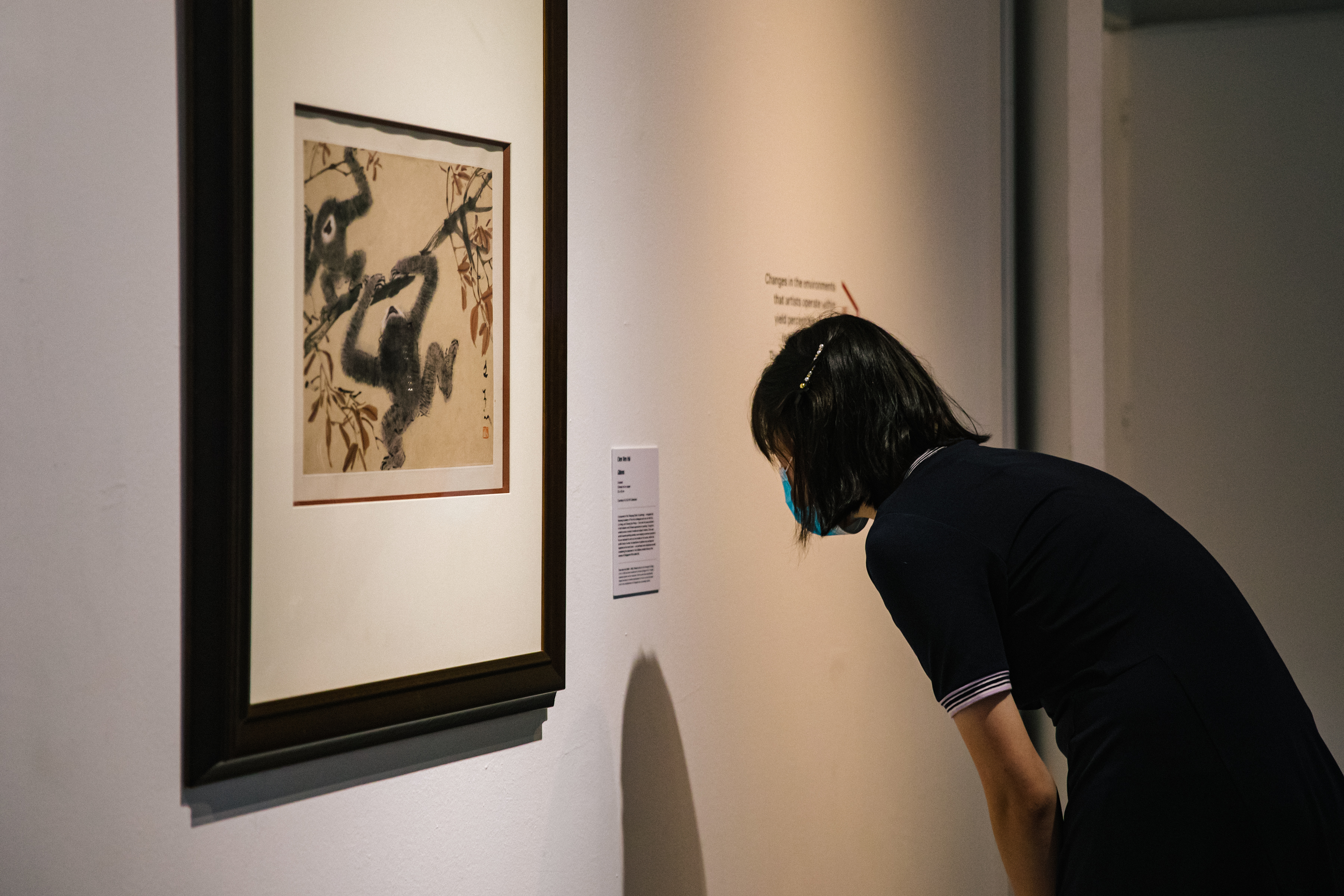 Gibbons, Undated

A proponent of the 'Nanyang Style' of paintings, Chen Wen Hsi was proficient in both Western and Chinese approaches to painting. Though he worked across media and subject matters, Chen was partial towards painting animals, even keeping numerous species to serve as live studies. Within his prolific body of works, his depictions of gibbons may perhaps be regarded as his most iconic — and perhaps most ubiquitous as well, considering the placement of Two Gibbons Amidst Vines on the reverse of Singapore's fifty-dollar bill.

Artist:
Chen Wen Hsi

Courtesy of:
JH & KH Collection

Chinese ink on paper
33 x 43 cm
Kampong Scene with Boats, Undated
Tew Nai Tong pursued further studies in Paris following his education at the Nanyang Academy of Fine Arts. Tew worked predominantly with watercolour during his early career, citing its convenience and appropriateness for his preferred en plein air style of painting. His growing interest in figurative painting eventually led to an increased utilisation of oil paints which would then characterise the later years of his practice. Regardless of medium, his subject matters of interest remained largely focused on portraying the peoples, landscapes, and cultures of the localities he visited.
Artist:
Tew Nai Tong

Courtesy of:
JH & KH Collection

Oil on canvas
106 x 106cm

Fishing Village, 1970

Chuah Thean Teng is often regarded as the artist who elevated the status of batik from craft to a fine art form. Chuah's initial foray into batik was as a business venture — he opened a batik factory in Penang at the end of the Second World War. While the business was unsuccessful, he became renowned for his batik designs and paintings. Portrayals of an idyllic and rustic Malayan lifestyle were a mainstay of his numerous batik paintings, and the individuals depicted are usually engaged in a variety of subsistence or agrarian tasks
Artist:
Chuah Thean Teng

Courtesy of:
JH & KH Collection

Batik dye on cloth laid on paper
61 x 45cm
022022.img (Screenshots of 'Tic Toc Club Report of the Department of Broadcasting for the year of 1953, 10, Malaya'; '1958 Foreign Exchange' and 'some STB image'), 2022
Through the process of printing texts and images on threads and weaving them into new textiles, Fyerool Darma mirrors the progressive illegibility of stories as they are transmitted through time. The artwork melds screenshots of textual and visual archives drawn from numerous sources into a singular image. In doing so, the artist examines the complex relationships in the advent of nationhood. Moreover, the work plays on the etymology of the word "text" – which means "to weave" – as a means of revalorising the conceptual underpinnings of Malayic fabrics.

Artist:
Fyerool Darma

In collaboration with:
Lee Khee San and Amas Leong

Handwoven polyester, dye sublimation, aluminium, stained plywood, velvet adhesive, plexiglass and vinyl
121 x 68 x 2cm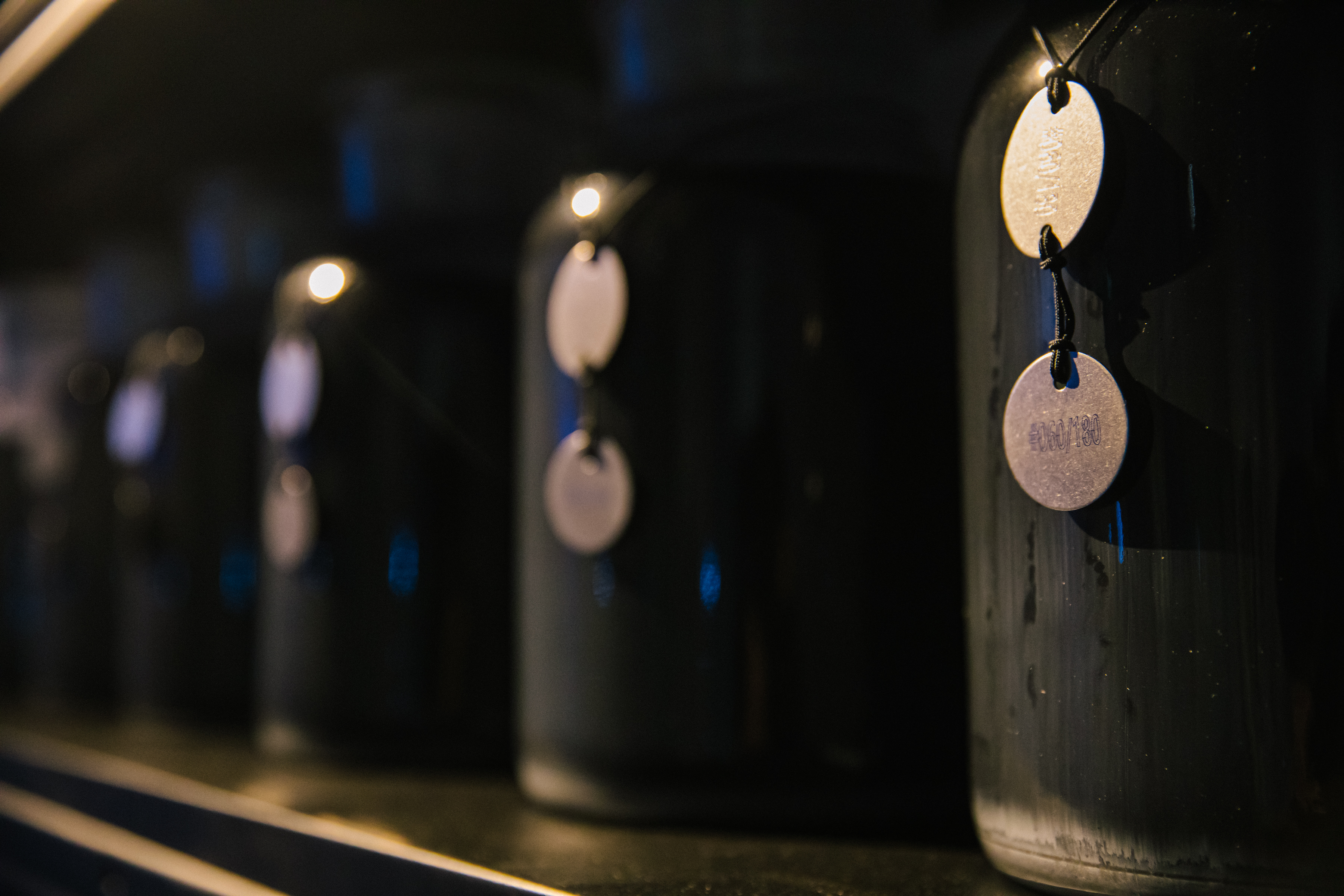 The Incomplete Momotaro: Sacred Sailors (II), 2022
Momotaro: Sacred Sailors, released in 1945, was commissioned by the Japanese government as a piece of WWII propaganda targeted at children. Filling in on the film's omissions of war-time agony, the artwork highlights Gillman Barracks as the site of the final battle between the British and invading Japanese forces.

Reflecting the losses suffered by The Loyal Regiment (2nd Battalion) that was based here in Gillman Barracks, the installation consists of 180 containers, each filled with 5 litres of black paint — approximating the amount of blood in an adult human's body — and bearing a military identity tag. Accompanying the installation is a children's song extracted from the film, which was used by the Japanese forces to educate local peasants about the Japanese Hiragana alphabets.

Artist:
Anthony Chin

180 glass containers, black acrylic paint, military ID tags, sound track
Dimensions variable
The Contract, 2022
A handwritten copy of Singapore's National Pledge resides within a glass vitrine, sheltered by a blue sailcloth awning — a remnant from Dennis Tan's self-constructed kolek featured in the Singapore Biennale 2019 commission, Many Waters to Cross.

The Pledge, written with two pencils at once, gives the illusion of an image out of focus. In bringing these elements together, The Contract pays homage to Singapore's maritime roots, while alluding to the challenges of nation-building and the aspirational nature of the pledge.

Artist:
Dennis Tan

Special thanks:
Trika

Handwritten National Pledge in vitrine, housed in a re-purposed blue sailcloth tent
Dimensions variable
CONTACT US
OH Open House Ltd
92C Syed Alwi Road
Level 4
Singapore 207668