AAP 2022/23 Cycle
Closing Presentations
---
30 September, Saturday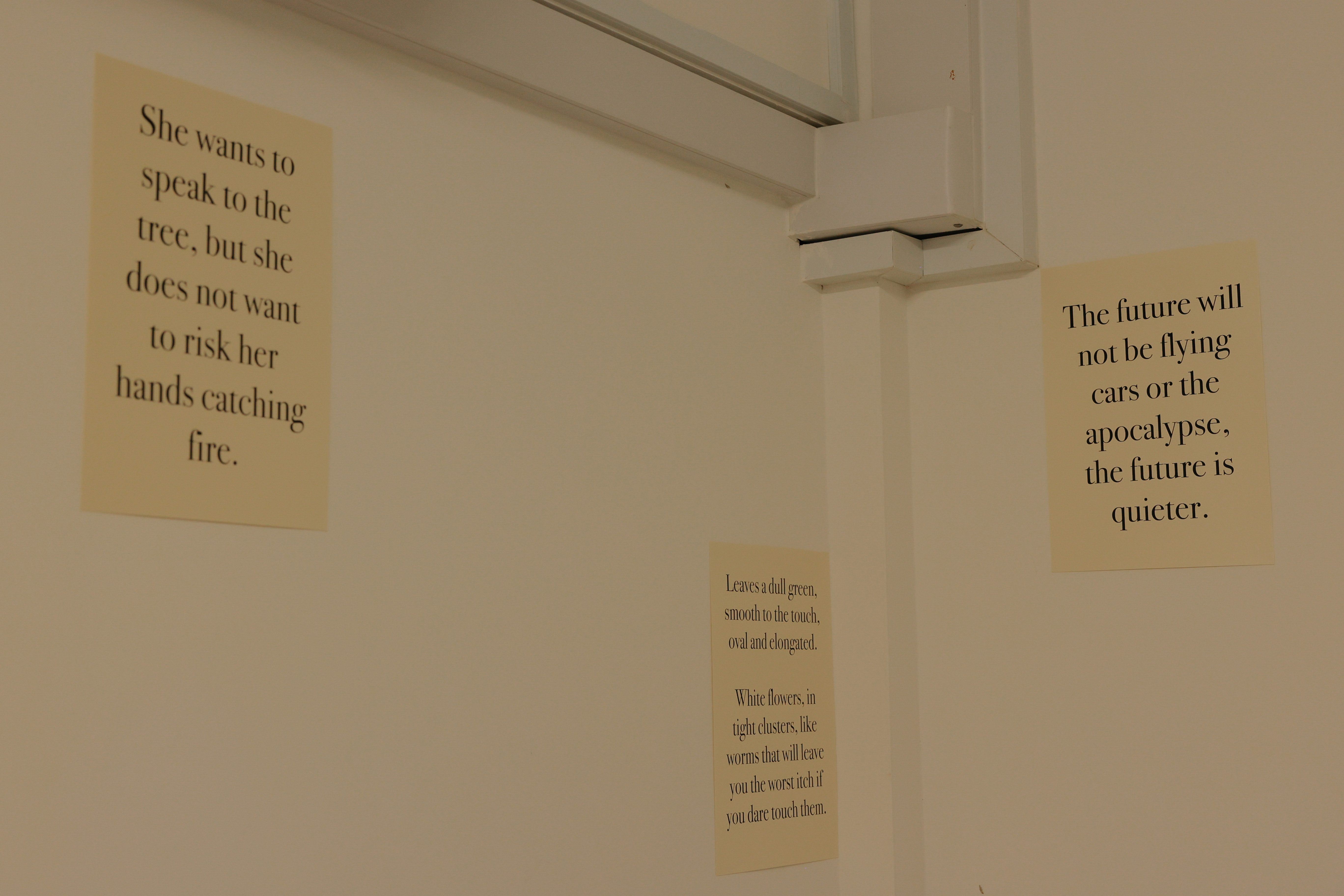 Participatory Performance
Silent Readings into the Future of Kampong Gelam
30 Sep 2023, Saturday | 5.30pm - 6.00pm |
Nature bank beside Masjid Malabar (471 Victoria St, Singapore 198370)
Free admission via registration (Limited capacity of 12 pax)
REGISTER HERE
Away from the crowds and tourist shops, Nor presents a fictional look at the lesser-known histories of Kampong Gelam in the form of a participatory performance.
Set in a period 5000 years from now, in a desolate land we leave behind, a silent tribe lives, speaking only through touch. Led by their spiritual guides – the birds who call, far above – the women set out on a long journey. Their path, imbued with quiet ritual and visions, pulls them towards the sea.
For this performance, participants gain a glimpse of Kampong Gelam's distant future, and join in to create their own narratives and agency.
---
1 October, Sunday
Performance Lecture & Tour
Kampong Gelamization: Repose, Ruins, Return
1 October 2023, Sunday | 2pm - 3.30pm |
Crane Arab Street, Level 2 (148 Arab St, Singapore 199831)
Free admission via registration
REGISTER HERE
Learn about a speculative concept called "Kampong Gelamnization" through the Wayang Parsi tradition, a popular theatre and predecessor of Bangsawan theatre that incorporates a rich blend of cultural influences from the 1890s to the 1930s.
Developed by Farhan Idris during their residency, this process takes place in three stages — Repose (A study of the role of oral histories and printing presses in worldmaking); Ruins (Disappearance of proscenium stages through "ruination", a concept coined by the colonial historian Ann Laura Stoler); and lastly, Return (Revival of Bangsawan by young practitioners, retaining the cosmopolitan spirit Kampong Gelam).
The lecture will be followed by a walking tour that introduces significant historical and contemporary sites in relation to the three stages, and an essay zine that offers deeper insights into the research.
---
7 October, Saturday
Artist Talk
Kanchana Gupta on the Presence of an Absence in Materials
7 Oct 2023, Saturday | 2pm - 4pm
The Pink House, Level 2 (695 North Bridge Rd, Singapore 198674)
Free admission via registration
REGISTER HERE
Kampong Gelam is known for its rich history of textile trading. Apart from batik, lace is a familiar material often seen and used in Malay fashion. Yet, historically, there has never been the presence of lace production in Kampong Gelam.
Join artist Kanchana Gupta as she shares insights from her year-long investigation into the evocative and gendered nature of lace as a material through two new bodies of work —
Open and Close
and the
Leftover
series.
Tracing the origins, materiality and construction of lace, Kanchana embarked on a research that delves into its social and gender symbolism — a material that has been exclusively crafted by women historically, and often associated with eroticism and fetishisation of the female body in fashion or mainstream media today.
---
7 October, Saturday
Artist Talk
Erzan Adam on Intersections between Art, Culture and Spirituality
7 October 2023, Saturday | 7.45pm - 8.45pm
Wardah Books, Level 2 (58 Bussorah St, Singapore 199474)
Free admission via registration
REGISTER HERE
Join Erzan Adam as he reflects and shares insights from his residency project, the risalah — prompted by his conversations and encounters with the invisible communities of Kampong Gelam. In his practice, he draws connections between art and various aspects of his cultural, spiritual and human identity.
The
risalah
(رسالة , meaning "message" in Arabic) serves as a pamphlet to document and compile the artist's sketches and personal reflections, highlighting stories gleaned from his conversations with the isolated and marginalised, who go around unnoticed in Kampong Gelam. Referencing the Khutbah (Friday sermons), the artist distributed the risalah on the streets of Kampong Gelam, acting in solidarity with the community who makes a living by selling attars or objects on the streets, and inviting readers to reflect on how we can draw nearer to one another as a broader community.
---
CONTACT US
OH Open House Ltd
92C Syed Alwi Road
Level 4
Singapore 207668